Section Branding
Header Content
Milton Advances Without Mann, Parkview Falls
Primary Content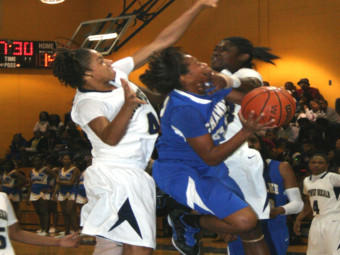 No. 1 Milton destroyed yet another victim Saturday in an 80-58 demolition of North Gwinnett at West Georgia. Evan Nolte led Milton with 30 points on 9-of-11 shooting. But it was not all good news for the Eagles, who lost starting point guard Charles Mann for the next two games after he was ejected for accruing two technical fouls. The suspension effectively ends Mann's season. The senior has signed to play hoops at UGA next year. Also in Class AAAAA, Alpharetta and Harrison clinched the first semifinals appearances in school history. And each Final Four berth came as a surprise as both programs entered the state tourney as No. 3 seeds. Meanwhile, according to the Savannah Morning News, the Savannah Blue Jackets earned their fifth semifinals appearance in 16 years under coach Tim Jordan with a 59-43 upset of No. 2 North Cobb. Kavon Freeman led the Blue Jackets with 14 points.
In Dalton, Class AAA No. 1 and defending champ Columbia routed No. 2 Carrollton 51-30 to earn a trip to the program's seventh straight final four according to the Georgia Basketball Project (GHSBP.com). Jarmal Reid led a balanced effort by the Eagles with 11 points. Also in AAA, Washington upset No. 4 Allatoona 59-56 in overtime at Dalton. It is the Bulldogs' first semifinals appearance since 1987. Barry Mays led No. 3 Drew with 18 points to lead the Titans to their second win of the season over Region 4-rival Henry County.
In a major upset, Class AA No. 1 GAC was eliminated by No. 6 Manchester 48-46 in Dalton. Saiquan Terry, who finished with 12, put the Blue Devils up by four with 23 seconds left with a lay-in. Zay Echols led Manchester with 14 points, 12 of them on three-pointers. Class AA No. 10 Laney jumped out to a 34-22 halftime lead over No. 4 Morgan County, then coasted to a 71-59 win. Shaquille Cook led the Wildcats with 26 points, while freshman Tookie Brown had 18 for the Bulldogs.
In an upset, defending Class A champion Wilkinson County was knocked off by No. 4 Athens Christian 61-58 in Marietta. The Eagles outscored the defending champs 21-14 in the final period. Finally Class A No. 1 Whitefield Academy had few problems with No. 10 Aquinas, defeating the Fighting Irish 76-64 in Marietta.
Norcross and Parkview are both Gwinnett County powers, but the Lady Blue Devils and Lady Panthers had to travel to Carrollton for their quarterfinal matchup. Norcross returned home happy after Diamond DeShields scored 17 points in the Blue Devils' 63-46 victory. An 11-0 run in the third quarter allowed the Blue Devils to pull away for the victory. Shayla Cooper netted 15 points in the win. Erika Joseph finished with 10 points as Parkview ends its season with a 30-1 record. Norcross will face McEachern in the semifinals, a rematch of the 2011 state championships after nearly doubling up Harrison 63-32. Pachiyaanna Roberts recorded a double-double for the Indians.
Hillgrove jumped on North Cobb early and rode Celina Rodrigo for 16 points en route to a 57-33 victory. Meanwhile Lexie Brown notched a triple-double as North Gwinnett trounced Mill Creek 68-43 to advance to the semifinals. Ariel Johnson finished with 20 points as the Bulldogs ran their record to 26-3 and moved on to face Hillgrove.
After missing the playoffs last year, Southwest DeKalb ran its playoff winning streak to 18 games with a 55-52 overtime win over Chamblee. The Region 6 No. 3 seed got 15 points from Nicole Martin in the quarterfinal win. The Panthers won the 2008, 2009 and 2010 Class AAAA titles. Miller Grove and Alcovy will each be making their first appearances in the Class AAAA semifinals as the Wolverines tagged Rome 67-38 and the Tigers belted Forest Park 51-40.
North Hall bumped off Allatoona 67-58 in the Class AAA quarterfinals as Taylor Swoszowski went for 17 points in the victory. Elsewhere Allisha Gray scored 32 points as Washington County stretched its record to 30-0 with its 62nd straight victory. The Golden Hawks eliminated Monroe 58-46 to move to the semifinals.
Morgan County's Tweety Hawkings scored 24 points, but Laney overcame Morgan County 69-66 in overtime to move on to the Class AA semifinals. Finally Holli Wilkins was nearly unstoppable in Wesleyan's 95-41 win over Darlington. The Wolves once again moved on to the Class A semifinals as Wesleyan is seeking its fourth straight title in that classification and a fifth straight over all.
Secondary Content
Bottom Content