Section Branding
Header Content
Cinderella Possibilities Dot Quarterfinals
Primary Content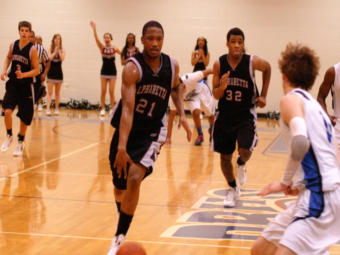 The Class AAAAA boys quarterfinals present symmetrical pairings as ranked teams will face unranked foes in all four games. The state's top-ranked team, Milton, faces North Gwinnett, which is coming off an upset of No. 5 Wheeler in which freshman Kamaran Calhoun laid in the game-winning points with two seconds left in overtime. The Eagles, meanwhile, rebounded from a sloppy performance in the first round against Walton by dominating No. 3 Shiloh.
No. 2 North Cobb drew an underrated Savannah team that edged Westlake in the second round. The Blue Jackets won the Region 3 tourney and should give the Warriors a stiff test at Fort Valley State. ... Alpharetta and Harrison, meanwhile, got the No. 3 seeds from their respective regions, and are vying to become Cinderella stories in the tournament.
Speaking of possible Cinderellas, Marist has advanced to the quarters despite sneaking into the playoffs as a No. 4 seed. The War Eagles have upset Lithia Springs and Rockdale County to earn the right to face Class AAAA No. 1 Miller Grove. If Marist were to upset the three-time defending champs, the proverbial glass slipper would certainly fit. Also in Class AAAA, No. 2 Chattahoochee and No. 4 SW DeKalb will face off in a battle of highly-ranked teams. Another Cinderella, Henry County, has risen to the quarterfinals despite earning the Region 4-AAA No. 4 seed. However, they will face their toughest test yet in No. 3 Drew.
Class AA is devoid of a surprise possibility, as seven of the eight teams remaining are region champs, while No. 5 Jordan is a No. 2 seed and more of a favorite than a Cinderella. The Albany-Vidalia game jumps off the page, as it pits the No. 2 and No. 3 teams in the classification. Class A features no true surprises either, as all 10 teams are ranked. Taylor County, however, is a No. 3 seed from Region 4-A.
If the girls Class AAAAA participants wanted to, a carpool could be arranged for this weekend's quarterfinals showdowns as teams from Cobb County will meet neighborhood foes in Fort Valley while Gwinnett rivals will square off in Carrollton. Region 7-AAAAA rivals Mill Creek and North Gwinnett will meet up Saturday after Gwinnett powers Norcross and Parkview dance. Parkview's undefeated streak will be on the line, but Blue Devils standouts Shayla Cooper and Diamond DeShields will be looking to advance to yet another semifinal round.
North Cobb and Hillgrove will follow up No. 1 McEachern and the four-seed from Region 4 Harrison. The Hoyas have knocked out Beach and Valdosta on the road so Nikki Hegstetter and company will likely show no fear when facing a loaded Indians squad featuring Dominique Wilson, Pachis Roberts, Destinie Gibbs and Kayla Montgomery from the Score 44.
In Class AAAA, Miller Grove has been impressive this season, taking the Region 6 championship and advancing to the quarterfinals, but a talented Rome team awaits. The Wolverines are anchored by Score 44 sensation Tabitha Fudge, who will take her talents to High Point University next season. ... On the other side of the bracket, Breanna McDonald and the Chamblee Bulldogs will meet Region 6 rival Southwest DeKalb. Defending champion Fayette County is still alive seeking another title. The Tigers face Jonesboro.
The question in Class AAA is can anyone stop Washington County's Allisha Gray? The junior has the Golden Hawks in a position to head back to the semifinals, but Monroe lies in wait. The Allatoona/North Hall game pits two teams in the top six against one another next Friday in Macon.
The Buford Wolves have owned Class AA of late but needed a rally to defeat North Oconee. Kaela Davis has gone for 45 points through the first two rounds of the playoffs, but Region 5 champion Heard County could offer some stout competition.
The marquee quarterfinals matchup in Class AA though is No. 1 Morgan County vs. No. 2 Laney Saturday in Savannah. The survivor would face either No. 3 Model or No. 7 Lovett next Thursday in Macon. Kaelyn Causwell and Wesleyan will square off with Darlington tomorrow in Marietta with the winner facing either Pelham or Taylor County. Due to upsets along the way, Wesleyan, the No. 2 seed from Region 5 has not had to travel outside of the metro Atlanta area through the first three rounds of the playoffs. St. Francis will meet Southwest Atlanta Christian Academy in one of the other quarterfinal games that matches up the No. 3 Knights against the No. 2 Warriors.
Secondary Content
Bottom Content