Section Branding
Header Content
Streaks Extended On First Day of Round Two
Primary Content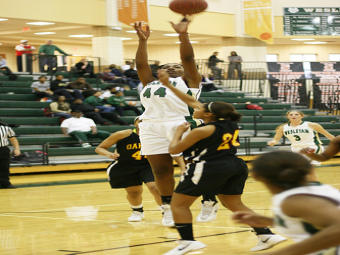 The Washington County girls made it 61 straight with a 57-46 victory overWestover. The two teams entered the contest in the top 10, but the Golden Hawks pulled away in the fourth quarter, leading at one point by 18. Allisha Gray had 29 points for the game, 20 in the second half.
Fayette County, meanwhile, earned an 18th straight victory and extended a 34-game home winning streak with a 54-43 win over Northside-Warner Robins. The Tigers, defending Class AAAA champions, have not lost since early January and could be on their way to yet another appearance at Gwinnett Arena.
Alcovy earned a gutty 71-62 victory over Warner Robins when Ashley Williams went for 20 points and 24 rebounds to pace the Tigers. Meagan Tucker of Alcovy led all scorers with 27 points. At one point, Warner Robins missed 14 straight shots during an Alcovy 17-3 run.
Buford's Andraya Carter left the Wolves' second-round contest with North Oconee in the second quarter with a separated shoulder. The senior had won three straight state titles under head coach Gene Durden and battled back from a knee injury, so it should have surprised no one that Carter checked back into the game and helped the Wolves rally for a 53-45 win. Kaela Davis scored 23 in the win while Ginny Channell had 15 for North Oconee.
East Hall missed four shots in the final 10 seconds to fall to Lovett 44-43 in the second round of the Class AA tournament. Morgan Jackson had 19 points for East Hall, but it was Lovett's Sydney Umeri's basket with less than 30 seconds to play that turned out to be the game-winner. Finally North Cobb picked up a huge road win, headingdown to Lowndes to knock off the Vikettes 57-50.
Class AAAA No. 1 Miller Grove dominated Loganville 74-29 last night to become one of two boys teams to advance to the quarterfinals. The Wolverines held their visitors to just two third-quarter points as stud forward Tony Parker scored 15 points and snagged eight boards. Guard Christian Houston added 11 points and a career-high 11 assists. The Grove will face the winner of tonight's game between Marist and No. 10 Rockdale County. Meanwhile, Class A No. 5 Taylor County won its second-round game over Randolph-Clay. The Vikings will now face the winner of the Turner County-Central (Talbotton) game this weekend at Georgia College.
Also in Class A, Landmark Christian and Wilkinson County will face off in an interesting duel. The matchups pits metro Atlanta versus South Georgia, public versus private and two top 10 teams to boot. The War Eagles are ranked No. 9 in our poll while the Warriors are ranked No. 2. No. 1 Whitefield Academy faces upstart St. Francis. The Knights upset North Cobb Christian in Round 1 and will be a tough out for the WolfPack.
One of the most highly anticipated games tonight is in Class AAAAA, where No. 1 Milton drew No. 3 Shiloh. If Robert Carter and the Generals can get things going in the paint, they may have a chance to upset the talented and deep Eagles. Walton, the No. 4 seed out of Region 5-AAAAA, gave Milton a scare over the weekend in a six-point loss. No. 2 North Cobb also has a tough assignment, as No. 9 Stephenson comes calling. Also in the state's highest classification, No. 5 Wheeler plays North Gwinnett. Both games are on tonight's "upset alert."
The highest-ranked team in Class AAA, Columbia, faces No. 10 Dalton tonight in Decatur. Meanwhile, No. 2 Carrollton matches No. 6 North Hall in one top 10 matchup, while No. 5 Eagle's Landing takes on No. 9 Central-Macon. In Class AA, No. 9 faces No. 10 in the second round when Thomasville takes on Laney. In the other top-10 duel, No. 6 Manchester hosts No. 8 East Hall.
Secondary Content
Bottom Content