Section Branding
Header Content
Favorites Try To Avoid Upset In Round Two
Primary Content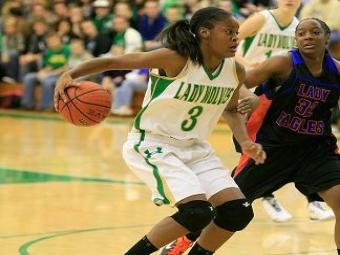 Any discussion of the GHSA girls basketball playoffs must begin with discussion of the defending champions. Norcross is seeking a third straight title while Wesleyan and Buford are both chasing a fourth straight crown. Wesleyan has won the past three Class A titles as well as the 2008 Class AA title, so technically another title this year would make five in a row. Buford has won every Class AA title since Wesleyan dropped down in classification and Andraya Carter and Kaela Davis have Gene Durden's squad in a position for another title chase.
An interesting story to keep an eye on is Washington County's repeat bid. The Golden Hawks went undefeated one year ago, and has not lost in the 2012 season. A victory in the first round gave Washington County 60 straight wins. Westover offers some stiff competition in round two, entering the game ranked No. 4 in the latest Score Atlanta poll, despite a loss in the region tournament.
In AAAA, Fayette County is finally back to No. 1 though now that the playoffs are here, rankings don't truly matter. The Tigers face a number of teams hungry to knock the defending champions off of their perch. The Jonesboro/Statesboro second round tilt features two teams ranked in the top seven all season long. Chamblee had to go on the road in the second round after some trouble in the region tournament, as did Southwest DeKalb. The Panthers, however, are a No. 3 seed that bumped off No. 2 Kell on the road in round one. And don't discount the Miller Grove girls who sometimes get overlooked because of the Wolverines' boys program.
In Class AAA, Dougherty traveled to Mary Persons and bumped off the Region 2 champion, and the Region 1, No. 4 seed will look to continue its Cinderella run. One of the best second round matchups pits North Hall and Carrollton. The Trojans of North Hall entered the playoffs as the No. 8 team in the state, while Carrollton started the postseason as No. 6.
Morgan County put up 87 points in the first round of the Class AA playoffs, making a statement that Buford's time at the top may be over. The Lady Wolves, however, led all girls teams with 90 points in the first round. Greater Atlanta Christian knows Buford well, but the Spartans have not had much success in the playoffs against the Lady Wolves.
Brianna Cummings and Sydni Means pace GAC's attack. Cummings had 24 points in a big road win over Jordan in round one. Means had 16 in the victory. Buford may be tough to knock out, though, as Davis (23 points in a round one win over Kendrick) is looking for her third straight title. She earned one with Norcross as a freshman before winning one last year with the Lady Wolves.
In Class A, St. Francis took out Wesleyan in the region tournament and showed in round one that the win was no fluke. Nigia Greene matched Trion's point total with 24 in the Lady Knights' 86-24 opening round victory. Keyona Hayes added 20 points, seven rebounds, five blocks and five steals.
Gordon Lee and Southwest Atlanta Christian Academy will be the first two No. 1 seeds to square off in the playoffs when the two match up in the second round. Gordon Lee squeaked by Pace Academy in round one 52-50. Wesleyan will be tough to beat though as head coach Jan Azar has gone on the record saying this could be her best team yet. Jordan Frazier (21 points vs. Paideia), Holli Wilkins (14 points), Katie Frerking and Kaelyn Causwell all contribute in the Lady Wolves' attack.
But the state's highest classification seemingly has the biggest stars with Diamond DeShields at Norcross, Lexie Brown at North Gwinnett and Kylee Smith at Alpharetta. Erika Joseph posted a double-double in Parkview's first round 53-41 win over Duluth, a big win for the Panthers' mindset after Parkview was bounced the last two years in round one. North Gwinnett's Brown and Peyton Whitted each racked up double-digit points in the 67-29 round one win over South Gwinnett. And don't sleep on undefeated McEachern, the No. 1 team in Class AAAAA. The Indians are loaded with Score 44 members and are looking to avenge a loss in last year's state championship game.
Greater Atlanta Christian is back on top of the Class AA rankings as it bids for a third consecutive state championship. Point guard Collin Swinton runs the ship for the Spartans, who opened with a 64-48 win over Callaway. Upsets were few and far between in the first round, with nine of a possible nine Top 10 teams advancing. Two faced each other, as sixth-ranked Jordan edged No. 7 South Atlanta 71-65. All eight No. 1 seeds survived their openers, but not without some drama. Eighth-ranked Vidalia, which won Region 2 for its first title of that sort since 1983, needed double-overtime to get past Cook 70-64. Pacing the Indians is 5'6'' guard Devin Atkins. Second-ranked Buford is on the other side of the bracket from GAC, which means an all-Region 6 final is possible. The Wolves, who have lost to the Spartans three times this season, are led by Georgia State signee T.J. Shipes. A dynasty is forming in Class AAAA, where Miller Grove is a three-time defending state champion. The Wolverines began their 2012 state tournament campaign with an 83-35 blowout of North Manchester. A dominant front line featuring Tony Parker, Tony Evans, and Brandon Morris will be tough to overcome for the rest of the field. Fellow Region 6 entrants Marist and Southwest DeKalb are also looking good. Marist ousted Lithia Springs - the No. 1 seed from Region 5 - with a convincing 55-39 win in round one. On the other side of the bracket, fourth-ranked Southwest DeKalb beat Osborne 70-58. Along with Lithia Springs, the other No. 1 seed to make an immediate exit was Northside-Warner Robins, which fell to Liberty County 75-58.
If the first few days of the GHSA boys basketball playoffs are any indication, the second round will surely feature heart-stopping, edge-of-your seat action.
Fireworks were set off early and often in Class AAAAA, where the defending state champion is already gone. Norcross, which stunned Milton in the 2011 final, snagged the fourth seed out of Region 7 and had to go up against Berkmar, the Region 8 champion, in the first round. The host Patriots took care of Norcross 64-54, as Tim Rowe controlled the game with 11 points, 12 rebounds and three blocked shots. Milton, the 2010 champion, was one of seven No. 1 seeds to advance, but the Eagles had to survive a spirited effort by Walton to win 68-62. M.L. King, the Region 2 champion, got bounced by fourth-seeded Lowndes 78-67.
Contenders in Class AAA will be hard-pressed to dethrone two-time defending champion Columbia. The Eagles are again ranked No. 1 and they have won 36 games against in-state competition dating back to last season. Point guard Tahj Shamsid-Deen averaged 12.7 points and 9.6 assists per game during the regular season. Columbia began its bid for a three-peat with an 84-67 win over Shaw. In the hunt to bring down the Eagles, third-ranked Walnut Grove has already fallen by the wayside. Seeded first out of Region 8, the Warriors were upset in the first round 68-61 by LaFayette. The draw, however, did Columbia no favors. A quarterfinal clash between the top two teams in the state-Columbia and Carrollton-is likely in the cards. The Trojans are led by Josh Barge, who is pouring in almost 20 points per games.
Two of the last three state champions in Class A are the two highest-ranked remaining teams in the tournament. Whitefield Academy, which triumphed in 2009, is ranked No. 2 and kicked off its campaign by dismissing Hebron Christian 65-13. Defending champion Wilkinson County, ranked third in the state, crushed Gordon Lee 98-37. As for the No. 1 team, North Cobb Christian suffered a surprising first-round exit. The Eagles were bounced by St. Francis in a 63-61 thriller. That derailed a potential mouth-watering round of 16 showdown between North Cobb Christian and Whitefield. Another potential all-Top 10 second-round matchup that never happened was Wilcox County versus Taylor County. Wilcox County forfeited its opener against Randolph-Clay after three-fourths of its team was suspended for disciplinary reasons. The most remarkable postseason run currently belongs to Mount Pisgah Christian. The Patriots needed overtime just to qualify for the state tournament, beating Holy Innocents in the Regions 5 quarterfinals. They went on to win the region title before defeating W.D. Mohammed 49-38 in round one of state.
Secondary Content
Bottom Content