WATCH LIVE | Former First Lady Rosalynn Carter's Funeral Service And Internment At 10:55 A.M.
Section Branding
Header Content
Wesleyan, Milton land big first round wins
Primary Content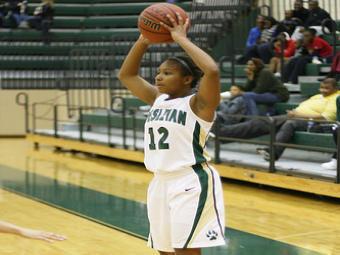 Walton had possession down by three with less than a minute left, but could not capitalize as No. 1 Milton held on for a 68-62 win in the first round of the Class AAAAA playoffs. The Raiders were not as talented as in recent years, but were still able to scare one of the state's giants. The Eagles were led by Shaq Johnson's 19, while Rico Overall led all scorers with 24. The six-point win was the Eagles' smallest margin of victory this season outside of a 65-60 win over Wheeler on Jan. 28.
Class AAAAA No. 2 North Cobb dominated Bradwell Institute 78-41 Saturday night, as 12 of 13 players on the Warriors' roster scored. North Cobb faces Stephenson in the second round. No. 7 Berkmar eliminated Norcross, last year's state champion, 64-54 Saturday night. C.J. Foster had 14 for the Patriots, while Tim Rowe had 11 points and 12 boards.
Class AAAA No. 5 Fayette County was upset Saturday night by Lovejoy. In one of the biggest surprises of the weekend, the Wildcats unseated the Tigers 63-57 Friday night. Dalton won a playoff game for the first since 2002 with a 62-55 victory over Franklin County. Defense was a big reason for the win, as the Catamounts' defense forced 23 turnovers. Dalton will now have to face No. 1 Columbia in Decatur. The Eagles are coming off an 84-67 win over Shaw.
In Class AA, No. 1 GAC dominated Callaway 64-48 as Isaiah Wilkins scored 16 points and had 12 rebounds. The Spartans host Jefferson in Round 2. Meanwhile, St. Francis upset Class A No. 2 North Cobb Christian in the first round, one of the biggest surprises from last weekend. Nigel Jackson led the Knights with 23 points and 10 rebounds in the upset. Despite a 17-12 record, St. Francis remains a threat to cut down the nets. The Knights lost eight games to teams either from out of state or from higher classifications. Last year's champion, Wilkinson County, is poised to defend its title. The Warriors shellacked Gordon Lee in the first round 98-37, hardly breaking a sweat. Wilkinson County has lost just two games this season, one to Class AAAA Northside-Warner Robins and the other to Turner County. Speaking of Turner County, the Rebels rolled through the first round with an 89-58 blowout over Calhoun County. Coach Tyrone Kellogg's squad was led by center Demarcus Daniels, who had 14 points, 10 rebounds and 13 blocks in the game.
Anyone still worried about Diamond DeShields and a wrist injury that kept the junior out for several weeks should seriously stop. DeShields put up 29 points, nine steals and six rebounds in Norcross's round one win over Archer. Shayla Cooper added 21 points as Norcross rolled 85-36. The Blue Devils face Marietta in round two. Erika Joseph posted a double-double and Marissa Mandeldove tossed in 13 points as Parkview squashed Duluth 53-41. Parkview moved to 29-0 on the year with the win. Two Cobb County teams managed to spring Class AAAAA upsets in the first round as Harrison knocked off Region 3-champion Beach, and North Cobb traveled to the Bradwell Institute and escaped with a 60-54 win.
Bainbridge was the lone No. 4 seed to defeat a No. 1 in Class AAAA after taking down Richmond Hill. Bainbridge will hit the road again this week to face Forest Park. Washington County made it 60 straight wins with a 65-25 win over Eastside in round one. The Golden Hawks are 28-0 this season. Allisha Gray had 37 points in the win, including five 3-pointers. The North Hall girls, led by a talented group of six seniors, have extended their magical season. The six combined for 44 of the team's 51 points in a round one 51-41 win over Pickens.
Kaela Davis had 23 points and Andraya Carter added 17 as the Buford Wolves trounced Kendrick 90-40 to leap into the second round. Buford is attempting to win a fourth straight Class AA title. The Wolves face North Oconee in round two. Wesleyan led Paideia 51-7 at halftime before putting the game on cruise control for an 83-26 victory to advance in the program's quest for a fourth straight Class A title and fifth straight overall. Jordan Frazier finished with 21 points.
Secondary Content
Bottom Content