Section Branding
Header Content
Several Programs Seeking Playoff Redemption
Primary Content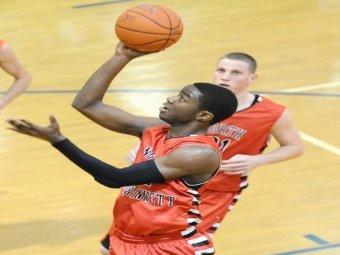 The Milton Eagles cruised to the 2010 Class AAAAA boys title and reached the finals last year with perhaps the most impressive collection of talent in Georgia. Norcross had other ideas, however, and rallied in the finals to stun Milton. David Boyd's team has been shaped and primed for another title and seniors Evan Nolte, Charles Mann, Tevin Glass and Shaq Johnson are all on a mission to seize the state title. Nolte was a force two years ago in the championship game, canning jumpers from all over the court. The future Virginia Cavalier could once again play a huge role should the Eagles advance to the finals.
Greater Atlanta Christian and Columbia will both be searching for a third straight title after each program won in 2010 and then again in 2011. Class AA defending champion GAC lost Malcolm Brogdon from those teams then saw A.J. Davis leave for region rival Buford, but head coach Eddie Martin still has some talent and his team owns the Score No. 1 ranking entering the playoffs. Collin Swinton and Delano Spencer will push the Spartans through the playoffs.
Buford, last year's runner-up, appears to be some tough competition yet again, though GAC has beaten Buford three times this season. T.J. Shipes, Kyle Kellam and Davis will be a tough out in the playoffs.
Meanwhile Class AAA champ Columbia has a host of talented players including Jarmal Reid, Chris Horton, Damian Goodwin and Jhaustin Thomas down low looking to power the Eagles to yet another title.
Earlier this season the Miller Grove Wolverines were ranked No. 2 nationally by ESPN, but the Wolverines faltered against some national powerhouses. Regardless, Sharman White's Wolverines are in prime position to challenge for a fourth straight Class AAAA title. Seniors Tony Parker, Tony Evans, Justin Colvin, Christian Houston, Davante Provost and Brandon Morris are all looking to go out on top. Meanwhile, Shaq Goodwin and Southwest DeKalb are looking to overcome the monster that is Miller Grove to try and capture a title. Alcovy, Chattahoochee, Fayette County and Jonesboro could also deny the Wolverines a fourth title.
Secondary Content
Bottom Content