Section Branding
Header Content
Region Champs Climb In Polls, Eye Playoffs
Primary Content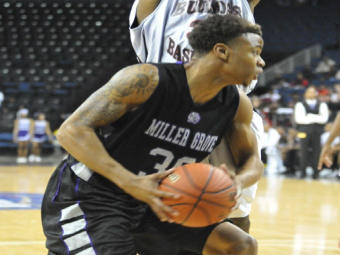 The playoffs are upon us and a few of the polls became a jumbled mess after some upsets in various region tournaments. The dilemma always seems to be just to punish a team for losing in the region tournament after a very successful regular season. Some will say that the importance should be placed on the region tournament results because that is how the state playoffs are seeded. While I take those results into play, I will not be as harsh as some pollsters when filling out the top 10, completely ignoring the regular season results.
North Cobb won Region 4-AAAAA and thus moved up to No. 2 in the boys AAAAA poll, but Shiloh, Westlake and Tift County, all No. 2 seeds, moved down just one spot apiece. Wheeler is the new No. 6 after claiming a region title. Effingham County and Lovejoy, both No. 3 seeds, also fell from the rankings, in favor of a pair of region champions, Brunswick and Northside-WR. Chattahoochee and Alcovy were the biggest movers in Class AAAA while Carrollton and Walnut Grove each cracked the top three in AAA. Two-time defending Class AA champion GAC is back on top as the Spartans attempt to make it three straight state crowns while the top three in Class A remain unchanged.
Alpharetta and Norcross each moved up after winning their respective region tournaments while North Gwinnett dropped a few pegs after falling in the Region 7-AAAAA girls championship game. Fayette County and Creekview both jumped in the rankings after claiming region championships while Forest Park, Alcovy and Chamblee each dropped a few spots. Miller Grove was also a big mover in the AAAA poll. In AAA, Washington County remains at the top, followed by Columbia and Allatoona. Several teams tumbled out of the poll following poor showings in their region tournaments, Westside-Macon in particular. In Class AA, Heard County and Brooks County appeared in the polls after winning the Region 5 and Region 1 tournaments, respectively. In Class A, Calvary Day assumed the No. 1 spot after Wesleyan fell to new No. 3 St. Francis. Taylor County and Gordon Lee each moved up a few spots.
Boys Basketball Rankings
CLASS AAAAA
1. Milton
2. North Cobb
3. Shiloh
4. Westlake
5. Tift County
6. Wheeler
7. Berkmar
8. Johnson (Savannah)
9. Peachtree Ridge
10. ML King
CLASS AAAA
1. Miller Grove
2. Chattahoochee
3. Alcovy
4. Southwest DeKalb
5. Fayette County
6. North Clayton
7. Jonesboro
8. Douglas County
9. Brunswick
10. Northside-WR
CLASS AAA
1. Columbia
2. Carrollton
3. Walnut Grove
4. Drew
5. Allatoona
6. Eagles Landing
7. North Hall
8. Grady
9. Washington County
10. Thomson
CLASS AA
1. GAC
2. Vidalia
3. Morgan County
4. Albany
5. Jordan
6. Manchester
7. Buford
8. East Hall
9. Thomasville
10. Laney
CLASS A
1. Whitefield Academy
2. North Cobb Christian
3. Wilkinson County
4. Lanier County
5. Athens Christian
6. Taylor County
7. Mt. Pisgah
8. Wilcox County
9. Turner County
10. Landmark Christian
Girls Basketball Poll
CLASS AAAAA
1. McEachern
2. Parkview
3. Alpharetta
4. Norcross
5. Stephenson
6. North Gwinnett
7. Marietta
8. Lowndes
9. Hillgrove
10. Woodstock
CLASS AAAA
1. Fayette County
2. Creekview
3. Miller Grove
4. Alcovy
5. Jonesboro
6. Chamblee
7. Statesboro
8. Warner Robins
9. Forest Park
10. Douglas County
CLASS AAA
1. Washington County
2. Columbia
3. Allatoona
4. Westover
5. St. Pius X
6. Carrollton
7. Cartersville
8. North Hall
9. Westside-Augusta
10. Mary Persons
CLASS AA
1. Morgan County
2. Laney
3. Model
4. Buford
5. East Hall
6. Brooks County
7. Lovett
8. Heard County
9. GAC
10. Rabun County
CLASS A
1. Calvary Day
2. Southwest Atlanta Christian
3. St. Francis
4. Wesleyan
5. Taylor County
6. Gordon Lee
7. Darlington
8. Mitchell County
9. Pelham
10. Wilkinson County
Secondary Content
Bottom Content