WATCH LIVE | Former First Lady Rosalynn Carter's Tribute Service at Glenn Memorial Church at Emory University
Section Branding
Header Content
Playoffs Tip Off With Class A Preliminaries
Primary Content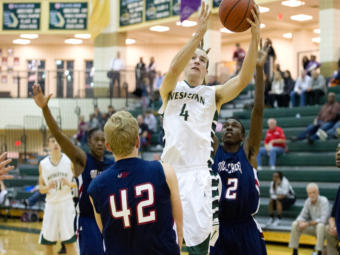 The Class A preliminaries were comprised of eight games held across the state last night. Four boys teams and four girls teams advanced to the next stage of the GHSA playoffs with strong showings. The Wesleyan boys used a strong zone defense and 17 points from Will Clifton to edge Greenforest 52-48. Shane Smith chipped in 15 points, five rebounds and five assists in the victory. Greenforest tried to mount a late comeback but Bubba Samsui's 12 points were not enough.
Hebron Christian won its playoff debut with a 60-50 decision over Lincoln County. Dylan Schulte finished with 24 points and nine boards. Tyler Matthews scored 16 second-half points to put Lincoln County away.
Holy Innocents' will hope that throughout the playoffs Reshaundra Owens plays like she did on Tuesday. If so, the Golden Bears could make a deep run. Owens scored 33 points and grabbed 20 rebounds to help Holy Innocents' to a 59-44 win over Greenforest Christian. McKenzie Bolden chipped in 21 while Bailey McBride registered 12 assists.
Kayleigh Medlin scored 27 points as Bremen clobbered Athens Academy 64-36. The Blue Devils also received 13 from Jordan Hill, who reached the 1,000-point plateau in the victory. Bremen will advance to play the Wilkinson County girls in the next round.
Daniel Brooks paced Gordon Lee with 25 points despite feeling ill in a 62-50 win over the Commerce boys. Gordon Lee managed to out-rebound Commerce in the preliminary round 33-19. Cody Cochran had 11 points and six rebounds in the win.
The Lakeview Academy girls received some hot shooting from Taylor Handte, but her 16 points would not be enough as Washington-Wilkes used a late 13-2 run to ice a 53-44 victory.
It was a bittersweet night for Trion as the school hosted a pair of preliminaries. The girls downed Strong Rock Christian 51-38 thanks to Nicole Peppers' 16 points and 14 rebounds, but the boys were bounced out by W.D. Mohammed 65-52. Devan Bruce had 25 for Trion, but Mohammed was able to outscore the Bulldogs 24-15 in the fourth. including 16-of-21 shooting from the free throw stripe to ice the game
Secondary Content
Bottom Content