Section Branding
Header Content
Wrestlers Hit The Mats At State Meet
Primary Content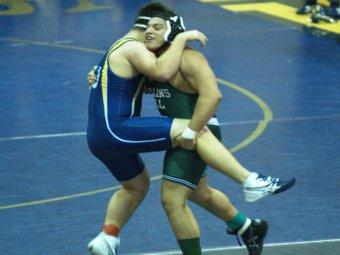 Thursday night, fans and wrestlers flocked to the Arena at Gwinnett Center for the start of the GHSA Wrestling State Championships. Every class except for Class A was in action Thursday night.
From the onset of the first bout, one could tell that the first round would be full of intense matches. Across the floor, wrestlers could be seen stretching with blank stares on their faces and fire in their eyes. They were all focused on the task at hand. Each wrestler at the state championships trained all year to get there and were prepared to do their best.
After losing to Camden County in the state dual wrestling championships, Collins Hill emerged atop the Class AAAAA standings after the first round with 32.5 points. Camden County was the runner-up to Collins Hill, scoring 28 points. Archer, North Gwinnett and Lassiter rounded out the top five teams in Class AAAAA after the first round with 27, 21.5 and 16 respectively.
Wrestling powerhouse Pope High School won the state duals championship in Class AAAA but finished the first round second to Loganville. The two schools were separated by one point, with Loganville scoring 18.5 points and Pope, 17.5. Alexander placed third with 15.5 and Ola ended the night with 14. There was a two-way tie for fifth place between Creekview and Lambert, who both had 12 points.
In Class AAA, Heritage-Catoosa ended the first night of competition with 32.5 points; which was six points higher than second place, Carrollton. Gilmer, which won the Class AAA state duals title, had 20 points and finished third in the first round standings. Locust Grove ended the night in fourth place and Oconee County fifth, with 17.5 and 16 respectively. Another notable school in Class AAA was Ringgold, which finished 18th a year removed from a storm that destroyed the town.
Jefferson blew away the Class AA competition Thursday night with their 43 points. Greater Atlanta Christian was a distant second from Jefferson. Greater Atlanta Christian had 22.5 points, 20.5 lower than Jefferson. Lovett, who finished second to Jefferson in the state dual championships, was right behind Greater Atlanta Christian with 21. Blessed Trinity, 16 points, and Morgan County, 15.5 points, rounded out the top five schools in Class AA after the first night of the state meet.
Secondary Content
Bottom Content