Section Branding
Header Content
Johnson Looks to Build On Recent Streak
Primary Content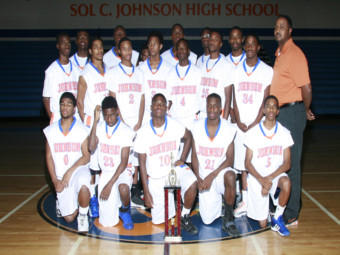 The Winnersville Classic: Hardwood Edition played out for the fourth time this season last night as Lowndes and Valdosta met up in the Region 1-AAAAA tournament. Valdosta entered the contest having won the three previous meetings this season, and the Wildcats would make it four with an 80-54 victory. The Wildcats pulled away with a 24-11 third quarter, stretching a six-point lead to 19 thanks in large part to Clarence Smith's 17 and Dominique Bullock's 16 points.
The Lassiter basketball team has already punched its playoff ticket with a 71-66 win over Woodstock Wednesday, and tonight the Trojans face off against Marietta, ranked No. 7 in Class AAAAA and the host of the Region 5-AAAAA tournament. Football standouts Niles Clark, Robert Dowling and Juwan Dickey were all key players in Lassiter's win over Woodstock. Clark scored 14 points and Dowling chipped in 10 while Dickey canned some huge free throws down the stretch to help the Trojans to the win.
The Buford and GAC girls basketball programs are certainly no strangers in region tournament play. Usually the two squads are battling for the title and not a spot in the finals. Tonight, the No. 8 Spartans and No. 4 Wolves will square off in the semifinals as Buford tries to win its second straight region crown and third in the last four years. In the other Region 6-AA semifinal, No. 6 Decatur faces No. 5 Lovett with both games taking place in Decatur.
Perhaps winning the coin flip wasn't so lucky after all. Class AAAAA boys No. 6 Harrison fell last night to South Cobb 52-50. The Hoyas were the Region 4-AAAAA top seed after winning a coin flip over No. 5 North Cobb. The Eagles will face North Cobb, semifinal winners over Hillgrove, in the region championships while Harrison will meet Hillgrove in the consolation game.
Finally Johnson-Savannah looks to extend its 16-game winning in a matchup against Bradwell Institute. Johnson has won twice this season against Bradwell and should be led by Tim Quarterman (28 points in the quarterfinals) and Keme Davis (24 points, five 3-pointers in the quarters).
Secondary Content
Bottom Content