Section Branding
Header Content
Top Hoops Teams Wrap Up Regular Season
Primary Content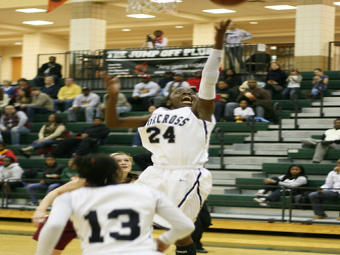 The weekend gets off to a hot start with Norcross traveling to Suwanee to face the Bulldogs of North Gwinnett. The home team is led by Score 44 standout Chris Bolden, who helped Norcross win the Class AAAAA state title one year ago. Norcross is seeking a measure of revenge against No. 10 North Gwinnett after the Bulldogs won 67-54 in the House of Blue on Jan. 17. The girls will also lock horns in a battle of top four teams. No. 2 Norcross topped No. 4 North Gwinnett 48-37 the last time these two squared off, but Angie Hembree's squad will be without Diamond DeShields, who is not expected to return from an injury until the postseason.
Dacula meets Berkmar as the Patriots try to stay within shouting distance of Shiloh in Region 8-AAAAA. Fans will see a Anthony Morse (Dacula)/Yonel Brown (Berkmar) showdown.
Washington County's unbeaten streaks will be on the line when both teams head to Hancock Central. The Waco boys are 22-0 while the girls are 23-0. When First Presbyterian meets Paideia, look for Jarquez Smith and Keenan Palmore to put on a show. Smith of First Presbyterian is a candidate for the 24 2Look4 in 2012-13 while Paideia's Palmore is a member of the Score 44.
Nikki Hegstetter and Harrison will meet No. 9 North Cobb tonight as the Hoyas look to bump off the Warriors. North Cobb is 1-0 against Harrison this season, a 55-33 win nearly one month ago. Harrison is looking to improve its seeding for the region tournament.
The McEachern girls will host Peeblebrook and Kennesaw Mountain to wrap up the regular season as the Indians try and finish an undefeated regular season. Meanwhile Boys Class AA No. 1 Vidalia travels to Toombs County Friday, trying to hold on to the top spot. Finally Jordan, the No. 2 in boys Class AA travels to face Carver-Columbus.
Secondary Content
Bottom Content