Section Branding
Header Content
Broncos Look For Return To Glory In The Pool
Primary Content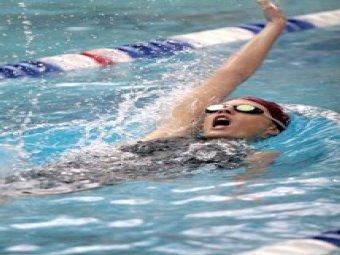 The Brookwood Broncos boys swimming team is used to winning state championships. From 2008 through 2010, the Broncos swam away from the competition for three straight Class AAAAA titles, a run that was ended by fellow Gwinnett County powerhouse Peachtree Ridge. Last year's miss has fueled the 2011-12 team and a pair of individuals in particular. Michael Trice and Aidan Sweeney will be competing at the GHSA swimming championships this weekend, seeking to return Brookwood to the top of the podium. Brookwood's outstanding coach Greg Puckett is hopeful, especially with outstanding swimmers such as Trice and Sweeney.
"Michael Trice is definitely a sprint freestyle specialist," said Puckett. "He also does well in other events, but he thrives on the challenge of the sprint free events." Trice recently blazed a 50 meter free time of 20.74 to smoke some tough competition at the Gwinnett County Championships. "This season he has taken (freestyle sprinting) to a whole other level with his performances." Trice will look to improve on a runner-up finish from 2011 in the 50 free.
Aidan Sweeney is a well-rounded swimmer that excels in a variety of events. Sweeney currently holds the top seed in both the 200 IM and the 500 free. "He will have some tough competition in both events at the state meet, but I know that he will rise to the challenge and have strong performances just like he has all season against tough competition." Puckett said that throughout the season it seemed as though Sweeney was the individual on the team who constantly rose up against the best competition in the toughest races.
The Brookwood girls are also seeking to bring the GHSA swimming title back to Snellville. The Broncos have not claimed a title since winning four straight from 2001-04 while Lassiter has won the last four. Kelsey Gouge and Rachel Muller will both be key for the Broncos. "Kelsey Gouge is very versatile and excels at a variety of different events," said Puckett. Gouge has a top five time in four different events: 50 free, 100 free, 200 IM, 100 breast. She has also turned in top 15 times in several other events. "This wide variety of specialties is an asset because she can help the team in so many different ways," noted Puckett. The senior's best events are the sprints according to her coach, and she is one of the leaders of the team. "She is an individual that the other girls look to when the team needs a strong performance."
Muller meanwhile had an impressive Gwinnett County Championship where she broke several records set by previous state champions. "Muller is a very focused and hard working individual at practice," said Puckett. "But once she hits the water, (her quiet demeanor) changes, the competitive nature comes out and she is very likely to amaze you with with her performance."
Brookwood has a rich history of swimming championship. 2012 could be the year that the Broncos make it a rich present.
Secondary Content
Bottom Content