Section Branding
Header Content
Swimming And Diving Championship Preview
Primary Content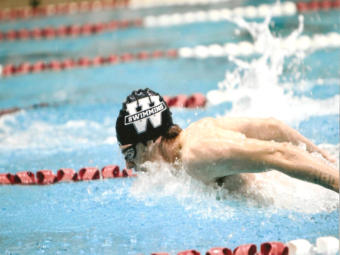 Once again, the swimming and diving champions are loaded with teams and athletes from metro Atlanta. While programs from Cobb and Gwinnett have owned the Class AAAAA titles in recent years, intown private schools like Marist and Westminster have dominated Class A-AAAA. Despite the usual suspects winning championships in recent years, upsets are very possible in this year's state meet.
Parkview won its 18th Gwinnett County championship in 21 years this season and, therefore, is among the contenders in both boys and girls this weekend. Gwinnett programs have won the past 12 Class AAAAA state crowns and the Panthers won six of those. Their last title, however, came in 2007. Coach Jack Gayle hopes his squad returns to the winner's circle behind a state record 40 swimmers in today's championships.
Meanwhile, in girls swimming, Lassiter looks to complete an unprecedented five-peat in the state's highest classification. The Trojans are coming off their 12th county championship in 13 years and are led by super sophomores Nicole Prendes and Micaela Janco as well as senior captain Sarah Williford.
Also from Cobb, the Walton boys will attempt to win their first state swimming title since 1983. The Raiders won the Cobb County championship two weeks ago behind another solid performance from All-American diver David Sanchez. Lassiter will be tough to beat again, though, as Jimmy Yoder leads a stacked Trojan squad. Yoder qualified two All-American times in the Cobb meet.
Although Marist has won the last five state championships in the girls Class A-AAAA meets, Westminster upset Marist in the Wildcats' home pool at the 42nd Annual Swimming and Diving Championship two weeks ago. However, the state championships this weekend are at a neutral site. We'll see how that affects the Marist-Westminster matchup and whether or not the Wildcats can again edge the War Eagles. Regardless, Westminster will surely provide Marist with a stiff challenge, and could pull off the upset yet again. Rachel Astles and Katie Christy lead the strong Westminster girls.
Meanwhile, after winning six state crowns in a row, the Westminster boys have not won state gold since 2008. The Wildcats, however, appear to be loaded this year and come to Georgia Tech as one of the favorites in Class A-AAAA. But Wesleyan brings a talented bunch of Wolves into the meet as well, and are led by seniors Anthony McMurry and Nick Salyers, who have each set school records in their four years on campus.
One of the most accomplished swimmers in the state this year was David Barnes of West Forsyth. Barnes didn't much this season - other than qualifying for the state championship meet in every event and relay. A four-year varsity letterman for the Wolverines, Barnes has led his team in points in two consecutive years.
Also, in the diving portion of this weekend's activities, Jack Nyquist is the guy to watch in the boys' Class AAAAA competition. The junior from Alpharetta High School is the two-time defending state champion and is strongly favored to win again this year. He has only been diving for even years, but has already proven himself as the state's best diver twice.
Secondary Content
Bottom Content