Section Branding
Header Content
Lassiter Swim Team Loaded With Talent
Primary Content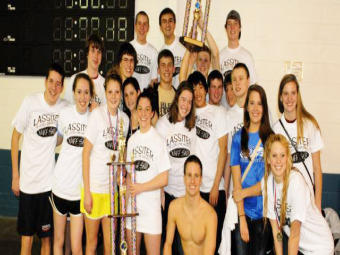 Cobb County has seen some talented swimmers come through its schools over the past decade, but the Lassiter program seems to have a stranglehold of late on the girls Class AAAAA championships while the boys could add a title this year to the school's trophy case.
Lassiter coach Glenn Meeden's girls have won the last four GHSA Class AAAAA championships, and with Jordan Drake swimming for the Trojans, a fifth straight isn't far out of reach. Drake recently took the Cobb County title for 100 breast and 100 free, something that impressed Meeden. "Jordan is an awesome gal who has always amazed me with her swimming proficiency and has had incredible strength as a swimmer."
Drake has excelled in the past in freestyle as well as the butterfly and backstroke, but she dedicated herself this season to the breaststroke. "She knew that besides her winning those events, it also was making her team that much stronger in the competition," said Meeden of his junior's excitement after winning the 100 breast and 100 free.
In the boys end of the pool, Zach Bunner and Jimmy Yoder could help Lassiter improve on last year's fourth place finish. Yoder is a freestyle specialist, excelling in the 200 and 500 free events. His times this year in those two events are fastest qualifying times for the upcoming GHSA championships. He has also turned in some of the state's top times in the 100 free and 100 fly. Meeden is quick to praise Yoder's calm overall demeanor. "He wishes to be the best and at the same times, show his skills and talent in the water without bringing any attention to himself."
Bunner cuts through the water like no other in the 100 fly and 100 back. His qualifying times are the best in the state for those two events, and his coach knows that determination drives Bunner in the pool. "He simply wants to win so he simply refuses to lose." Meeden noted that Bunner and Yoder, both juniors also are just as talented in the classroom as they are in the pool.
Lassiter will look to once again bring at least one title back to Cobb County from this weekend's GHSA state championships. If the Lassiter girls can pull off the victory, the Trojans would own the longest streak in the state's highest classification. A title for the boys would be the team's first and would snap Gwinnett County's string of 12 straight titles with Parkview, Collins Hill, Brookwood and Peachtree Ridge capturing all of the crowns since 2000.
Secondary Content
Bottom Content