Section Branding
Header Content
GAC Captures First Area Wrestling Title
Primary Content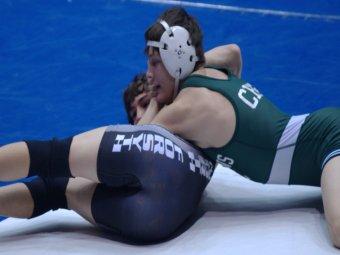 Greater Atlanta Christian won its first Area 6-AA wrestling championship Saturday as all 14 of its wrestlers made at least the third-place match. The host Spartans were dominant, claiming 228 total points to second-place Lovett's 39. Carter Clinebell (120), Caleb Bumpers (126), Parker Embry (132), Zach Feuerbach (160) and Parker Fair (220) each won weight classes for the Spartans. Kyler Allen (106), James Hite (113), Corey Erdoes (182) and Patrick Emerson (195) won for Lovett while Evan Strawn (138), Chris Solar (145) and Dutch Seitz (152) took first place for Blessed Trinity. Chip Ness won the 170-pound class for Buford while Justin Geeza won the 185-pound class for Westminster.
At the Area 5-AAA tournament, Woodward Academy took first place while McNair was the runner-up. The War Eagles were led by Chad Pyke, Chandler Pyke, Max Pastor and Max Wilsley, who each won their weight classes. It is the fourth consecutive region title for Woodward. Cole Waldron won the 145-pound class for third-place St. Pius X.
Woodland-Bartow won the Area 7-AAAA championship, and was followed by Cass, Chattahoochee, Creekview and Lambert. Josh McMahon (152) and Brandon Danzig (160) won weight classes for Chattahoochee, while Gantt Bauer (220) and Michael Nelems (132) won for Lambert. Joe Hulen won the 138-pound class for Creekview.
Harrison won the Area 4-AAAAA championship as five Hoyas won weight classes. Deuce White (132), Anthony Fiacco (152), James Douglas (182), Dylan Porter (195) and Jake Shumpert (285) each took home title for the Hoyas. Meanwhile Wheeler won the Area 5-AAAAA title and was followed by Lassiter and Walton. North Forsyth conquered Area 6-AAAAA behind five individual champions. John Brown (126), Travis Scott (132), William Robinson (152), Mitchell Abreu (172) and Evan Miller (180) each won their weight classes for the Raiders.
Collins Hill triumphed once again in the Area 7-AAAAA ahead of North Gwinnett and Meadowcreek. It is the Eagles' eighth straight region championship, and they were led by seven individual champions. Collins Hill qualified all 14 of its wrestlers for the sectionals, which are held at Tifton this weekend. Sean Russell (106), Ryan Millhoff (113), Drew Ferguson (120), Steven Bradtmueller (132), Spencer Rickman (138), Mathew Connell (160), Andre Krawulski (170).
Pope took its fifth straight area championship and its second consecutive in Area 5-AAAA. The Greyhounds blew away the competition with five individual winners in scoring 307-5 points to second-place Alexander's 218. Sam Skinner (106), Cameron Munsey (113), Billy Meek (160), Joey Tabachino (170) and Curran McMahon (220) each won for Pope.
Marist won the Area 6-AAAA title with 212.5 points, ahead of Southwest DeKalb's 165.5 and Miller Grove's 160.5. Patrick Jackson (113), Matt Andres (138) and Kenneth Brinson (195) each won for the War Eagles, while Anthony Kaigler, Corey Strickland and Gabriel Echols each won for the Panthers.
Secondary Content
Bottom Content