Section Branding
Header Content
Lassiter, Westminster Seek Swimming Success
Primary Content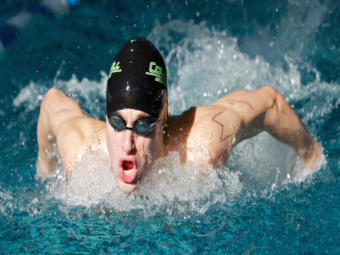 Girls swimming state championships have almost been foregone conclusions in recent times. In fact, each of the past four years has been the same, with Lassiter winning the title in Class AAAAA and Marist prevailing in Class A-AAAA .
TROJAN WOMEN
Bidding for its fifth consecutive state championship, Lassiter has reloaded after a trio of stars graduated in 2011 to swim at the next level in Division I. Last weekend the Trojans captured their 12th Cobb County championship in their last 13 appearances. A virtual two-team race between Lassiter and Walton saw the Trojans edge the Raiders 542-522.5.
Brookwood and Mill Creek, who finished second and third behind Lassiter at the 2011 state meet, should once again contend. The Broncos and Hawks have already gone head-to-head twice this season. Brookwood had the upper hand each time, but not before serious struggles. A dual meet on Jan. 7 went the Broncos' way 156-153 and the two teams finished one-two at last week's Gwinnett County Public High School Championship. Brookwood topped the field with 987.5 points and Mill Creek finished well ahead of all other contenders with 921.5 points.
The Marist girls have won five state titles in a row in Class A-AAAA. Only Westminster was competitive with Marist last year, as the Wildcats scored 273.5 points in the state meet to the War Eagles' winning score of 298. Westminster looks poised to turn the tide and end Marist's streak after triumphing at last weekend's Metro Swimming and Diving Championship. The host Wildcats won with 212 points to the runner-up War Eagles' 193.
WINNING WILDCATS
On the boys side, the story is much different—especially in Class A-AAAA. Westminster's string of six consecutive state titles came to an end in 2009 and there have been four different state champions in the past four years. The Wildcats last triumphed in 2008, followed by Marist, Greater Atlanta Christian and most recently Wesleyan in 2011.
Three of those schools just faced each other at the Metro Swimming and Diving Championship and all three finished in the top four. Marist took home top honors with 153 points, Westminster was right behind with 143 and Wesleyan came in fourth with 127. Those three teams also finished in the top five of last year's state meet; the Wildcats were third and the War Eagles fifth behind the No. 1 Wolves. Northview and St. Pius X are also expected to contend for the 2012 title.
There has been a history of repeating in Class AAAAA. Parkview won four straight state titles from 2000 to 2003, Collins Hill went back-to-back in 2004 and 2005, Parkview followed suit with two more championships in succession then Brookwood captured a trio of titles from 2008 through 2010. Now it is Peachtree Ridge's turn to defend its 2011 championship. A repeat may not be in the cards, though, because the Lions struggled amidst a loaded field at last weekend's Gwinnett County Public School Championship. They finished in seventh place behind all of the recent state champions—Parkview, Collins Hill and Brookwood.
Parkview finished a mere three points behind Peachtree Ridge at last year's state meet and it has to be considered the favorite to win its seventh title in the last 13 years. The Panthers, who are armed with a whole host of state qualifiers, dominated the Gwinnett competition with 1016.5 points. That put them almost 200 points clear of runner-up Collins Hill and even further ahead of third-place Mill Creek, fourth-place North Gwinnett and fifth-place Brookwood. Walton and Lassiter finished first and second, respectively, in the Cobb County Championships and both teams should be factors at state.
Secondary Content
Bottom Content