Section Branding
Header Content
Parkview, Walton Win County Swim Titles
Primary Content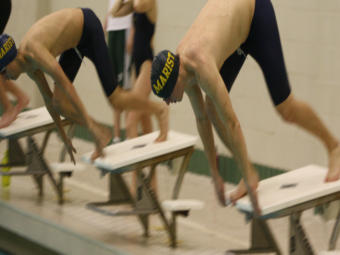 Parkview won the Gwinnett County championship meet with 1,045.5 points to Collins Hill's 820.5. Mill Creek came in third with 797.5 points. It is the Panthers' 18th county title in 21 years. While winning the county boys and girls meets, Parkview increased its record set earlier this year with 40 qualifiers to the GHSA state championships. Brookwood's Aidan Sweeney and Michael Trice each won two races and also combined to help the Broncos take the 200 medley relay.
Walton won the Cobb County Championships with a combined score of 1,062.5 edging Lassiter's 1,020. The Raiders' boys team won their meet with 540 points to the Trojans' 471, while the defending state champion Lassiter girls won the girls meet with 542 points to 522.5 for Walton. Lassiter's Jimmy Yoder, however, had All-American times in the 200 and 500 free. Zach Brunner won the 100 back and the 100 fly for the Trojans. For the Raiders, David Sanchez had an All-American score in the diving competition with 320 points. While Walton did not win many individual races, they placed highly enough to outpoint the Trojans.
Meanwhile, the Lassiter girls won the county meet for the 12th time in 13 years. Lassiter's Jordan Drake won both the 100 free and 100 back, while Micaela Janco won the 50 free. The Trojans also too the 200 free relay.
Westminster won the 41st Annual Metro Swimming and Diving Championships meet the north Atlanta school hosted Saturday. The Wildcats tallied 355 total points while second-place Marist had 346 points in the overall standings. The two schools finished first and second in both the boys and girls standings as well, but the Wildcats winning the boys meet and the War Eagles taking the girls meet. There were 39 teams that competed in the meet, not all of which are from metro Atlanta.
Wesleyan's Anthony McMurry broke his own meet record in the 100 freestyle while Nick Salyers set the school record in the 100 backstroke. The two also combined to help the Wolves win the 400 free relay and McMurry also took first place in the 50 free.
Secondary Content
Bottom Content