Section Branding
Header Content
McNair Comes Through With Landmark Win
Primary Content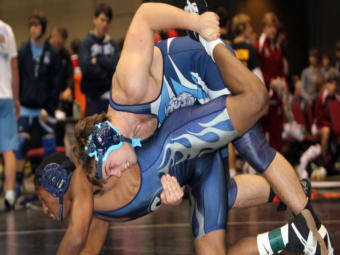 McNair won its first-ever DeKalb County wrestling title Saturday at Miller Grove. The Mustangs outpointed Marist 200.5 to 193 after trailing 182 to 175.5 with three matches remaining. Khalil Williams won the 120-pound weight class while D.J. Jackson pinned Miller Grove's Jacob Miller to win the 220-pound class. Kenneth Brinson won the 195-pound class for Marist while Patrick Lange (120), Matt Andres (138) and Ian Kirchner (145) each were runners-up.
Robby Martin (138) and Quinn Peragine (113) of St. Pius X each won their respective weight classes at the DeKalb meet. Martin was awarded the 2012 William S. Venable Trophy for the Most Outstanding Wrestler in DeKalb County.
Lithonia's Anthony Smith won his second consecutive county title by capturing the 152-pound match over Stephen Wylie of Stephenson. The battle between the two was voted the Best Finals Match by the coaches. Lovett won the Elbert County Invitational Saturday as seven Lions won their weight classes. On Jan. 24, the Lions hosted Milton and defeated the Eagles 54-15.
Kell took the River Ridge Duals championship Saturday after beating Gordon Lee in the finals 40-29. Meadowcreek won three out of five matches at the same meet by taking down Mount Pisgah (67-10), North Paulding (62-15) and Norcross (45-30) before bowing to Kell 46-28 and Gordon Lee 39-36. Mustang wrestlers Robert Nguyen (113), Dante Bennett (120) and Ryan Moore (182) each were undefeated in five matches while Rene Deluna (126), O.G. Harden (170) and Alex Cucio (285) won four of five. The 30 wins is a season record for Meadowcreek wrestling.
In a four-team meet, Greater Atlanta Christian got the better of Locust Grove (40-31), Dacula (68-10) and Wheeler (41-31) in setting a school record for most wins in a season (38) Saturday. The Spartans also won on Jan. 24, as they defeated the Class A team dual champions, Holy Innocents', 44-15 on Senior Night at Greater Atlanta Christian.
Secondary Content
Bottom Content