Section Branding
Header Content
Milton Boys, Wesleyan Girls Don't Disappoint
Primary Content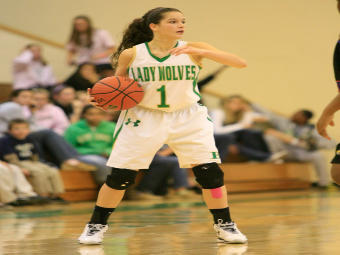 Wheeler's Charles Mitchell is an incredible specimen who is capable of putting the Wildcats on his back from time to time. He was a beast against Milton on Saturday, scoring 30 points while snagging 12 rebounds, but the Eagles used a 9-0 spurt while Mitchell was on the bench to turn a two-point lead into a commanding 11-point margin that it would not lose in a 65-60 victory. Tevin Glass scored 19 in the second half to finish with 23 for Milton and Jalyn Patterson scored 20 points, including four three-pointers in the victory. Charles Mann of Score 44 fame, dished out six assists for Milton to go with eight points.
Brandon Thompson scored 23 points for Berkmar Saturday, but it was the final three that gave the Patriots a 65-62 buzzer-beating victory over Alpharetta. A.D. Rogers contributed 18 in the win. Isaiah Williams connected on a late three-pointer to help Buford past Wesleyan 43-40. T.J. Shipes, a member of the Score 44, posted a double-double with 10 points and 10 rebounds. Wesleyan's Shane Smith led all scorers with 21 points.
In girls action, Shayla Cooper was a perfect 13-for-13 from the free throw line in a 71-54 Norcross win over Southwest DeKalb. Cooper finished with 22 points while Tori Carter had 17 and Sierra Butler chipped in 11. Defending champions squared off in Norcross when Wesleyan topped Buford 60-49. Score 44 standout Holli Wilkins scored 22 points for Wesleyan, winners of 25 straight at home. Wesleyan's bench outscored Buford's 18-0, and it was needed as several Wesleyan regulars were racked with injuries and foul trouble. Kaela Davis led Buford with 17 points while Andraya Carter had 11 and MacKenzie Darrah tallied 13.
Secondary Content
Bottom Content