Section Branding
Header Content
Recruits Weighing Signing Day Options
Primary Content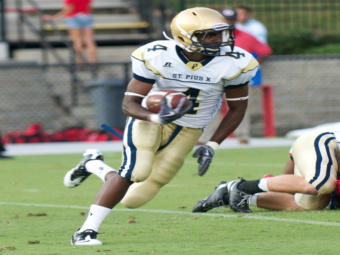 As much as we don't like to admit it, stereotypes are based on a large sampling of repeated behavior by a certain group. One popular stereotype is that guys have a hard time committing, whether it is to plans on a Friday night with a lady friend, a marriage engagement or which sports bar they will watch the game at on Saturday.
Anyone upset with the generalization that some men just cannot commit need look no further than the recruiting drama playing out across the state of Georgia as we near National Signing Day this Wednesday. Desperate teams start flooding the cell phones of waffling recruits, courting them harder than ever before in the attempt to get a switched pledge and a letter of intent.
As much as we like to believe what the word "committed," means sadly, when a high school junior or senior commits, it really doesn't mean anything until that player puts pen to paper and paper to fax machine on National Signing Day. Up until that point, everything is just lip service and non-binding. There have been multiple cases over the years of players pledging to a coach only to pull a switcharoo on National Signing Day.
Two metro-area players, Tucker's Josh Dawson and Sandy Creek's JaQuay Williams, have been "committed" to Vanderbilt and Auburn, respectively for months, but Mark Richt and the Georgia Bulldogs managed to snare each last week for visits and both enjoyed their trips according to various recruiting services and tweets.
Williams, a wide receiver is the No. 11 player on the Score Final 50 while Dawson, a defensive end, checks in at No. 25. After Georgia lost Flowery Branch's CJ Curry earlier this year, a spot at wide receiver opened up, and Richt charging after the Auburn pledge. Richt and company also waited on Dawson to see what No. 32 Kenderius Whitehead would do, and after the ML King DE/OLB pledged to NC State, the Dawgs started charging. It may seem shady, but these players are not truly "committed," to Vanderbilt and Auburn until after the Letter of Intent gets sent in.
COACHING CHANGES
Committed is a funny word too when we expect these high schoolers to stick to their word when coaches do not always abide by that rule. Coaches jump ship to better jobs or sometimes get the ax, and in these cases, commitments can change.
Kyle Sloter of Mt. Pisgah recently switched his pledge from Tulane to Southern Miss after the coaching staff at Tulane was fired, and the man that recruited him made his way to Southern Miss. Now Sloter will sign with the Eagles to play for the coach with whom he fostered a recruiting relationship. Sloter's father told Score Atlanta, "Kyle took a visit to Southern Miss and wants to go where he is wanted more."
Other players such as Josh Harvey-Clemons of Lowndes (No. 3) and Dalvin Tomlinson (No. 18) of Henry County have yet to declare and likely will on National Signing Day. Sometimes players like to wait until National Signing Day so that they can take all of their official visits to make a well-informed decision. Other times players are merely seeking the limelight and want to have ESPN, Rivals, Scout and 247Sports drool all over them, anticipating their every move. Last year, Jadeveon Clowney waited nearly two weeks after National Signing Day so that he could declare on his birthday in front of a live television audience with no one else stealing his thunder. For two weeks the buildup of "where will he go," prevented any rankings list from being able to run on various websites. Harvey-Clemons and Tomlinson were still making visits up through our press deadline and had not yet committed, though both are believed to be signing on National Signing Day.
BE TRUE TO YOUR SCHOOL
Then you have the players who commit early and stick with that pledge through National Signing Day, even acting as ambassadors for their future college. St. Pius X's Geno Smith comes to mind as one of these players. Smith, who pledged to Nick Saban and Alabama last summer, has been pushing hard along with Hillgrove's Kenyan Drake and Cedar Grove's Brandon Greene, trying to get all the recruits they can to come to suit up for the Crimson Tide on February 1. Each participated in national all-star games and all were reportedly pushing undecided players towards Tuscaloosa. Chris Leak of Charlotte's Independence High School was well known for being former Florida coach Ron Zook's first big-time recruit, and he played the Pied Piper, leading plenty of fellow prep stars down to Gainesville. Last season, Damian Swann helped the Dream Team land Ray Drew, Isaiah Crowell, Malcolm Mitchell and Jay Rome after he pledged to be a Bulldog at the US Army All-American game. Swann's first one in really got the ball going as Richt and Georgia finished strong in January and February. Recruits that take the drama out early and pick with their pledge are a breath of fresh air in these days of me-first, spotlight-seeking seventeen-year-olds.
So what will Wednesday mean in the grand scheme of things? Wednesday is a day to be celebrated not just because Georgia signed "The Dream Team II," or because Georgia Tech landed its best defensive prospect yet under Paul Johnson. The day should be celebrated because young men across the state of Georgia have chosen to use football as a vehicle to matriculate to colleges and universities of higher learning across the country. These football players have weathered the drama of recruiting to declare they will seek out college degrees while bashing heads on the gridiron.
Will they all go on to NFL success? No. But all will be better for continuing their educations. We can perhaps give them a pass for switching a pledge or two along the way; hopefully it was for a better purpose than just attention-seeking.
Secondary Content
Bottom Content