Section Branding
Header Content
Pope Wrestling Rolling Through Cobb County
Primary Content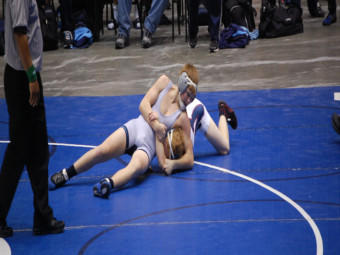 Class 4A Duals champion Pope won an event for the second straight week, claiming the Cobb County Invitational. The win was the fifth straight Cobb County crown. Pope placed 14 wrestlers and won four individual classes en route to 294.5 points. Cameron Munsey (113), Davis Burson (138), Jake Henson (152) and Brooks Climmons (182) all won county titles. Kell finished runner-up with 164.5 points while Harrison finished third (141.5). Harrison had two county champions, Deuce White (132) and Jake Shumpert (285). Shumpert won the even last year. Lassiter boasted three county champions in Paul Pelletier (120), Caleb Beaver (145) and Scott Marmoll (160). Kennesaw Mountain's Justan Rivera (170) was named the tournament's most outstanding wrestler after winning his class.
GOLDEN BEARS IMPRESS ...
Holy Innocents' hosted the Clinch Gear Prep Slam over the weekend and the host Golden Bears finished 10th in the tournament, the best finish of any Georgia participant. The two-day event saw 44 teams from 12 states travel to Holy Innocents' to take part. Jason Grimes (170) and Lee Davis (182) took second place for the Golden Bears while Robbie Martin of St. Pius X took fourth place in the 138-pound weight class.
Class 2A state duals champion Jefferson won the 36-team Sham Slam at Habersham Central last Saturday. Gwinnett County champion Archer finished second while Class 3A state duals champion Gilmer finished third. North Gwinnett finished fifth at the meet, with Hunter Franklin (113) and Alex Stoehr (285) winning individual titles.
ARCHER WINS AGAIN …
It was a productive weekend for Archer. In addition to the runner-up finish at the Sham Slam, the Archer freshman team won the Gwinnett County championship with 83 points, besting GAC (55) and third-place Wesleyan (52). Elliot Lee and Trey Rinehart were tournament champions for Archer. This is the third-straight freshman title for Archer.
Meadowcreek won the Last Man Standing tournament at Eagle's Landing Saturday. Rockmart was the runner-up while Forest Park finished third, the hosts finished fourth and Westminster took fifth place. Meadowcreek placed 10 wrestlers including wins by Dante Bennett (120) and Alex Steele (160). O.G. Harden (170) and Ryan Moore (182) each took second place. It was the fourth tournament win of the year for Meadowcreek.
Secondary Content
Bottom Content