Section Branding
Header Content
The Role Of Prep Coaches In Recruiting
Primary Content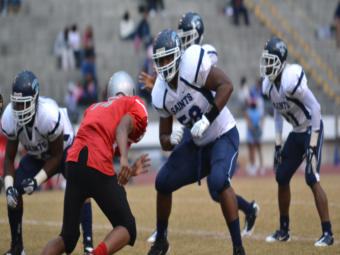 Recruiting fans and gurus like to hear about whom each recruit is favoring and what trips they will be making. But who has input into those decisions? Obviously, the players' families have a huge role in that, but so do others. One person who generally has some input is each recruit's high school head coach.
Quite a few high school players look to their head coach as a father figure. In this role, the coach provides guidance and advice to college recruits. But how much do they provide generally and what type of advice do they usually give?
"I leave it up to the kid and the family unless they ask me questions," said Cedar Grove head coach Ray Bonner. "I'll give my professional opinion when asked."
Bonner, who was head coach at Alabama A&M from 1991-1993, has seen recruiting from both sides of the coin. Bonner knows what it is like to recruit players for college and what it's like to mentor high school recruits.
"At Alabama A&M, we would try to find out who the person was to talk to," said Bonner, about the recruiting game. "Sometimes it was the parents, sometimes the coach or even a teacher."
At Cedar Grove, Bonner fulfills the opposite role.
"It's easy when the big programs recruit a kid," said Bonner about his role in recruiting. "But the Division II-level kids take more work."
Both Bonner and Stone Mountain head coach Dante Ferguson have assistant coaches help them get the word out about their lesson-known recruits.
"My offensive coordinator helps me with recruiters," said Ferguson. "If they contact me, I'll give them the information. Otherwise, my OC will handle that."
Also like Bonner, Ferguson has been on both sides of the recruiting process and has noticed how recruiting has changed since he signed with Vanderbilt in the early 80s.
"When I was being recruited, you didn't commit until a month before signing day," said Ferguson "Now, you have kids committing 11 months before signing day."
But the former Commodore tight end said that isn't the only change in the process.
"The camps, rankings and websites were not around then," said Ferguson. "And a lot of kids can't afford to go to camps, which hurts them in recruiting. I think the colleges miss out on some really good players due to the rankings."
While the process keeps changing, one thing remains the same: high school coaches have an active role in recruiting.
Secondary Content
Bottom Content