Section Branding
Header Content
Raiders Swim To Fifth Straight Fulton Title
Primary Content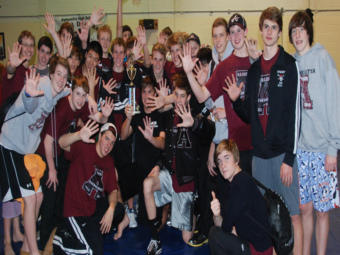 Johns Creek won the Fulton County Championship meet by winning the girls meet and finishing fourth in the boys meet. Alpharetta won the boys meet for the fifth year in a row with a score of 361.5 and came in second in the girls meet with 319 points. However, Johns Creek's whopping 453 points in the girls meet and 284 in the boys gave the Gladiators the championship. Jack Nyquist won the boys diving event with a score of 545.95 while fellow Raider Crawford Berry came in second with 412.30 points.
Parkview won a meet with rival Brookwood 334-286 Friday. The Panthers won the boys meet 197-111, but lost the girls meet 175-137. Parkview has a total of 35 state qualifiers and has also qualified its entire team for the county meet. It is the first time an entire squad has qualified for the county meet, according to Panthers coach Jack Gayle.
Lassiter won a meet with Hillgrove by sweeping both the boys and girls meets on Senior Night for the Trojans. Lassiter won the boys meet 160-147 and the girls meet 165-142. Zachary Marshall won two events for the Trojans (200 free and 500 free) while Zachary Brenner won two as well (100 back and 50 free). Nicole Prendes won the 200 free and the 500 free for the Trojans girls team and Jordan Drake won the 100 breaststroke and the 100 free. Also winning events for Lassiter were Jimmy Yoder (100 free) and Sarah Williford (100 back). Both schools will compete in the Cobb County Championships this weekend at the Mountain View Aquatic Center.
Wesleyan won a meet with Dunwoody by sweeping the overall, boys and girls standings. The Wolves won the boys 400 free relay, girls 400 free relay, the girls 200 medley relay and the boys 200 medley. Anthony McMurry, Caroline White, Nick Salyers, Camille Roy, Rachel Koch, Timothy Marsh, Lauren Hill, Carrie Ciccotello and Darby Coxhead each won one or more events for Wesleyan. Matt Kiser, Jonny Slimming and Adam Julian won events for Dunwoody. The Wolves won the overall meet 405-223, while taking the boys meet 198-116 and the girls meet 207-107.
Woodward Academy won a meet with Lovett Thursday 408-202. The War Eagle girls won their meet 193-120 while the boys won 215-82. Woodward Academy dominated the relays portion of the meet, winning each relay on both the boys and girls side. St. Pius X won a meet with Dunwoody 257-111. Senior David Barnes of West Forsyth has accomplished the rare feat of qualifying for the state meet in every swimming event, including relays.
Secondary Content
Bottom Content