Section Branding
Header Content
Norcross Girls Win Despite Loss Of DeShields
Primary Content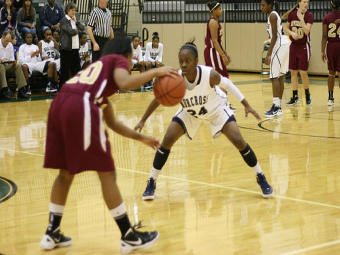 Top teams from across the state and the country converged upon Norcross High School for the 2012 Hilton Invitational, and several memorable finishes highlighted the event. The host Blue Devils pulled out a 60-57 win after Charlotte (N.C.) Christian's Ryan Potocnik scored a basket for Norcross late in the fourth. Junior Brandon Goodwin canned two free throws with 3.8 seconds to achieve the 60-57 final margin. Jason Croom, a member of the Score 44 gridiron edition and No. 26 on the Score Final 50, led Norcross with 15 points and nine rebounds.
Harrison tagged Dr. Phillips (Fla.) with an 81-76 loss at the event. Ryan Blumenthal scored 28 points, surpassing 1,000 for his career in the process, and Score 44 big man Marshall Guilmette added 18 points in the victory.
Wheeler fell to Charlotte (N.C.) Olympic 69-52 as Kejuan Johnson's 16 points weren't enough to help the Wildcats keep up with the Trojans. Charles Mitchell scored 11 points. Meanwhile, the Parkview girls improved to 20-0 (11-0 in region play) with a commanding 57-43 win over Archer on Saturday. Score 44 standout Erika Joseph scored 16 points as did Marissa Madneldove and Vicky Harris.
Lexie Brown of North Gwinnett exploded for 25 points at the Kay Yow Girls Night Out Tournament at Starr's Mill in a 41-37 win over Dutch Fork (S.C.). Norcross was also victorious in the event, taking out Center Point (Ala.) 62-35 behind 20 points from Shayle Cooper and 16 and eight from Patrice Butler. Norcross was playing without Diamond DeShields, who will miss 2-3 weeks with a fractured wrist, according to WXIA's Sam Crenshaw, who spoke with Norcross coach Angie Hembree.
In a crucial Region 8-AA North matchup, the No. 3 East Hall girls beat No. 5 Rabun County Friday 56-45. Morgan Jackson had 20 while Jasmine Jenkins had 19 for the Lady Vikings. Class AA No. 2 GAC dominated Class AAAAA foe South Cobb at the Hilton Invitational Saturday 62-42. It was the Spartans' eighth straight victory. Senior Cole Hobbs had 23 points, while Robert Armstrong had 12 points. Sophomore Isaiah Wilkins, son of Dominique, had 10 points and eight rebounds. Milique Johnson led South Cobb with 18 points. The Class AA No. 2 Buford girls dominated Westminster 78-22 as Tennessee signee Andraya Carter played for the first time this season after knee surgery. Kallie Case had 14 for the Lady Wolves while Carter pitched in eight.
The Class A No. 1 Wesleyan girls lost to Bob Jones (Ala.) 49-46 at the Kay Yow Girls Night Out Tournament at Starr's Mill. In a losing cause, Holli Wilkins had 19 points and seven rebounds. The Providence Christian girls rolled Pinecrest Academy 59-20 as Aubrey Gold scored 30 points. Central-Macon defeated Rutland 65-59 to remain in third place on the Region 2-AAA standings. Takori Clark had 19 points and 12 boards for the Chargers.
Landmark Christian bombed First Presbyterian Day 62-41 Saturday, as the Eagles outscored FPD by 21 in the second half. Houston Kessler scored all 20 of his points in the second half for Landmark. The Class AAAA No. 10 Northside-Warner Robins girls beat Houston County 71-63 on Friday to stay unbeaten in Region 1-AAAA. Jasmine Wilson had 26 for Northside, while Justice Wright had 26 for the Lady Bears.
Secondary Content
Bottom Content