Section Branding
Header Content
Three First-time Champions Leave Macon
Primary Content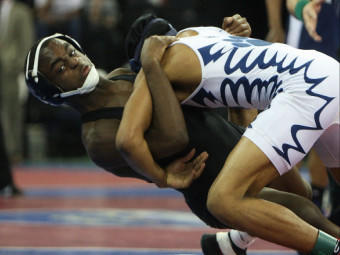 Camden County won the Class AAAAA state championship with a 28-27 nailbiter over four-time defending state champion Collins Hill Saturday in Macon. The Wildcats won the last match to tie the meet at 27 before winning a tiebreaker to clinch the championship. Since Camden County had more pins than Collins Hill, they were awarded the victory. The Wildcats' Perry Morgan Jared defeated John Bardtmueller 4-1 to tie the match and send it to the tiebreaker. Camden County is the first program from outside metro Atlanta to win the state wrestling title in the state's largest classification since LaGrange won the AAAA title in 1987. Gwinnett and Cobb programs had rotated winning the title every year since 2001, when Starr's Mill won it. It was also the first dual meet loss by Collins Hill to a team from Georgia since Pope beat the Eagles in 2008.
After accomplishing a season of firsts, Archer came in third after falling to Camden County in the semis. The Tigers bounced back to defeat Lowndes and North Forsyth to win third place.
Pope won the Class AAAA duals championship with a 56-10 win over defending champion Woodland-Bartow. The Greyhounds avenged a loss to Woodland in last year's duals semifinal. Pope won 12 of 14 matches in the finals. It is the first duals championship for the Hounds.
Gilmer beat West Laurens 48-20 in the semifinals, then edged Heritage-Catoosa 29-27 to win the state final. It is Gilmer's third straight duals title.
In Class AA, Jefferson won its fourth consecutive state title after dominating Lovett 55-9. It is the 11th straight duals title for the northeast Georgia school. GAC finished third in Class AA after losing to Jefferson in the first round, then winning five consolation matches.
Holy Innocents' won its first-ever duals state title with a 31-29 decision over Gordon Lee. The Trojans had upset three-time defending state champion Bremen earlier in the meet, paving the way for a finals showdown with the Golden Bears
Secondary Content
Bottom Content