Section Branding
Header Content
Buford Drops Two Over Weekend To Ranked Foes
Primary Content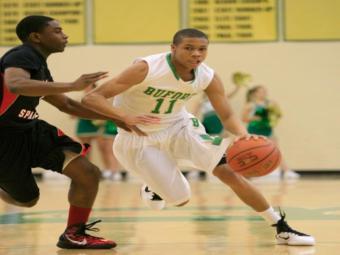 Class AA No. 1 Buford was upset by Class AA No. 3 GAC Friday night before losing to Class A No. 2 Whitefield Academy Saturday. The host Spartans took control of Region 6-AA with a 54-45 win. It was a game both sides had been looking forward to for a while, as former GAC star A.J. Davis suited up for Buford for the first time against his former teammates. Davis finished with just three points. It was the Spartans' 11th straight win over the Wolves. On Saturday, Whitefield dominated the glass for a 35-22 edge on the boards while the Wolfpack held Buford star T.J. Shipes to just two second half points after allowing him 16 in the first half. Whitefield used a 12-1 second quarter run to take a 33-25 lead on its way to a 74-64 win.
The No. 10 Warner Robins girls won a rivalry game with Houston County 73-53 Friday night. Keyona Armstrong had 26 for the Demons. The Class AAA No. 1 Washington County girls extended their winning streak to 46 games after routing Glenn Hills Friday night 69-33, then Putnam County Saturday night 72-43. The Class AAA No. 1 Columbia boys extended their homecourt winning streak to 72 games Friday night with a 57-39 win over Stone Mountain. Class AA No. 8 Thomasville beat Region 1-AA rival Albany 37-36 Friday night. Willie Clayton had 15 points and 15 rebounds for the Bulldogs.
Class AAAAA No. 2 Shiloh fell to No. 10 Berkmar 46-45 after Score 44 guard Yonel Brown connected with less than two seconds to play in the fourth. Brown finished with 13 points and Tim Rowe led the Patriots with 14 points. Shiloh's Robert Carter led all scorers with 17 points.
The Norcross boys got a huge third quarter effort to knock off the Hawks of Mill Creek 58-49 at the House of Blue. The Blue Devils outscored Mill Creek 21-6 in the third frame to turn a halftime deficit into an 11-point lead. Derrick Herbert had 23 point for Norcross. Diamond DeShields scored 26 points to help the Norcross girls team defeat Mill Creek 62-48. Jasmine Carter had 10 points for the Hawks. Saturday, though, was a different story for Norcross as the girls squad fell to Riverdale (Tenn.) 63-40. Jasmine Kemp had 15 rebounds, but DeShields was in foul trouble all game long, fouling out in the fourth with just six points.
Chris Bolden had a huge weekend for North Gwinnett, scoring 16 points in a Bulldogs 58-41 win over Meadowcreek Friday and then had 28 points (22 in the first half) in a 72-50 win over McEachern. The No. 1 girls team in Class AAAAA McEachern took down No. 5 Hillgrove 77-40 after forcing 25 Hawks turnovers. Score 44 standout Pachiayaanna Roberts had 26 points and eight steals for McEachern. The Indians pulled away with a 23-6 second quarter.
Marissa Mandeldove scored 24 points to help Parkview defeat Salem 63-43 Saturday. Score 44 member Erika Joseph scored 12 points in the win. Alpharetta's Kylee Smith had 25 points as No. 9 Alpharetta upset Buford 60-42 in the Peach State Hoops Battle of Southeast. Score 44 standout Marshall Guillmete contributed 11 points in Harrison's 72-63 win over South Gwinnett. Logan Adams had 24 points and 19 rebounds for the Comets.
Secondary Content
Bottom Content