Section Branding
Header Content
Marist Swimmers Trump Regional Powers
Primary Content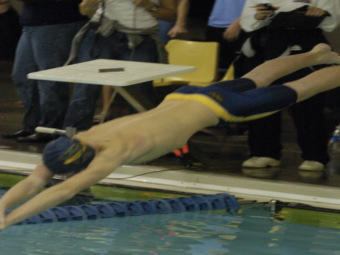 Marist won the Catholic Schools Invitational Saturday at Emory, an event the War Eagles hosted. Other schools participating in the meet were Blessed Trinity, St. Pius, Charlotte Catholic (N.C.), Cardinal Gibbons (N.C.) and Notre Dame (Tenn.).
Marist won the boys title and finished second in the girls standings, while finishing with 1,037.5 total points. The War Eagles were followed by Charlotte Catholic, which had 946.5. The boys 200-yard medley relay team won its race as did Connor Herman (200-yard IM), Sarah Smith (500-yard freestyle), Andrea Demick (girls one-meter diving) and Porter Harrast (boys one-meter diving). Marist's success came against quality competition, as Charlotte Catholic was the North Carolina Class AAA girls state champion last year while Cardinal Gibbons was the North Carolina Class AAA boys state championship.
St. Pius finished third overall in the Catholic Schools Invitational with 729 points, and came in third in the boys and fourth in the girls rankings. Blessed Trinity took fifth place with 280 points while finishing fourth in the girls and fifth in the boys standings. The Golden Lions boasted individual winners in Haley Durmer (girls 100-yard breaststroke), Basil Orr (boys 100-yard breaststroke and 100-yard fly) and D.J. Boutte (boys 100-yard freestyle).
The Westminster boys dropped a home meet to Tennessee power McCallie Friday, while the Wildcat girls defeated Girls Preparatory School in the same meet. McCallie only participated in the boys meet while GPS only swam in the girls meet.
The Wildcat relay teams did well, winning the girls 400-yard free, the girls 200-yard free, the girls 200-yard medley and the boys 200-yard medley.
MORE RESULTS …
Brookwood held off Mill Creek in a meet between two of Class AAAAA's top swimming teams Saturday. The Broncos won the boys meet 156-153 and the girls meet 155-153. Brookwood benefited from Kelsey Gouge's performance, who won the girls 50 free and 100 free. For the Broncos boys team, Michael Trice won the 50 free and 100 free. … Alpharetta won a meet with Collins Hill and Mountain View. … Class A power Wesleyan swept a meet with Chattahoochee, from Class AAAA, and Milton, Class AAAAA. … Central Gwinnett swept a meet with Shiloh and Berkmar.
Secondary Content
Bottom Content