Section Branding
Header Content
Georgia Junior Bowl Experience Helps Players
Primary Content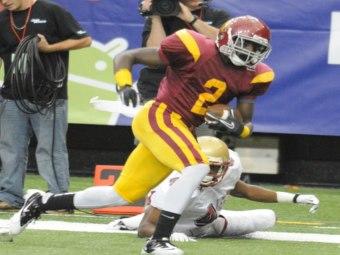 High school football is something of a religion in the state of Georgia, but for the players that suit up every Friday night, eventually the games stop and the calendar turns to Saturday. The AT&T Georgia Junior Bowl was created by Rising Seniors to prepare high school junior student-athletes for their senior year and beyond, both on and off the field. Last year's inaugural game featured young men who went on this autumn to have sensational senior years as some of the nation's best prospects. After the success of the last game, many of the top 2013 prospects lined up for this year's game. The talent-rich event has also attracted the attention of ESPN and will be presented live on ESPN 3.
The state of Georgia helps to produce top five recruiting classes every February, and this game and the events surrounding it will prepare these young men for what lies ahead not only during the recruiting process but as they prepare for their senior year and their college career.
Recruiting has started so early these days as some of the nation's top juniors already have had college coaches in their living rooms, promising scholarships before the player had even earned a driver's license. That is the nature of the recruiting game these days. However for many of these players competing in the 2011 Georgia Junior Bowl, this will be the first time scouts may see how the best of the best do when matched up against the best of the best across from them. College scouts, recruiting service scouts and other high school coaches will be out in full force for the game, watching and learning about the players involved. College recruiting is a huge network, and in some cases, it isn't just how good you are, it is who you know. This game offers a chance for some of these young players to put their names out there and perhaps gain that first offer.
Last year's bowl game was a virtual who's who of Georgia high school football with the likes of Carrollton's Jonathan Jones, Sandy Creek's Quinteze Williams, GAC's Chase Roberts and Harris County's Jordan Jenkins out on the field. The exposure that this game gave those players helped each land major scholarship offers from various SEC and ACC teams. Said Jenkins of the event, "This was an experience you don't want to miss. It is a great way to get to know your fellow recruits and it prepares you for the upcoming senior bowl games."
Jenkins wasn't the only player that was quick to praise the entire experience of practices, seminars, visits to a children's hospital and of course the game. Lithonia's Joe Harris, headed to South Carolina, credited the game's founders. "It was a wonderful experience with Joe (Burns) and Izell (Reese). They are two wonderful men who put this together for us."
National Scout.com recruiting expert Chad Simmons was also impressed with the entire Georgia Junior Bowl week. Several players expressed to Simmons how valuable the off-the-field experiences were. These are some of the quotes from an excellent piece on Scout.com.
Derius Bennet, Carver Columbus: This was a life changing event, that will help me make the right choices in the future.
Mike Davis, Stephenson: Learned that football will not always be there and that he needed to have a plan B.
Markuss Eligwe, Stone Mountain: If you want something you have never had, you must do somethings you have never done.
Quayvon Hicks, Pierce County: It was great to hear from people with knowledge and experience give advice on how to begin the mission to success.
Jonathon Jones, Carrolton: It was truly more than a game, I met kids from around the state that have the same dreams as me.
C J Moore, Buford: I learned things that will make me a better man.
Chase Roberts, GAC: It should be mandatory for all potential college athletes to go through something like the Rising Seniors experience.
So how will this year's experience help some of Georgia's top rising seniors? One year ago Lassiter wide receiver Charlie Hegedus made a name for himself at the Georgia Junior Bowl with a great game and several outstanding practices. Hegedus is now headed to NC State. This year his high school teammate Juwan Dickey will get a chance to do the same. The exposure he'll receive from the game, coupled with the early interest Dickey has received could propel his college prospects in much the same way it did for Hegedus. Regardless he and the other players are no doubt better prepared for their futures.
Secondary Content
Bottom Content