Section Branding
Header Content
ML King Wins Game, Loses Quarterback
Primary Content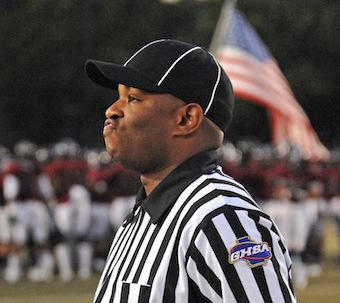 The Lions of ML King averaged 34 points this season with Jonquel Dawson, Blake Tibbs and Joshua Stanford moving up and down the field in Michael Carson's offense. Friday night the Lions forced six turnovers plus another on downs to knock the Coffee Trojans out of the playoffs, but it may have come at a high price. ML King turned the ball over in the third quarter with a 30-7 lead, and the quarterback Dawson left the game with a right leg injury. Coffee would find the end zone a few plays later to cut the lead to 30-14 and a Jeremy Tyler interception gave the Trojans another eventual score to trim the lead to 30-22.
Early on in the contest, Coffee took a 7-0 lead on a Tyreek Hill 55-yard pass to Kenyadrick Black on a trick play. The ensuing kickoff, though, saw ML King standout Blake Tibbs weaving through Trojans for a 96-yard touchdown return. Stanford would haul in a 45-yard scoring pass later in the quarter.
Three Coffee turnovers inside ML King territory led to nine second-quarter points, and Coffee wasn't finished turning it over inside Lions territory for the evening. In the third quarter Coffee turned it over on downs inside the ML King 40 then fumbled another away.
Dawson would leave the game in the third, leaving the ball in Jeremy Tyler's hands. Tyler would throw an interception to Hill to keep Coffee in the game. Hill would haul in a reception to put the Trojans inside the five yard line where Brandon Roe would bring Coffee to within 10. Hill's two-point conversion gave Coffee a shot with 3:05 left. Coffee recovered the onside kick, but the officials ruled the kicker was off-sides and ML King would run the clock out to advance 30-22.
In all, Coffee turned it over six times plus the turnover on downs, five turnovers occurring in Lions territory. Stanford finished with three touchdown receptions. The Lions will face Brookwood in the second round of the GHSA football playoffs.
Secondary Content
Bottom Content