Section Branding
Header Content
GPB PREVIEW: Favorites Look To Avoid Upset
Primary Content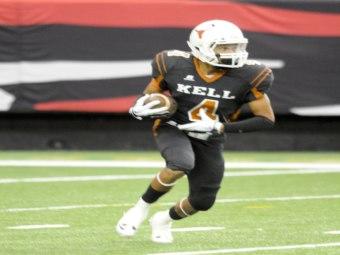 The Kell Longhorns won a share of the Region 5N-AAAA subregion championship but various tiebreakers sent the Longhorns on the road to a tough environment at Marist. The War Eagles have won 28 straight home playoff games and quarterback Myles Willis looks like the real deal under center for coach Alan Chadwick. Recently against Mays, Willis rushed for 162 yards and a pair of scores as Marist sliced up a playoff-bound Mays defense. Meanwhile Kell looked strong in a loss at the start of the year to Grayson and eventually took down Region 5-AAAA champion Pope. The last three outings for Kell have seen the offense pile up 52, 48 and 55 points en route to an 8-2 record.
Meanwhile ML King is anchored by two offensive studs in Jonquel Dawson and Blake Tibbs. The latter returned a kick 82 yards for the game-winning score in the closing seconds to lift the Lions to a 50-49 region-clinching victory over Stephenson. Tibbs finished with nine catches for 166 yards and four touchdown receptions. Dawson threw for six scores and 305 passing yards. Kenderius Whitehead is a monster on defense. Coffee lost its starting quarterback in the first game of the season, but Santory Long has filled in for Will Gardner. Kelly Daniels is explosive from the backfield and fullback Tony Clark can chew up both yardage and the clock.
Finally No. 3 Walton hosts Milton in a first round showdown. Milton has played at an extremely high level at times this season, but Walton can also explode for points in a hurry. The Raiders have two juniors in the backfield in Parker McLeod and Tyren Jones that make the offense go but the Blaylock twins can also make their presence felt offensively and defensively. Raider Valley should be rocking as Milton and new head coach Howie DeCristofaro look to spring the upset. The Eagles have won two straight and three of their last four to enter with a bit of momentum.
Secondary Content
Bottom Content