WATCH LIVE | GPB Sports' Flag Football - Playoffs: Round 3, North Gwinnett vs. Marietta At 6:30 P.M.
Section Branding
Header Content
Ball, Elder Make Week 10 Score 44
Primary Content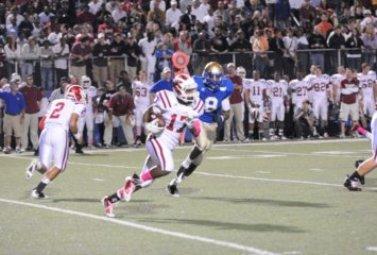 The Score 44 is a fluid list that aims to honor the best 44 seniors in Georgia high school football on a week-to-week basis. These players are some of the most highly-recruited players in the state as well as some of the best players that may not get to play at the next level. Two players reappear on the list as this week's additions.
Chaz Elder of Banneker has incredible size for a defensive back that you would think he would naturally be a safety. He has the speed though to play cornerback and several SEC and ACC teams are targeting him to play either. His 6-foot-2 size would allow him to be physical with any wide receiver in the country. Meanwhile Alabama pledge Dakota Ball accepted his 2012 Under Armour All-American jersey and game invitation as Ball has shown he could be Nick Saban's next stud defensive lineman. This is Ball's second appearance on the 2011 Score 44.
In (from week 9) Chaz Elder, Banneker (College Park), DB; Dakota Ball, Pepperell (Lindale), DT
Out (from week 9) Paris Head, Buford (Buford), CB/WR; Jhaustin Thomas, Columbia (Decatur) DE
Jordan Jenkins, Harris County (Hamilton), DE
Jonathan Taylor, Jenkins County (Millen), DT
Geno Smith, St. Pius X (Atlanta), DB
Kenyan Drake, Hillgrove (Powder Springs), RB/ATH
Raphael Kirby, Stephenson (Stone Mountain), LB
Joe Harris, Lithonia (Lithonia), OG
Vadal Alexander, Buford (Buford), OT
Josh Harvey-Clemons, Lowndes (Valdosta), OLB/WR
JaQuay Williams, Sandy Creek (Tyrone), WR
Imani Cross, North Hall (Gainesville) RB
Zack Blaylock, Walton (Marietta), DB
Dillon Lee, Buford (Buford), LB
DeMarcus Sweat, Stephenson (Stone Mountain) WR
Chaz Elder, Banneker (College Park), DB
Jarontay Jones, Stephenson (Stone Mountain), DE
Quinteze Williams, Sandy Creek (Tyrone) DT
Markuss Eligwe, Stone Mountain (Stone Mountain), LB
Jordan Watkins, Woodward Academy (College Park), DT
Dalvin Tomlinson, Henry County (McDonough), DL
Jason Croom, Norcross (Norcross) WR
Jacob Sealand, Tucker (Tucker), LB
Dakota Ball, Pepperell (Lindale), DT
Miles Jones, Allatoona (Acworth) RB
Josh Dawson, Tucker (Tucker) LB
Mike Hilton, Sandy Creek (Tyrone), RB
Malachi Jones, Central Gwinnett (Lawrenceville) WR
CJ Curry, Flowery Branch (Gainesville), WR
Josh Holsey, Creekside (Fairburn) DB
Ty Smith, Colquitt County (Moultrie), TE
Jordan Washington, North Gwinnett (Suwanee) DL
Kurt Freitag, Buford (Buford), TE/DE
Jonquel Dawson, ML King (Lithonia), QB
Kenderius Whitehead, ML King (Monroe) DE/OLB
Blake Tibbs, ML King (Lithonia), WR
Daron Blaylock, Walton (Marietta), DB
Darius English, McEachern (Powder Springs ), DE
Jonathan Jones, Carrollton (Carrollton) CB
Shadrach Thornton, Liberty County (Hinesville) RB
Brandon Greene, Cedar Grove (Ellenwood) OT
Chase Roberts, GAC (Norcross) OG
Greyson Lambert, Wayne County (Jesup) QB
Mike Davis, Stephenson (Stone Mountain) RB
Scott Hosch, North Gwinnett (Suwanee) QB
Nick Tompkins, Brookwood (Snellville), RB
Secondary Content
Bottom Content