Section Branding
Header Content
Picture Books That Honor Dr. Martin Luther King Jr.'s Dream
Primary Content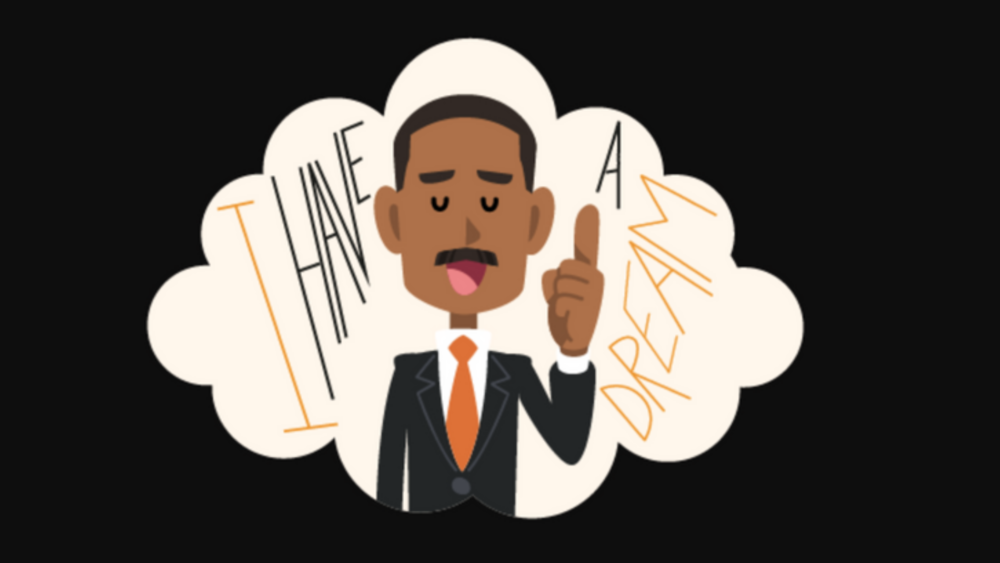 Every year on the third Monday in January, we honor the life and legacy of Dr. Martin Luther King Jr. This holiday provides teachers and parents the opportunity to talk openly with kids about America's history, the values Dr. King and other civil rights activists fought for, and how we can continue to strive for and promote equal rights. While these are heavy topics to tackle with young learners, picture books offer a simple and engaging approach to help children understand Dr. King's role and the purpose of the Civil Rights Movement. 
1. A Sweet Smell of Roses, by Angela Johnson and illustrated by Eric Velasquez
There's a sweet, sweet smell in the air as two young girls sneak out of their house, down the street, and across town to where men and women are gathered, ready to march for freedom and justice. Inspired by countless children and young adults who took a stand, two Coretta Scott King honorees offer a heart-lifting glimpse of children's roles in the civil rights movement.
2. March On! The Day My Brother Martin Changed the World, by Christine King Farris and illustrated by London Ladd
From Dr. Martin Luther King's sister, the definitive tribute to the man, the march, and the speech that changed a nation.
3. Ruth and the Green Book, by Calvin Alexander Ramsey with Gwen Strauss, illustrated by Floyd Cooper
Ruth was so excited to take a trip in her family's new car! In the early 1950s, few African Americans could afford to buy cars, so this would be an adventure. But she soon found out that black travelers weren't treated very well in some towns. Many hotels and gas stations refused service to black people. Daddy was upset about something called Jim Crow laws...
Finally, a friendly attendant at a gas station showed Ruth's family The Green Book. It listed all of the places that would welcome black travelers. With this guidebook--and the kindness of strangers--Ruth could finally make a safe journey from Chicago to her grandma's house in Alabama.
Ruth's story is fiction, but The Green Book and its role in helping a generation of African American travelers avoid some of the indignities of Jim Crow are historical fact.
4. Lillian's Right to Vote, by Jonah Winter and Shane W. Evans
An elderly African-American woman, en route to vote, remembers her family's tumultuous voting history in this picture book publishing in time for the fiftieth anniversary of the Voting Rights Act of 1965. 
5. If A Bus Could Talk: The Story of Rosa Parks, by Faith Ringgold
If a bus could talk, it would tell the story of a young African-American girl named Rosa who had to walk miles to her one-room schoolhouse in Alabama while white children rode to their school in a bus. It would tell how the adult Rosa rode to and from work on a segregated city bus and couldn't sit in the same row as a white person. It would tell of the fateful day when Rosa refused to give up her seat to a white man and how that act of courage inspired others around the world to stand up for freedom. 
In this book a bus does talk, and on her way to school a girl named Marcie learns why Rosa Parks is the mother of the Civil Rights movement. At the end of Marcie's magical ride, she meets Rosa Parks herself at a birthday party with several distinguished guests. Wait until she tells her class about this!
6. She Persisted: 13 American Women Who Changed the World, by Chelsea Clinton, illustrated by Alexandra Boiger
Chelsea Clinton introduces tiny feminists, mini activists and little kids who are ready to take on the world to thirteen inspirational women who never took no for an answer, and who always, inevitably and without fail, persisted.
With vivid, compelling art by Alexandra Boiger, this book shows readers that no matter what obstacles may be in their paths, they shouldn't give up on their dreams. Persistence is power.
This book features: Harriet Tubman, Helen Keller, Clara Lemlich, Nellie Bly, Virginia Apgar, Maria Tallchief, Claudette Colvin, Ruby Bridges, Margaret Chase Smith, Sally Ride, Florence Griffith Joyner, Oprah Winfrey, Sonia Sotomayor—and one special cameo.
7. I Am Martin Luther King, Jr., by Brad Meltzer and Christopher Eliopoulos
Even as a child, Martin Luther King, Jr. was shocked by the terrible and unfair way African-American people were treated. When he grew up, he decided to do something about it—peacefully, with powerful words. He helped gather people together for nonviolent protests and marches, and he always spoke up about loving other human beings and doing what's right. He spoke about the dream of a kinder future, and bravely led the way toward racial equality in America. 
8. A Is for Activist, by Innosanto Nagara
A is for Activist is an ABC board book written and illustrated for the next generation of progressives. The alliteration, rhyming, and vibrant illustrations make the book exciting for children, while the issues it brings up resonate with their parents' values of community, equality, and justice. This engaging little book carries huge messages as it inspires hope for the future, and calls children to action while teaching them a love for books.
9. Seeds of Freedom: The Peaceful Integration of Huntsville, Alabama, by Hester Bass
Mention the civil rights era in Alabama and most people recall images of terrible violence. But for the citizens of Huntsville, creativity, courage, and cooperation were the keys to working together to integrate their city and schools in peace. This engaging celebration of a lesser-known chapter in American and African-American history shows how racial discrimination, bullying, and unfairness can be faced successfully with perseverance and ingenuity.
10. Happy Birthday, Martin Luther King Jr., by Jean Marzollo
This book is a beautifully-rendered study of Martin Luther King Jr.'s life, told in simple, straightforward language for even the youngest of readers to understand. Pinkney's scratchboard and oil pastel illustrations convey both the strength and gentleness of King's character. Both text and art carry his central message of peace and brotherhood among all people.
11. Freedom on the Menu: The Greensboro Sit-Ins, by Carole Boston Weatherford
There were signs all throughout town telling eight-year-old Connie where she could and could not go. But when Connie sees four young men take a stand for equal rights at a Woolworth's lunch counter in Greensboro, North Carolina, she realizes that things may soon change. This event sparks a movement throughout her town and region. And while Connie is too young to march or give a speech, she helps her brother and sister make signs for the cause. Changes are coming to Connie's town, but Connie just wants to sit at the lunch counter and eat a banana split like everyone else.
12. The Youngest Marcher: The Story of Audrey Faye Hendricks, a Young Civil Rights Activist, by Cynthia Levinson, illustrated by Vanessa Brantley-Newton
Meet the youngest known child to be arrested for a civil rights protest in Birmingham, Alabama, 1963, in this moving picture book that proves you're never too little to make a difference.
Audrey Faye Hendricks was confident and bold and brave as can be, and hers is the remarkable and inspiring story of one child's role in the Civil Rights Movement.
13. Be a King: Dr. Martin Luther King Jr.'s Dream and You, by Carole Boston Weatherford, illustrated by James E. Ransome
Featuring a dual narrative of the key moments of Dr. King's life alongside a modern class as the students learn about him, Carole Weatherford's poetic text encapsulates the moments that readers today can reenact in their own lives. See a class of young students as they begin a school project inspired by Dr. Martin Luther King Jr. and learn to follow his example, as he dealt with adversity and never lost hope that a future of equality and justice would soon be a reality. As times change, Dr. King's example remains, encouraging a new generation of children to take charge and change the world . . . to be a King.
14. I Have a Dream, by Martin Luther King Jr.
On August 28, 1963, on the steps of the Lincoln Memorial during the March on Washington, Martin Luther King gave one of the most powerful and memorable speeches in our nation's history. His words, paired with Caldecott Honor winner Kadir Nelson's magnificent paintings, make for a picture book certain to be treasured by children and adults alike. The themes of equality and freedom for all are not only relevant today, nearly 60 years later, but also provide young readers with an important introduction to our nation's past.
15. Let the Children March, by Monica Clark-Robinson and Frank Morrison
In 1963 Birmingham, Alabama, thousands of African-American children volunteered to march for their civil rights after hearing Dr. Martin Luther King Jr. speak. They protested the laws that kept black people separate from white people. Facing fear, hate, and danger, these children used their voices to change the world. Frank Morrison's emotive oil-on-canvas paintings bring this historical event to life, while Monica Clark-Robinson's moving and poetic words document this remarkable time. 
16. Martin's Big Words: The Life of Dr. Martin Luther King, Jr., by Doreen Rappaport
This picture book biography of Dr. Martin Luther King, Jr. brings his life and the profound nature of his message to young children through his own words. Martin Luther King, Jr., was one of the most influential and gifted speakers of all time. Doreen Rappaport uses quotes from some of his most beloved speeches to tell the story of his life and his work in a simple, direct way. Bryan Collier's stunning collage art combines remarkable watercolor paintings with vibrant patterns and textures.
Do you have a favorite picture book to add to this list? Let us know on Facebook or Twitter! 
Secondary Content
Bottom Content