Section Branding
Header Content
GPB Education And Challenge Island Launch Weekly STEAM Challenges
Primary Content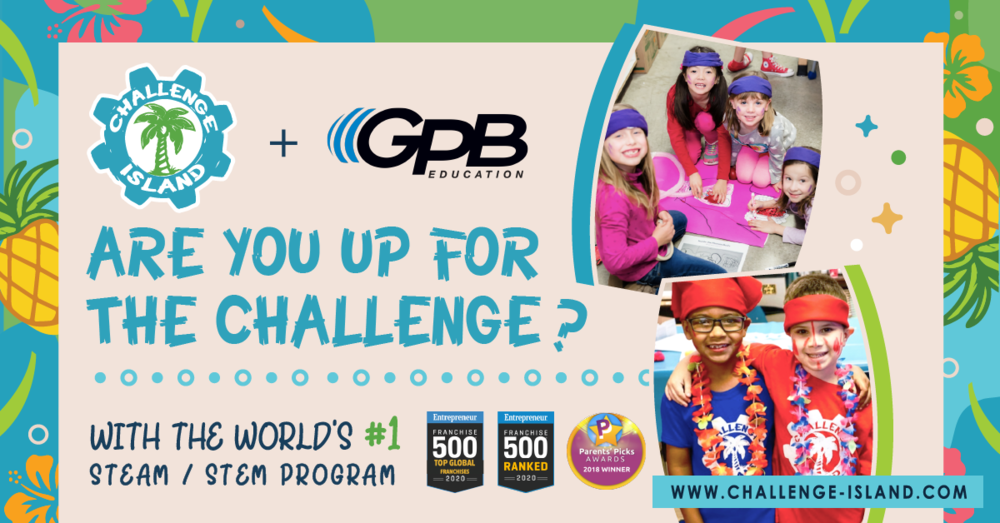 GPB Education has partnered with Challenge Island, a popular STEM/STEAM program for kids, to bring fun and engaging (and free!) challenges to students to kick off the new school year. 
During the month of September, a new challenge will be posted each week (beginning August 31) that encourages students to use their imagination and engineering skills to complete a STEAM challenge. The best part? No fancy or expensive materials are required! Each challenge uses common household or classroom items, so anyone can participate. 
Teachers and parents are encouraged to share students' creations with GPB Education by sending an email to education@gpb.org or tagging us on Twitter or Facebook using @gpbeducation. Submissions may be featured on gpb.org!
Are you up for the challenge? 
CHALLENGE #1: LUNAR LEAP
August 31-September 4
In this challenge, students will learn about gravity on the moon and make astronauts leap! The lesson begins with an overview of the Apollo 11 mission that put the first people on the moon and covers important space-themed vocabulary.
Watch the video below for the full instructions and a demonstration of the challenge.  
Click here for a PDF copy of instructions and printable cut outs. 
CHALLENGE #2: ALOHA PEAK
September 7-11
Kids will learn about Hawaiian volcanoes and create a chemical reaction to explode a volcano of their own. They will make and play a "Floor is Lava" game to get them into the molten lava mood!
Click here for a PDF copy of instructions. 
CHALLENGE #3: PIRATE COVE
September 14-18
In celebration of Talk Like a Pirate Day on 9/19, kids will learn about Pirate boats and design their own tinfoil schooner that can hold as much "booty" as possible.  They will also learn to talk like a pirate and can use their new piratey vocabulary in their video presentations.
Click here for a PDF copy of instructions. 
CHALLENGE #4: TOUCAN TREE
September 21-25
Kids will "visit" the Amazon Rainforest and learn about one of its most colorful, singing inhabitants - the Toucan.  They will also learn about sound waves and create a colorful water xylophone to play one of the Toucan's songs. 
Click here for a PDF copy of instructions.
CHALLENGE #5: PENDULUM ALLEY
September 28-October 2
Kids will engineer a pendulum and use it to create a bowling alley game.
Click here for a PDF copy of instructions. 
Check back each week for new STEAM challenge instructions! Don't forget to send GPB Education videos and pictures of your completed challenges.
Secondary Content
Bottom Content