Section Branding
Header Content
The Impact Of Building Community Relationships On Family Engagement
Primary Content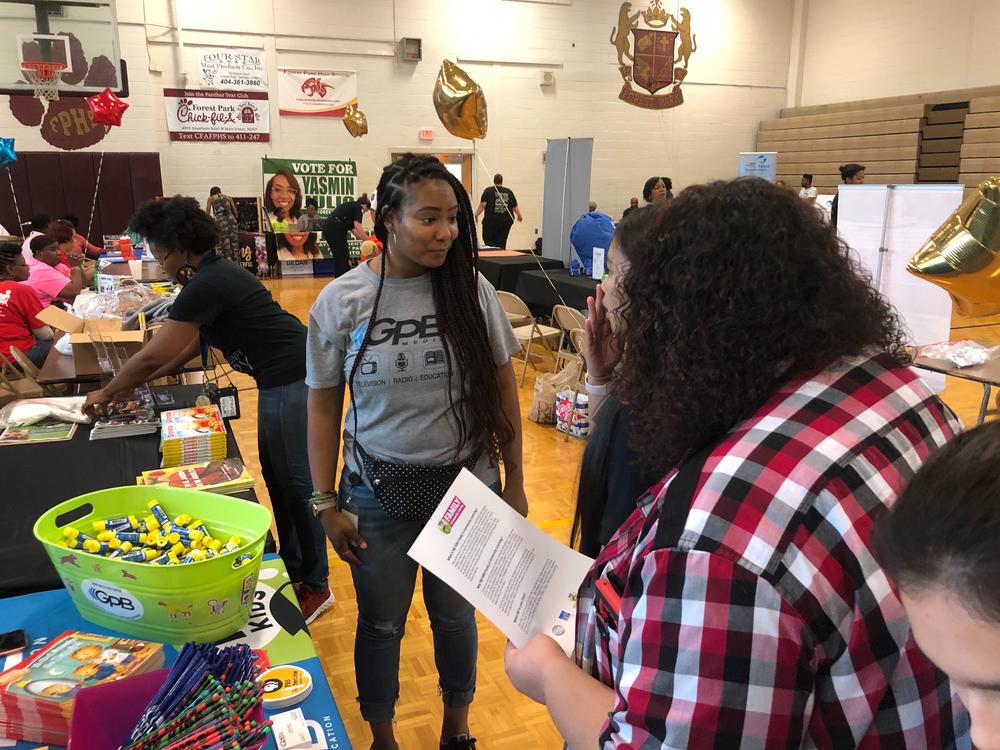 As the proverb goes, "it takes a village to raise a child." Committing to ensuring that children grow up in a safe environment starts with building sustainable relationships within the community. Being visible and available for events that are of interest to the community members is a jump start to building trust within the community. Georgia Public Broadcasting'sEducation team has partnered with the Community Collaborative for Early Learning and Media (CC-ELM) partners of the Forest Park, Georgia community to increase family engagement and bridge the gap between school and community to increase school readiness for children. We are well into the second year of implementation of the Ready to Learn (RTL) Initiative powered by Corporation of Public Broadcasting and PBS KIDS. We strongly believe fostering positive community relationships has sustained the family engagement programs and increased participation of families within the community. 
GPB Education has completed the first year of conducting the CPB funded RTL CC-ELM project in the neighborhood of Forest Park in Clayton County. Much of the success of the project is built on the strong relationships GPB has established with its partners, including Fountain Elementary School, Little Ones Learning Center, the Forest Park Public Library, and the Children's Museum of Atlanta. Through ongoing communication, face-to-face meetings, and post-activity feedback, the partnership has developed a workable set of strategies around the recruitment and retention of families, as well as assessing and adjusting project goals as warranted. To date, the partnership has completed five Family & Community Learning workshops, one Playful Learning for Educators workshop, two Train the Trainer workshops, and two summer camps, and we credit the success of these programs to relationship building. We will work to evolve the project from this year by sharing our triumphs and the testimonies of families that have participated in this first year. We have witnessed families of the Forest Park community register for RTL activities repeatedly due to our strong presence and participation in school and community activities throughout this first year. 
We believe we needed time to build trust within the community that we were invested. When trust is missing, people usually have a difficult time functioning cooperatively and are less likely to show up for any programming. They worry about risking too much. As we planned community activities and worked more frequently within the community, we became more aware that the community wanted some return for their investment; we made the time to participate in their community events to increase the investment of their participation in our planned activities. Family members have to feel like you know them as a person, understand their interests, and will not let them down. GPB Education has participated in Back-to-School events, First Day of School events, Parent Teacher Student Association meetings, and much more to increase presence in the schools and provide opportunities to build awareness of the importance of family engagement. In our continuous quest to build relationships with our CC-ELM partners, we strive to visit the school, learning center, and local library to have conversations with children and families to learn of their needs and how we may assist in serving as a bridge between school and community. 
If you're seeking to build similar relationships, here are some tips for getting them off the ground. 
Build relationships early. No matter the end goal, if you plan to engage communities in any way, building relationships early is pivotal for program success. Some of these ideas we learned early in our project planning and others proved to be lessons learned along the way.
Build relationships one at a time. There are no shortcuts to building relationships in the community. Sending out emails and posting to social media helps you keep in touch with lots of        people, but it's no substitute for getting to know a real person. Make it a point to be visible as often as possible in the community where you plan to work.
Ask people questions. When in the community, get to know the people you meet. People love to talk about themselves and about what they think. Make time to ask people about themselves  and then take the time to listen attentively.
Go places and do things. If you want to develop community relationships, you have to go where the people are: picnics, conferences, events, fundraisers, parties, playgrounds, bowling           alleys, little league games, bake sales, etc. Be present and enjoy the company of these families. 
Accept people the way they are. You don't have to agree with them all the time in order to form a relationship with them. No one likes to be judged. Meet the people you meet exactly          where they are. 
Enjoy people. If you genuinely enjoy people, others will be attracted to your attitude. People will more likely want to be around you and want to be a part of what you are offering. 
Building and sustaining relationships are at the heart of organizing community programs that may grow and continue to evolve even when programming is long gone. The strength of community lies in the strength of the connections that we have with each other. With strong connections, people have the power to make real change. Building lasting relationships to increase family engagement can mean the difference between families wanting to participate and increasing positive outcomes for children for years to come and being a total disaster and ruining the reputation of the program that you represent. Building these connections takes time, but it is worth it.
Secondary Content
Bottom Content