Section Branding
Header Content
Georgia Students Named Top 300 Middle School Innovators In National STEM Competition
Primary Content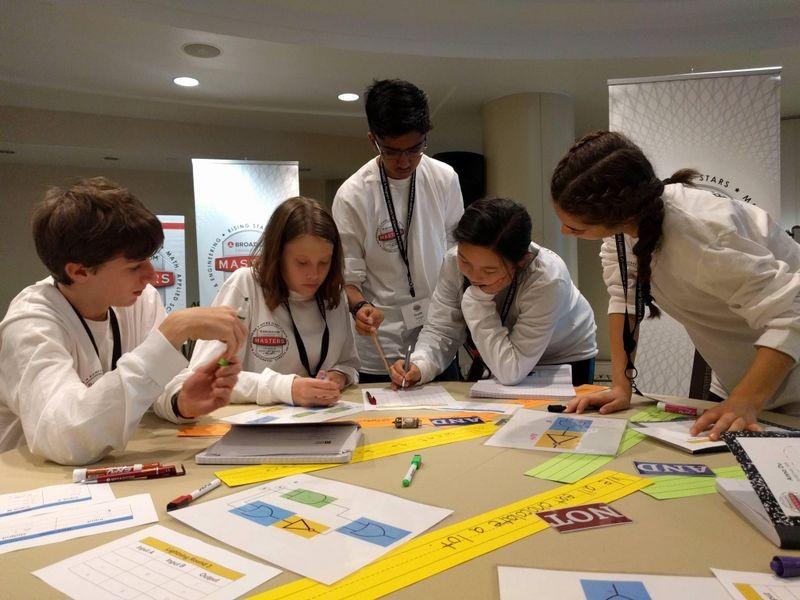 Broadcom Foundation and Society for Science & the Public announced the Top 300 competitors in the 9th annual Broadcom MASTERS® — the nation's premier Science, Technology, Engineering and Math (STEM) competition for middle school students. The Broadcom MASTERS, a program of the Society for Science & the Public, seeks to inspire young scientists, engineers and innovators to solve the grand challenges of the 21st century.
The Top 300 Broadcom MASTERS were selected from a pool of 2,348 applicants from 47 states, D.C., and two U.S. territories. Seven of the Top 300 are from Georgia. These competitors were evaluated by a panel of distinguished scientists, engineers and educators and judged on creativity and originality of their science fair project, their ability to engage in analysis of data and understanding of STEM principles as they relate to the real world. Each applicant was nominated to compete in the Broadcom MASTERS by placing among the top 10% of middle school competitors at Society-affiliated regional and state science fairs.
GPB Education had the opportunity to catch up with some of these students to learn more about their projects.
*Students who were nominated by their state fair as well as their regional fair.
Sarah Abdulkhader
Grade: 8th
General Ray Davis Middle School, Stockbridge, Georgia
Project Title: The Effects of Sorafenib on Drosophila melanogaster Generations and Danio rerio Embryos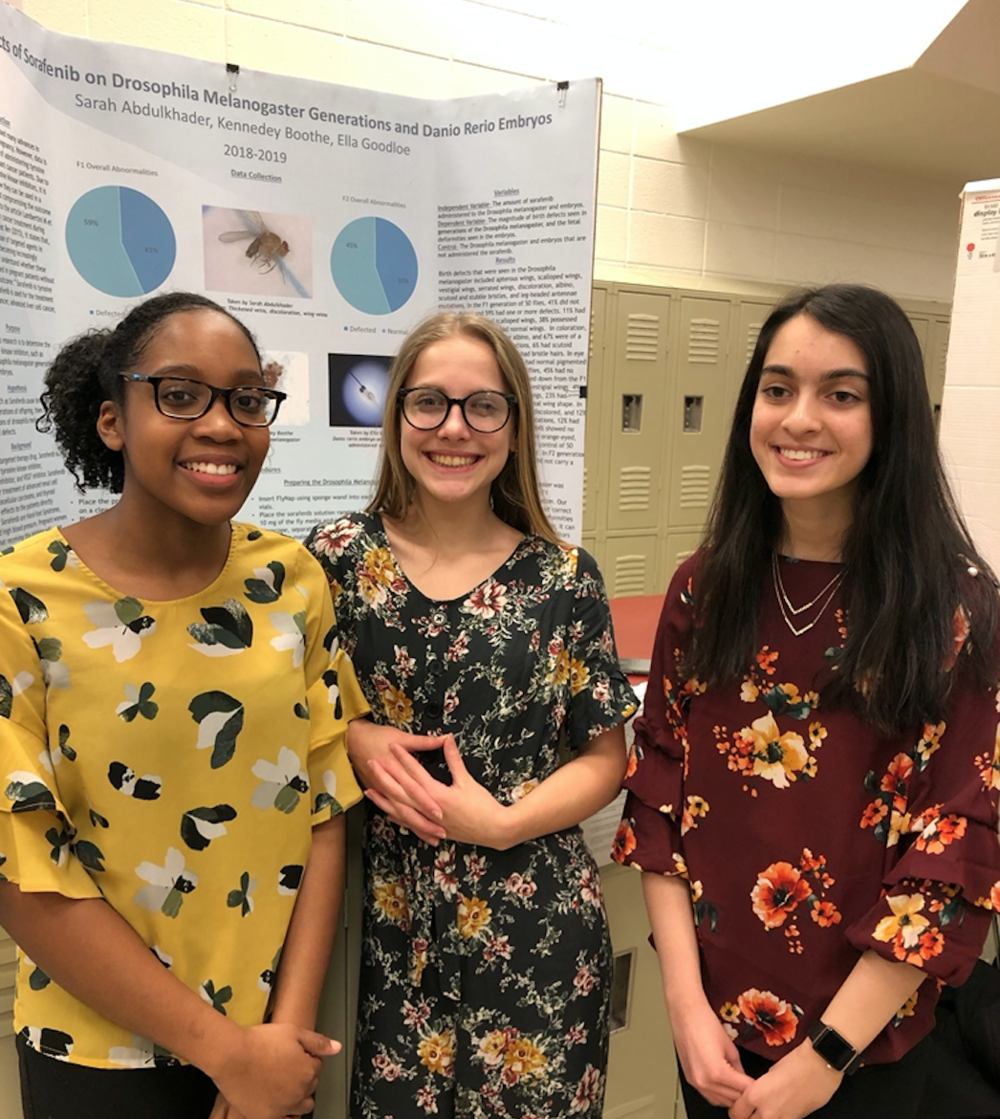 "My group mates, Kennedey Boothe and Ella Goodloe, and I conducted research and experimentation to determine what effects the cancer medication, Sorafenib, can have on offspring and future generations of offspring. While researching the drug, we were surprised to find little to no research done on the safety of administering this drug to pregnant cancer patients. We felt our research was needed since there are over 123,000 women each year who are pregnant and diagnosed with cancer. In our research, we found that 59% of first generation Drosophila melanogaster (that were administered Sorafenib) carried birth defects and 45% of our second generation Drosophila melanogaster also carried birth defects. This can be compared to our control variable (organisms not administered the drug), where only 8% of Drosophila melanogaster had congenital defects. (Keep in mind that the Drosophila melanogaster shares around 75% of disease causing genes with humans). From this data, it is concluded that cancer medications, such as Sorafenib, can cause birth defects throughout generations when administered to pregnant women."
Sarah says the inspiration behind her group's project was a friend's mother who was diagnosed with cancer and was taking Sorafenib for treatment.
Kennedey Boothe
Grade: 8th
General Ray Davis Middle School, Stockbridge, Georgia
Project Title: The Effects of Sorafenib on Drosophila melanogaster Generations and Danio rerio Embryos
Jonathan Dorminy* 
Grade: 6th
Homeschool, McDonough, Georgia
Project Title: Amateur Band Text Radio for Emergency Use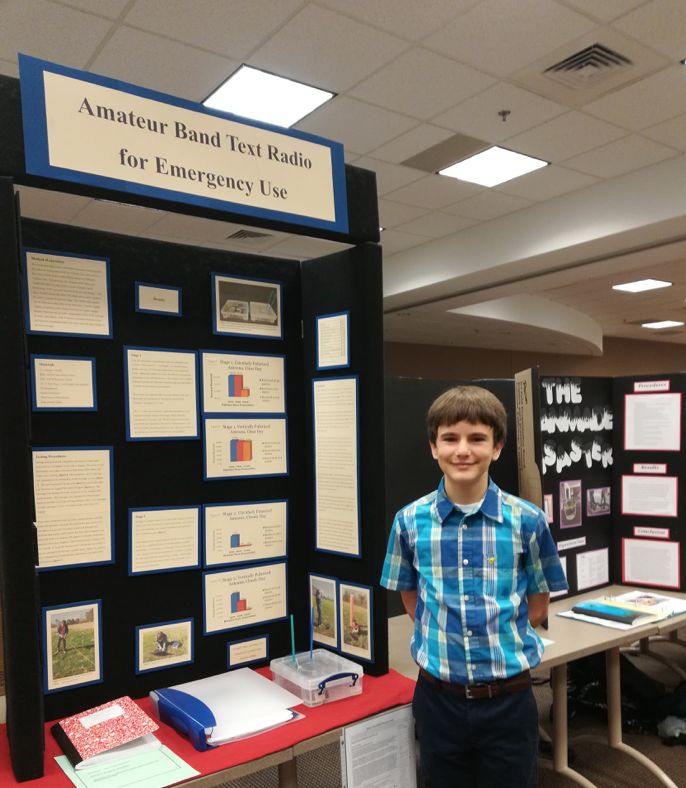 After earning his amateur radio "extra" license, Jonny set out to create a radio that allows for text messaging within a certain power level.
"Hurricane María hit Puerto Rico in September of 2017, producing major flooding and property damage. Telephone lines, cell coverage and radio and television broadcasters were down. Amateur radio groups went to assist in communications since amateur radio was one of the only methods to communicate immediately after the hurricane.
When amateur radio operators (hams) respond to natural disasters like the one in Puerto Rico, they use mobile radios which are good for regional communication. Even then, precise signals are difficult to hear accurately in the wind which shows a need for my project, a handheld text messaging radio which holds the message in text form. I don't have much range on it yet, but the hardest part was coming up with the initial prototype with all the computer programming involved."
Elizabeth "Ella" Goodloe
Grade: 8th
General Ray Davis Middle School, Stockbridge, Georgia
Project Title: The Effects of Sorafenib on Drosophila melanogaster Generations and Danio rerio Embryos
Ashkan Jiwani
Grade: 8th
Five Forks Middle School, Lawrenceville, Georgia
Project Title: Roads that Generate Electricity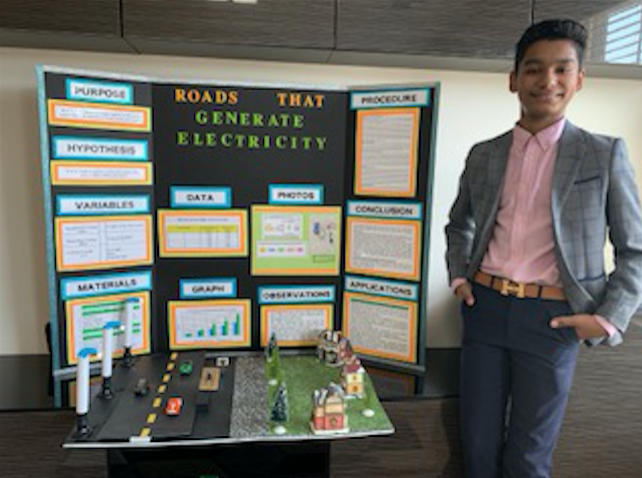 "My project is called 'Roads that Generate Electricity,' meaning that whenever you drive your car on the road you will generate electricity. How this will work is by attaching piezo sensors under the road. Piezo sensors are pressure sensors that generate electricity when pressure is applied to them. The piezo sensor under the road will get pressure from the weight of all the cars driving over it. The electricity that is generated by the piezo sensor will then get stored into a rechargeable battery and will be then used to power up streetlights to increase safety while driving and to reduce taxes because now you won't have to pay for electricity because you're helping generate it. Lastly, this would enable us to generate clean and green energy."
This project idea came to Ashkan while he was in the car with his mom at night and he noticed none of the streetlights were on. This inspired him to explore the possibility of generating electricity while driving to charge streetlights. 
Kennedy Rogers
Grade: 8th
Chapel Hill Middle School, Douglasville, Georgia
Project Title: Data that Matters: Detecting Concussion Prone Impacts in Youth Sports in Real Time with Mobile Technology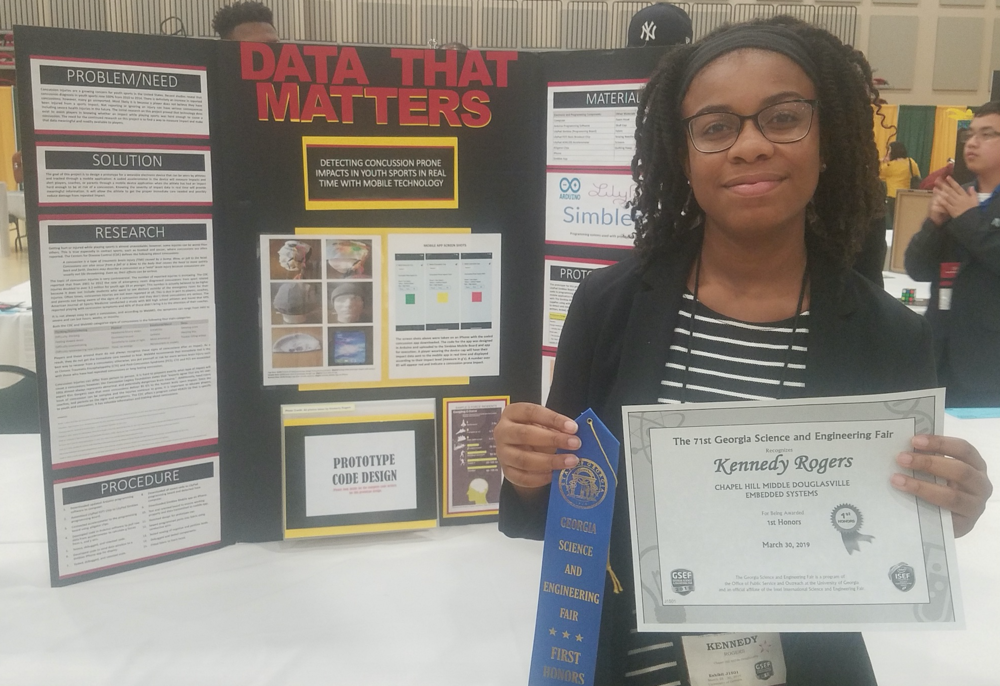 "The goal of the project was to design a wearable device from my previously developed (last year) prototype that could be worn by athletes and tracked through a mobile application. The prototype design was a success. I was able to further develop my initial prototype design into a wearable device that detects impacts and sends alerts in real time through mobile technology. A coded accelerometer in the device measures impacts and alert players, coaches, or parents through a mobile device application when the athlete has had an impact hard enough to be at risk of a concussion. Knowing the severity of impact data in real time will provide meaningful information. It will allow the athlete to get the proper immediate care needed and possibly reduce damage from repeated impact. It was my goal to create a solution that takes control out of the hands of the game and puts it into the hands of players for the benefit of the athlete's own health."
While there is growing concern surrounding the effects of experiencing multiple concussions, Kennedy found that those who opposed making sports safer were resistant to changing the rules of the game. This inspired her to develop a solution to detect concussions early without changing how the game is played. 
Sedona Zeller
Grade: 8th
DeSana Middle School, Alpharetta, Georgia
Project Title: How Bioluminescent Organisms React to Varied Amounts of Light
"Dinoflagalytes are one of the largest producers of oxygen in our ocean, next to Diatoms, which makes them an essential part of our ecosystem. So for my project, I wanted to know how Pyrocystis fusiformis reacts to varying amounts of light. Like plants, Pyrocystis produces energy through photosynthesis and by consuming other smaller microorganisms. When mechanically stressed, they emit a blue bioluminescent glow that releases oxygen and absorbs carbon dioxide.
I believed that if I increased the amount of light that Pyrocystis received, they would glow brighter and produce more oxygen. To test my hypothesis, I ordered samples of Pyrocystis fusiformus and placed one group under a timed light mimicking day and nighttime. Another sample group was kept in constant light 24 hours a day, while a third group remained in total darkness. After seven days, I checked the samples by gently swirling each container in complete darkness and recording their glow. I then collected all the samples and placed them under the timed light again, in order to reset their circadian cycle.
During certain times of the year, Pyrocystis fusiformus can be found washing up on beaches next to major cities. Since my experiment concluded that too much light negatively affects Pyrocystis, I worry that light pollution from cities may be causing them to go into hibernation. If true, this could be problematic for our oceans since Pyrocystis fusiformus are such significant producers of oxygen."
As an avid scuba diver, Sedona has always been captivated by the incredibly diverse marine life in our oceans. Her fascination with bioluminescent organisms motivated her to learn more about their behaviors. 
In recognition of their achievements, the Top 300 Broadcom MASTERS will receive a prize package containing an award ribbon; semifinalist certificate of accomplishment; Broadcom MASTERS backpack; a Broadcom MASTERS decal; a specialized Invention Journal, courtesy of The Lemelson Foundation; a one-year subscription to Wolfram Mathematica software, courtesy of Wolfram Research; and a one-year family digital subscription to Science News magazine. In recognition of the role that teachers play in the success of their students, each designated teacher also will receive a Broadcom MASTERS tote bag and a one-year digital subscription to Science News magazine.
Thirty of the Top 300 Broadcom MASTERS will be selected as finalists by a nationally ranked panel of scientists, engineers and educators on September 18, after which they will travel to Washington, DC to compete in a four-day STEM competition for more than $100,000 in awards and prizes. The finalists will participate in team challenges aimed at demonstrating their mastery of 21st Century skills in each of the STEM areas, meet with government officials and showcase their projects for the public in Washington, DC on October 26. 
Secondary Content
Bottom Content