Section Branding
Header Content
Putnam County High School Wins Third Annual GaDOE Student Chef Competition
Primary Content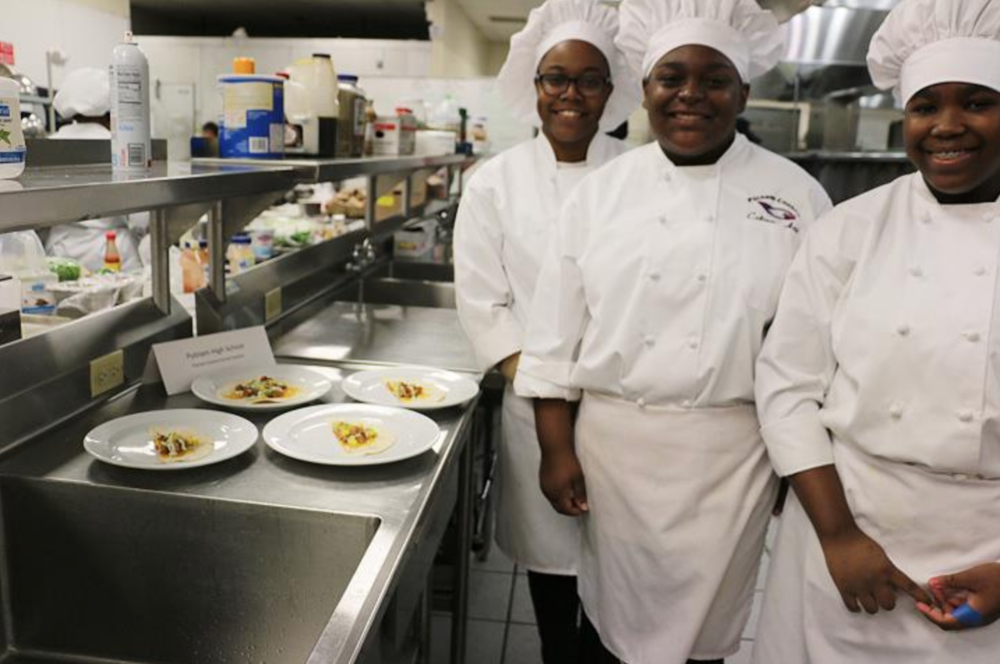 The Georgia Department of Education held its third annual Shake It Up Farm-to-School Student Chef Competition Thursday, March 21 in Macon. Student teams from nine school districts prepared student-developed recipes featuring Georgia Grown ingredients.  
The Putnam County High School team took first place for Honey Chipotle Chicken Tacos with Mango Salsa and Lime Crema. Led by culinary arts teacher Penny Reynolds, the team is composed of three Putnam High students: Jada Manson, Kayla Russell, and Khrislyn Jones. Manson, Russell, and Jones will each receive a $16,000 scholarship to Sullivan University and the team will move on to compete in the Southeast Regional Competition in May.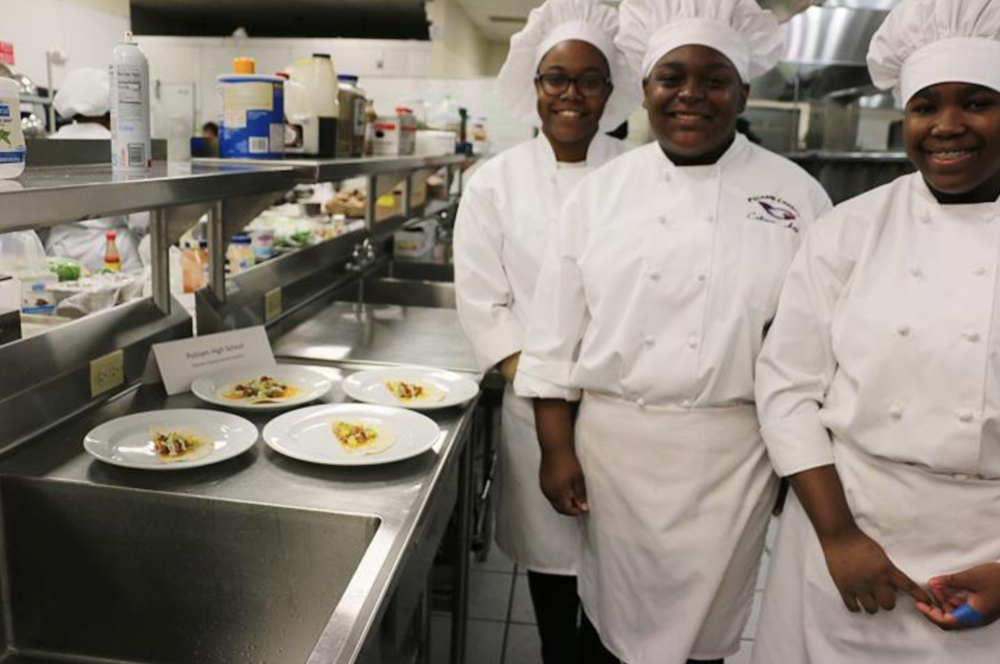 "The Student Chef Competition is a perfect example of the direction we're moving in here in Georgia," State School Superintendent Richard Woods said. "We want to encourage learning that is out of the box, outside the status quo, and relevant to students' lives and plans after high school. The Student Chef competition connects the school cafeteria with students' learning, and gives kids a chance to gain hands-on experience that could lead to a future career."
Each team developed a nutritious, student-friendly recipe that included Georgia Grown foods and USDA Foods and could easily be incorporated into the school food service program. Recipes that reached the final competition were judged on overall appeal, appearance and execution, taste, presentation, and sanitation and food safety. Dr. Ellen Steinberg, GaDOE Food Safety Specialist, observed the team to ensure they followed key food safety guidelines and requirements. Chef Andy Anderson, Culinary Arts Program Manager at Helms College, assisted teams as they prepared their entries for judging.
Judges for the competition were Chef Andy Anderson, Malissa Marsden from the American Egg Board and Mushroom Council, and Chef Morgan Dockery, Culinary Arts Area Manager from Houston County.
"Reaching the finals in this competition was no easy task," said Laura Tanase, Health and Wellness Specialist for the Georgia Department of Education. "These teams had to develop recipes that included locally grown foods, fit within the current nutrient standards for school meals, and could win over the judges with their presentation and great taste. We are so proud of all the participants and this year's three winning teams. Every student involved did a wonderful job."
The Putnam County High team will represent Georgia at the Southeast Region Jr. Chef Competition May 9 and 10 at Sullivan University in Louisville, Ky.
Last year's Southeast Region winners from Gwinnett County's Maxwell High School of Technology all currently attend Sullivan University tuition-free.
Student Teams (winners noted; all other teams in alphabetical order by school district)
FIRST PLACE: Putnam County High School – Putnam County Schools
Honey Chipotle Chicken Tacos with Mango Salsa & Cilantro Lime Crema
Students: Jada Manson, Kayla Russell, Khrislyn Jones
Culinary Arts Teacher: Penny Reynolds, MCFE
Prize: $16,000 scholarship to Sullivan University for each student
SECOND PLACE: Maxwell High School of Technology – Gwinnett County Schools
EnTHAIcing Swoodles of Noodles
Students: Kaitlyn Bishop, Gaelle Dorisme
Culinary Arts Instructor: Amanda Williams
Prize: $10,000 scholarship to Sullivan University for each student
THIRD PLACE: Newton College and Career Academy – Newton County Schools
Savory Southwest Chicken Wrap with Greek Yogurt Cilantro Dressing
Students: Logan Johnston, Jasmine Hibbert
Culinary Arts Teacher: Charlotte Joy
Prize: $6,000 scholarship to Sullivan University for each student
Rutland High School – Bibb County Schools
Curried Jamaican Beef Patties
Students: Keon Burnett, Keila Carter
FACS Teacher/FCCLA Adviser: Vanessa Pabalan
Etowah High School – Cherokee County Schools
Tex-Mex Quinoa Bowl
Students: Maria Girard, Isabelle Bridges, Milas Dominquez, Alexander Fiscarelli
FACS Teacher/FCCLA Adviser: Amanda Shafer
Dublin High School – Dublin City Schools
Buffalo Chicken Wrap
Students: Jazmyne Myricks, Shamequa Ervin, Ja'Mecca Spencer, DaVedrique Devoe
FACS Teacher: Denise Strickland
Armuchee High School – Floyd County Schools
Zesty Ranch Chicken Wraps
Students: Riley Buffington, Ivy O'Neal
FACS Teacher: Margaret Henderson
Johns Creek High School – Fulton County Schools
Chicken Butternut Squash Pasta with Broccoli
Students: Lenox Lee, Andrew Miller, Katherine Rudden, Vincent Vo
JCHS Culinary Club Sponsor: Sharon Martino
Jackson County Comprehensive High School – Jackson County Schools
Lettuce Wraps & Yum Yum Sauce
Students: Pla Thao, Ashanti Ledford, Kylie Landrum
FACS Teacher/FCCLA Adviser: Brooke Curtis
Secondary Content
Bottom Content