Section Branding
Header Content
Local Residents Share Firsthand Civil Rights Experiences With Lincoln County Students
Primary Content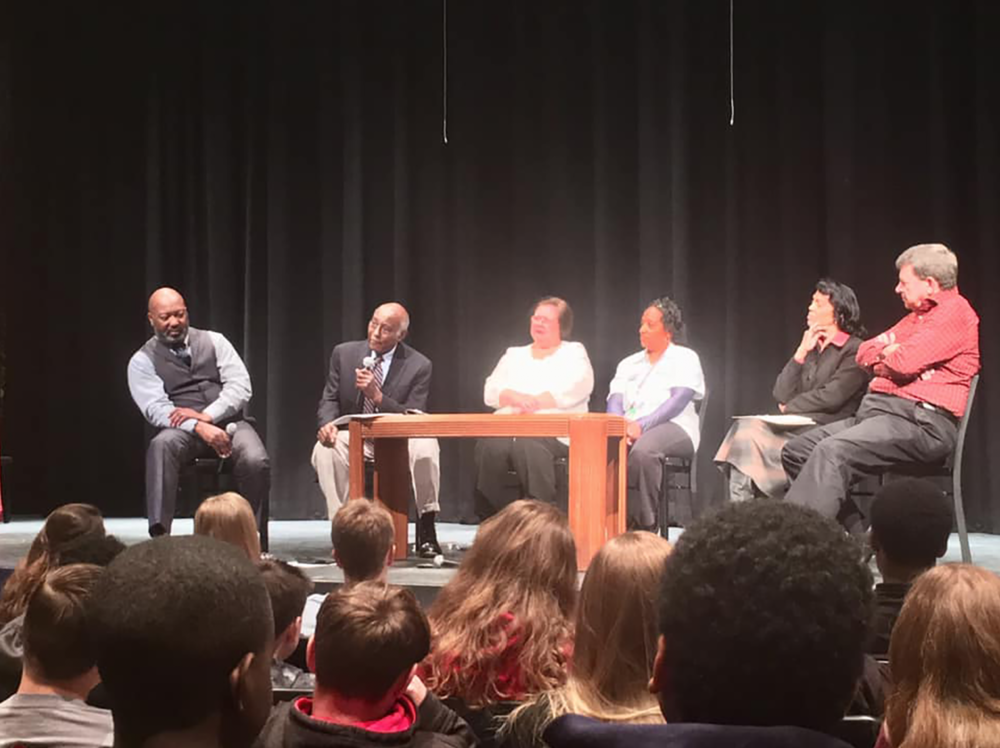 History came to life at Lincoln County Middle School last week as a panelist of local community members shared their experiences involving the racial integration of their Lincolnton, GA high schools. 
The panelist discussion served as a culminating event after the eighth grade students learned about the modern civil rights movement in their Georgia Studies class and analyzed speeches delivered by Dr. Martin Luther King Jr. for forms of rhetoric in Language Arts. 
"The idea for this event actually came from two students," says Christie Bryan, a Georgia Studies teacher at Lincoln County Middle School. "They requested that 'real people' from the community come and speak to them about the events before, during, and after the integration of their schools."
Students shared that they especially wanted to hear from former students, teachers, and administrators from that time. Bryan was able to assemble a number of people to serve on the panel after she shared her students' ideas in a Facebook group.
"I always try to tie in our local history with what I am teaching in Georgia Studies so that events are more relevant to students," says Bryan. "I saw this as another opportunity to do so."
Panelists included Shirley Norman Dawkins, Branch Manager for the Lincoln County Public Library and 1971 graduate of Lincoln County High School; Martha Ann Leverett, Lincoln County Schools employee and 1971 graduate of Lincoln County High School; Marcus Mason, retired from the U.S. Army and 1974 graduate of Lincoln County High School; Mary Murray Mason, retired Lincoln County educator and 1974 graduate of Lincoln County High School; Welcome Mason, retired principal and 1942 graduate of Licolnton Colored High School; and Reverend Dr. Benny Tate, Lincoln County High School educator from 1970-1974 and retired specialist in leadership ministries at Georgia Baptist Convention. 
Westside High School, the African-American school in Lincoln County, integrated with the all-white Lincolnton High School to form Lincoln County High School in 1970. Like many schools in Georgia, the integration of Lincoln County Schools came well after the Supreme Court ruled in Brown v. Board of Education (1954) that American state laws establishing racial segregation in public schools were unconstitutional. 
Marcus Mason led the 90 minute discussion, as the panelists shared different stories concerning their experiences as students, a first-year teacher, and a principal. They spoke about their fears concerning integration, the difficulties that were encountered, and the courage that was required of students and educators of the time. 
Mr. Mason explained to the students that the Health, Education, and Welfare Department visited the Lincoln County Board of Education in 1967 due to the school system's unlawful continued practice of segregation. As a result, all federal aid was cut to the schools, including free and reduced lunches through the National School Lunch Program, which greatly affected students at Westside High School. A plan called "Freedom of Choice" was then implemented by the Board of Education, allowing black students the choice to attend the white school, Lincolnton High School. Only three black students chose to go across town and attend Lincolton, including Willie Murray, the brother of panelist Mary Murray Mason. 
Mrs. Mason shared memories of her family's discussions and their concerns over her brother's decision to attend Lincolnton. "Every day, my family would wait on our front porch for Willie to get home from school," recalled Mrs. Mason. She explained that because she and her other siblings attended the African-American school, they rode a different bus than her brother Willie, who took the white bus home. 
One day after school, her brother's bus pulled into their driveway, but the driver would not open the door and let Willie off. The bus driver had noticed that a car with three white boys had followed the bus home. While in the driveway, two of the boys got out with a large stick and came toward the bus. Three black boys from the neighborhood saw what was happening and ran toward the white boys who dropped the stick and left in their car. 
After reporting that night's incident to the superintendent, Mary Mason's parents talked with Willie about whether or not he would continue attending Lincolnton High School. Despite his parents' hesitations, Willie insisted on returning to school the next day. Mrs. Mason added that Willie went outside later that night, retrieved the stick, and placed it under his bed. "He said he wanted to remember the incident," said Mrs. Mason. "I thought to myself, 'What a brave young man.' He felt that he needed to complete what he had started – not just for himself but also for others."
Willie and the two other African-American students graduated from Lincolnton High School in 1969, one year before the school system merged the two segregated schools into Lincoln County High School. 
In addition to the discussion, students were also able to ask panelists questions. Eighth grader Jack Antonakos asked, "Do you remember any books, movies, signs, or newspapers that discussed racial issues?"
Rev. Dr. Pate, a first-year teacher in 1970—the first year of Lincoln County's integration—shared that the real integration issues began to surface in Lincolnton in the late 1960s and early 1970s. "TV was always a big medium for that to be broadcast," said Pate. "But there were articles almost every day in the papers as things were changing for the better." He explained to the students that early on, the changes were confrontational out of necessity. "If you never confront something, it's not going to change… [Race and integration] were issues that were at the forefront."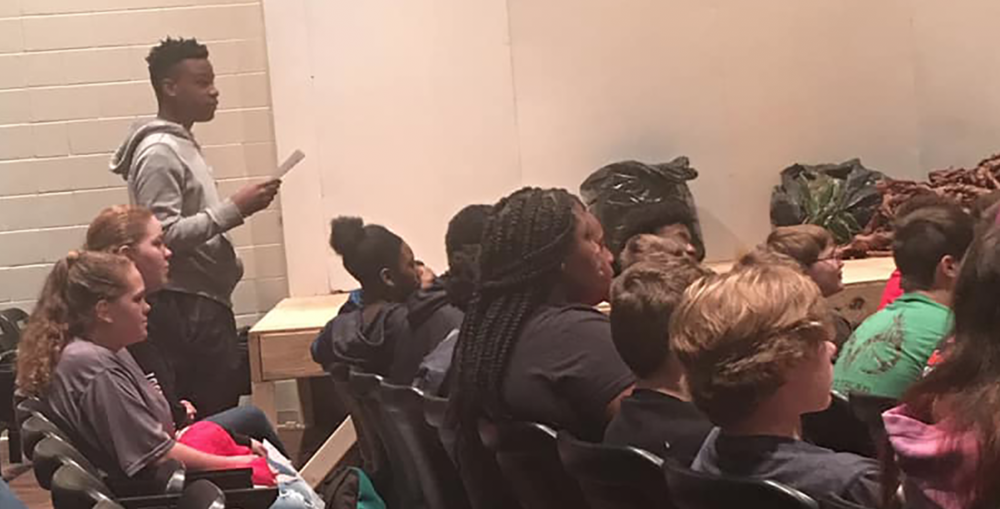 Eighth grader Nazaleous Hogan asks a question to the panel of guest speakers. 
Panelists also referenced the fallacy of "separate but equal" facilities and the lack of implementation in Georgia following the Brown v. Board of Education decision. By hearing firsthand accounts from members of their own community, students were able to gain a better understanding of the personal conflicts and courage it took to bring about change in Lincoln County during the civil rights movement. 
"To have people willing to come and talk to us about the struggles of integration was an amazing experience," says eighth grade student Isis Bell. "That topic is something a lot of people don't like to discuss, but it is history, and it needs to be talked about… Being the first class of Lincoln County Middle School to do something like this made me feel proud of our generation for caring about the struggles of the past."
Several students remarked that they persoanlly knew many of panelists who live in their small town, and that this event helped them develop a new appreciation for what they went through regarding desegregation. 
"Learning about the civil rights movement is interesting in and of itself," says eighth grader Alyssa Huffman. "However, hearing stories about the civil rights movement from people in your own community brings an entirely new perspective."

Eighth grade students and teachers from Lincoln County Middle School share the stage with the six guest speakers. 
Following the overwhelming success of this year's event, Bryan says that the school will definitely host another panelist discussion. "By hearing stories from local community members, the students realize that courage to bring about change and make a positive impact on their community can come from everyday citizens of every age and race."
Secondary Content
Bottom Content