Section Branding
Header Content
Georgia Teachers Receive Training "Through Visionary Computational Thinking Program to Prepare Students For 21st Century Careers"
Primary Content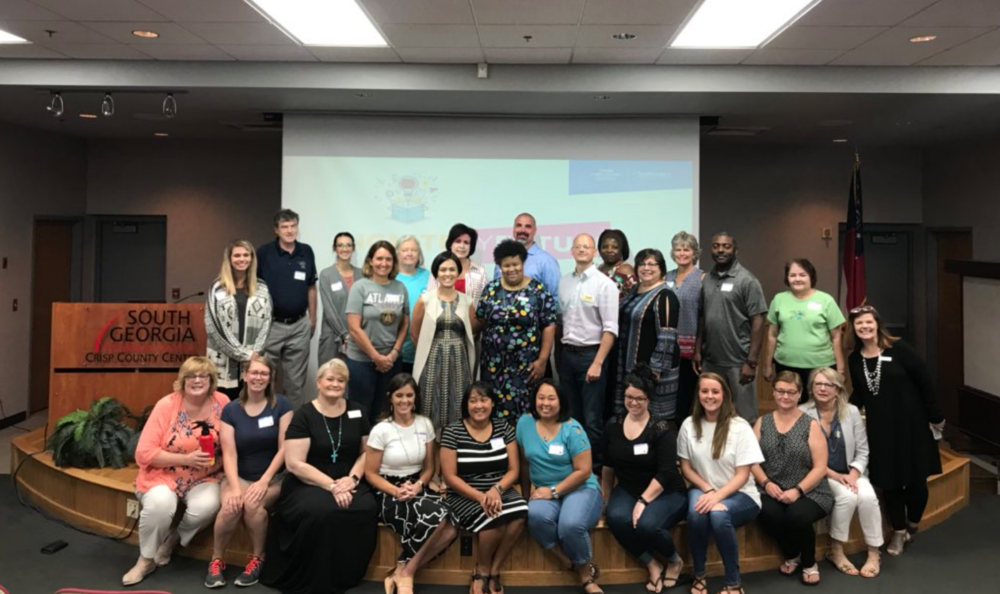 Discovery Education and Tata Consultancy Services announce the South Georgia launch of their Ignite My Future in School initiative, in collaboration with Georgia Public Broadcasting. Teachers from multiple school districts received professional development, educational resources, and will receive year-round support to integrate computational thinking into core subjects such as math, sciences, arts, and social studies. In turn, students will learn foundational skills for 21st century careers – across industries – through this transdisciplinary approach.
Congressman Sanford Bishop stated, "A strong well-prepared workforce will power our economy and spur innovation in critical sectors. We owe it to our students to help them stay ahead of the curve and prepare them as early as possible for their future careers. I believe that by providing our teachers with additional tools and resources to educate and empower our students we are setting them up for success." He continued, "I'm excited that teachers from Chattahoochee-Flint Regional Education Service Agency (RESA) and Sumter County are taking advantage of this exciting initiative. I'd like to thank Tata Consultancy Services, Discovery Education and Georgia Public Broadcasting for their contributions for making this possible."
Congressman Austin Scott added, "As a father of three, I value a strong education system that is prepared to meet the diverse needs of its students and address the changing dynamics of our nation's economy. Now, more than ever, we should be empowering our teachers to teach and our students to learn the skills and methods of thinking that they will need in their future careers. I thank all the educators participating in this 'Ignite My Future in School' event, and I look forward to seeing the positive role it will play in shaping our students' futures."
In addition to the aforementioned districts, educators from Marietta City Schools, Berrien, Madison County, Wilcox, and Thomas County had the opportunity to apply computational thinking through hands-on training modules during the Day of Discovery at South Georgia Technical College in Cordele, GA.  
Ignite My Future in School aspires to bridge the talent gap by developing relevant skills for 21st century job opportunities in the new digital economy. "Educators play the pivotal role of preparing young people for their future, and for careers that have not yet been invented. Through Ignite My Future in School they can provide foundational skills that help build relevance and resilience in a Business 4.0 era," said Balaji Ganapathy, Head of Workforce Effectiveness, TCS.
Schools within these districts have the unique opportunity of learning and applying computational thinking through an annual free day of professional development for educators. Also, TCS and Discovery Education have launched the digital platform, IgniteMyFutureInSchool.org to provide teachers nationwide with an exclusive, cost-free, virtual professional development experience that includes lesson plans, curriculum resources, eLearning courses, and webinars. These resources are aligned to national standards, as well as the recently launched K-12 Computer Science Framework.
See what attendees and presenters said about the event:
#IgniteMyFuture was a blast today! These teachers are ready to IGNITE the future of their students! @dacia92 @S_Galls @musafirbala @_CindyWallace_ @SDSherry @MsDavidson1913 @DiscoveryEd #tcsempowers pic.twitter.com/aqVRqSWw4U

— Kimberly Wright (@kimberlywright1) June 12, 2018
Educators learning how to use @makeymakey in the classroom to promote Computational Thinking. They were analyzing the DNA of music @tcs_na @TCS @DiscoveryEd @GPBEducation #ignitemyfuture #tcsempowers Check them out @adamlevine @blakeshelton @MsDavidson1913 pic.twitter.com/hnyEC5HjVb

— (@dacia92) June 12, 2018
If you weren't at #ignitemyfuture today at south ga tech you missed a true blessing! It's time to reignite students!!! Thank you @DiscoveryEd @dacia92 @GPBEducation pic.twitter.com/0MyaThSNt9

— Jenna Rhodes (@rhodes_jj) June 12, 2018
Ignite your future @TCS Computational Thinking PD program is a game changer! Thank you @GPBEducation and @DiscoveryEd for bringing this program to Cordele! Thank @SanfordBishop for the support and inspiring message! pic.twitter.com/Uoj4kXNNGN

— Aubrey LeGrand (@LeGrandDiscover) June 12, 2018
Ignite My Future in School workshop today and first session was @breakoutEDU Game! It was so much fun and LOVE the prize! @DiscoveryEd #tcsempower #IgniteMyFuture pic.twitter.com/PLOECjk9Ul

— Emy Aultman (@Emault322) June 12, 2018
Every morning with @dacia92 and @DiscoveryEd begins with dancing and computational thinking! What could be better than this AND South Georgia teachers on a Tuesday morning? #betterthancoffee #smoothoperator #ignitemyfuture #TCSempowers pic.twitter.com/MMhsxvdEnw

— Serene Gallegos (@S_Galls) June 12, 2018
A North Georgia Ignite My Future in School event will be on June 28, 2018, at Newnan High School in Newnan, GA. To register for this free event, click here.
Secondary Content
Bottom Content