Section Branding
Header Content
The Georgia Dome Implosion Teacher Toolkit
Primary Content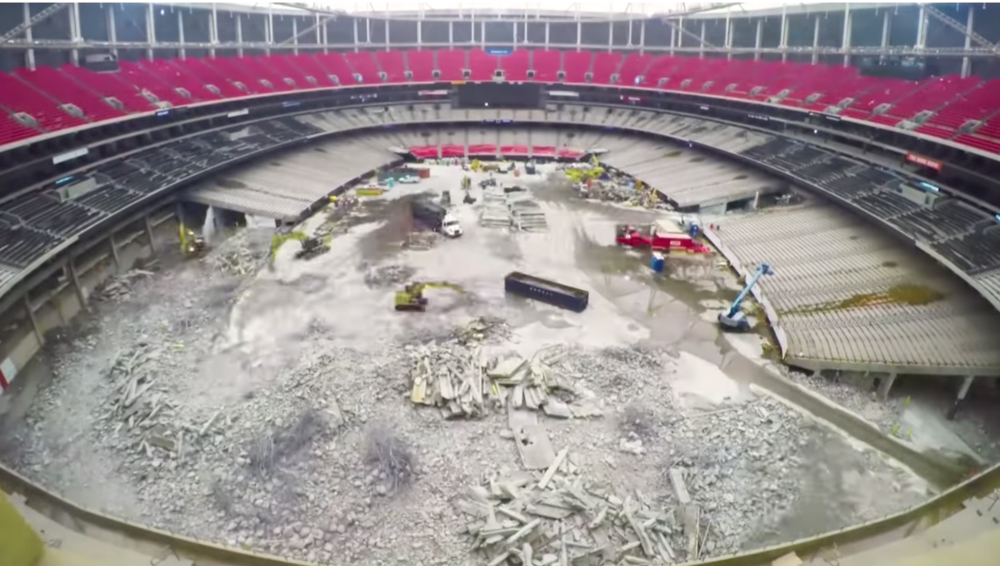 They say what goes up must come down, and Atlanta's Georgia Dome is no exception to the evolving landscape of Atlanta. On November 20, 2017, we're saying farewell to the Dome, a staple of Atlanta entertainment since 1992. Use this toolkit to teach students the science behind demolitions and how you and your class can watch the Dome's implosion live. 
In this episode of Things Explained, we discuss how gravity plays a role in demolishing a building and talk with a demolition expert about what it takes to bring down the Georgia Dome. Click here to watch on PBS LearningMedia. 
Classroom Resources
Georgia Dome Facts, Figures, and Records
Grades: K-12
Use this factsheet to review the many events and successes witnessed at the Georgia Dome during its 25 year reign.
Grades: 6-12
Use this video to see how demolition crews use dynamite to cause an implosion. The steel base of a structure is knocked out, causing the rest of the building to fall inward.
Grades: 6-12
Crews cannot use many common demolition tools in crowded urban areas. To tear down skyscrapers and other large structures, demolition experts must follow a detailed plan to take a building apart piece by piece.
Grades: 6-12
Alfred Nobel created dynamite using the explosive power of nitroglycerin. Since then, dynamite has been used to create new spaces and destroy old structures. 
Grades: 6-12
Before the twentieth century, buildings were demolished with crowbars and axes. Skyscrapers posed a new challenge for demolition experts and tools like the wrecking ball and the mechanical digger changed the way structures were destroyed.
Nina and the Neurons: Get Building: Demolition*
Grades: K-2
Join host Nina and special guests Andrea, Soham, and Yusuf as they answer the question of how buildings are knocked down. The demolition of a building can happen by using explosions or machinery to tear the building down. Nina and the kids perform experiments to show how to make a building fall a certain way and how buildings can be demolished from the top down.
Grades: 6-12
Stable structures are able to stand tall because the forces acting upon them are balanced. When a structure must be knocked down, demolition experts use their knowledge of these forces and of each structure's most important elements to do the job effectively. Stacey Loizeaux is one such demolition expert. In this interview from NOVA, she describes some of the knowledge she and her family's demolition team use to bring down large structures quickly and safely.
Grades: PreK-3
It's Mindy's birthday today, and she's over the moon with excitement! In this clip from Ready Jet Go!, the kids celebrate by jumping around in a bounce house. Sean and Face 9000 then explain to Mindy what gravity is, and why a person can jump higher on the moon compared to Earth.
Grades: PreK-3
On this KidVision VPK virtual field trip, visit the Marlin's stadium and parking garages under construction. Learn about planning, safety and measuring, and practice using tools. It is quite a site!
*GPB is proud to offer Georgia educators free access to Discovery Education. If you do not have an account, please contact education@gpb.org to get started.

Where to Watch
The Georgia Dome is slated for demolition at 7:30 am on Monday, November 20th. Most of the visible areas surrounding the Dome will be restricted, so your best viewing option is to watch it live online or on TV. 
GPB will have a live stream of the implosion on our site with coverage beginning at 7:00 am, courtesy of the Atlanta Falcons. We will also have an on-demand video of the demolition available shortly after the event in case you miss the live broadcast. Visit gpb.org/dome for more information. 
Secondary Content
Bottom Content