Section Branding
Header Content
Encourage Storytelling With The Great Thanksgiving Listen
Primary Content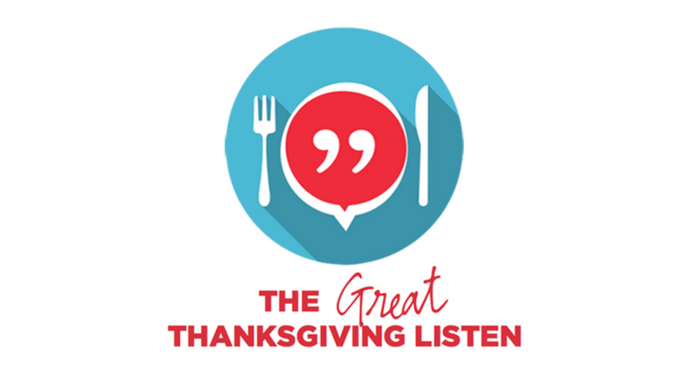 Storytelling and the gift of listening are critical skills for young people. The Great Thanksgiving Listen is a national movement that empowers young people—and people of all ages—to create an oral history of the contemporary United States by recording an interview with an elder using the free StoryCorps App.

Interviews become part of the StoryCorps Archive at the American Folklife Center at the Library of Congress. Now in its third year, The Great Thanksgiving Listen has grown from an experimental challenge issued by StoryCorps founder, Dave Isay, into a vital intergenerational movement. To date, thousands of high schools from all 50 states have participated and preserved more than 75,000 interviews, providing families with a priceless piece of personal history.
StoryCorps provides a Teacher Toolkit with multimedia resources, lesson plans, and an app guide to support you in bringing this assignment to classrooms, after-school programs, or any context where young people are learning. These multimedia pages and downloadable materials provide an educational framework to support young people as they learn to interview, record, and listen to the stories of their elders. The target age group is grades 9-12, but anyone with a smartphone and an interest in storytelling can participate.
Objectives
To learn about StoryCorps and the interview concept
To use questions to develop a story and express a shared experience
To create a primary source using technology (and have the option to enter it into the historical record)
To write archive-quality titles, summaries, and keywords
About StoryCorps
StoryCorps' mission is to preserve and share humanity's stories in order to build connections between people and create a more just and compassionate world. We do this to remind one another of our shared humanity, to strengthen and build the connections between people, to teach the value of listening, and to weave into the fabric of our culture the understanding that everyone's story matters. At the same time, we are creating an invaluable archive for future generations.
For more ideas, check out our oral history blog. Let us know how you are implementing The Great Thanksgiving Listen or oral storytelling in the comments section below or by joining the conversation on Twitter with #TheGreatListen.
Secondary Content
Bottom Content