Section Branding
Header Content
Skidaway Marine Science Day Scheduled For Saturday, October 14
Primary Content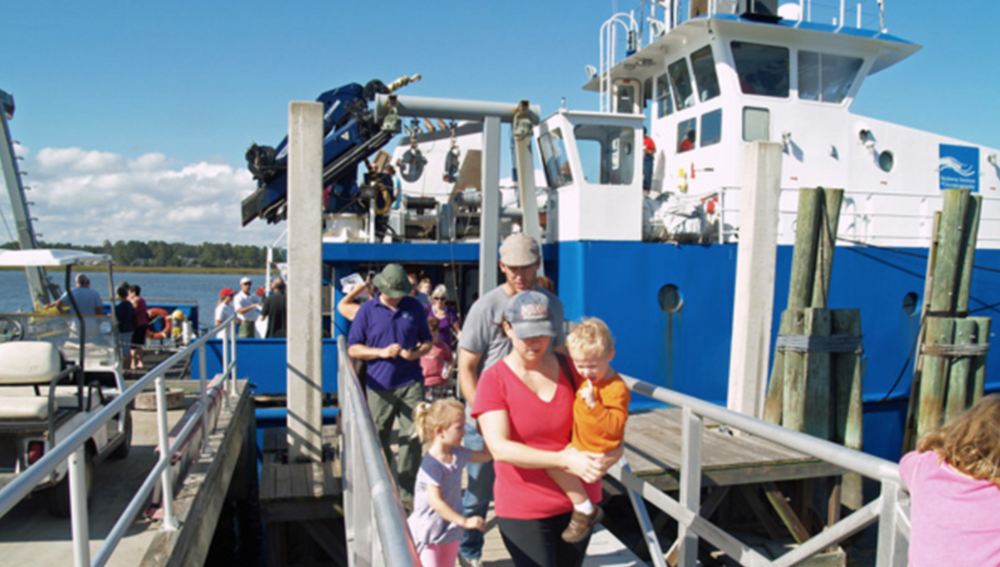 An afternoon of activities, tours, and talks will make Skidaway Marine Science Day a can't-miss event for all ages on Saturday, Oct. 14, from noon to 4 p.m. on the University of Georgia Skidaway Marine Science Campus, located on the north end of the island (10 Ocean Science Circle, Savannah, Ga. 31411). The campus-wide open house will be presented by the UGA Skidaway Institute of Oceanography, UGA Marine Extension and Georgia Sea Grant, and the National Oceanic and Atmospheric Administration's (NOAA) Gray's Reef National Marine Sanctuary.
The UGA Aquarium, run by Marine Extension and Georgia Sea Grant, will be open to visitors with no admission fee. Aquarium educators will offer visitors an afternoon full of activities, including a hands-on reptile exhibit, behind-the-scenes peeks of the aquarium, fish feedings, and microscope investigations. A touch tank exhibit will allow guests of all ages to get up close and personal with common coastal invertebrates such as non-pinching spider crabs, whelks, and horseshoe crabs.
The UGA Skidaway Institute of Oceanography's 92-foot ocean-going Research Vessel Savannah will be open for tours and will exhibit science displays. Elsewhere on campus, Skidaway Institute will present a variety of marine science exhibits and hands-on science activities. 
The UGA Shellfish Laboratory research team will offer behind-the-scenes tours of the Georgia's only oyster hatchery. The hatchery is also a part of UGA Marine Extension and Georgia Sea Grant, a unit of UGA Public Service and Outreach. Researchers hope the oyster hatchery will make the Georgia oyster aquaculture a more durable and sustainable coastal industry.
Along with the campus organizations, Skidaway Marine Science Day will also include displays, demonstrations and activities from a wide range of non-profit and governmental science, environmental and education groups, such as The Dolphin Project, the Georgia Sea Turtle Center and the Savannah Wildlife Refuge.
For the first time, Skidaway Marine Science Day will also feature food trucks from the Savannah Food Truck Festival.
All activities at Skidaway Marine Science Day are free and open to the public. For additional information, call 912-598-2325, or see www.skio.uga.edu. 
For those who are unable to visit Skidaway Island in person, go on a virtual dive with GPB's exploration of Gray's Reef National Marine Sanctuary, hosted at the UGA Aquarium on Skidaway Island. Visit gpb.org/graysreef to witness the beautiful underwater world, test your knowledge on ocean life, and hear from marine experts.
Secondary Content
Bottom Content