Section Branding
Header Content
Heads Up For GPB's Latest And Greatest Georgia Studies Digital Textbook
Primary Content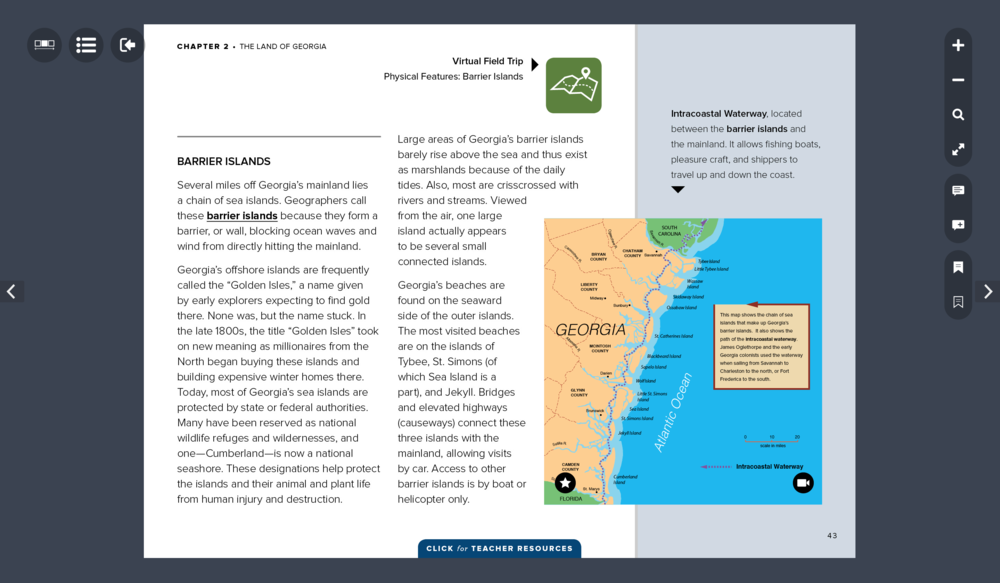 Five years ago, GPB launched our free Georgia Studies digital textbook. We are now excited to release an upgraded version of Our State and Our Nation, enhanced with additional content, improved functionality, and aligned to the new Georgia Standards of Excellence for social studies. The latest and greatest edition of this comprehensive digital resource is now available via iOS (iPads, iPhones), Android, and web for the 2017-18 school year.
ENHANCED AND REDESIGNED
Readers will enjoy the added space and brighter colors of the new redesign. But this update isn't just about looks - we have also added additional videos and linked our virtual field trips directly into the related pages of the book!
Remember that as an interactive tool, our Georgia Studies digital textbook will invite you to interact with it. Keep an eye out for icons leading to embedded digital resources, and for prompts to TAP and SWIPE, so that you can explore all the dynamic features.
Here are a few tips to help you find your way quickly and efficiently through the digital learning experience that is Our State and Our Nation. Have fun exploring!
LOGGING IN
Jump Right In!
The student edition of our Georgia Studies textbook offers open access to all users (no login credentials required), and logging in to the teacher edition is simple but slightly different for the online versus app platforms. Follow the step-by-step guides provided for web, iOS, and Android users via the "Need Help?" button on the teacher edition library page.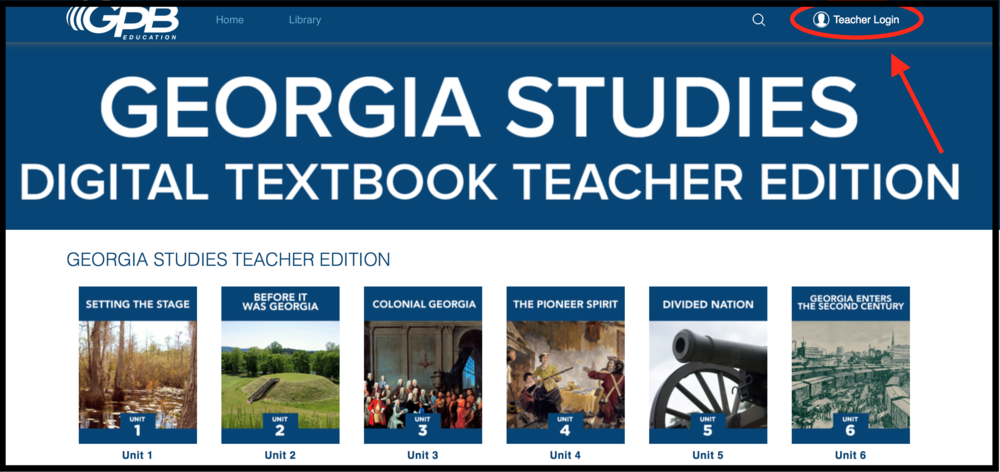 NAVIGATION
Follow the Arrows
There are several ways to move through each unit of the textbook, and the simplest way is just like your typical printed textbook – page by page, backtracking to the left and advancing to the right.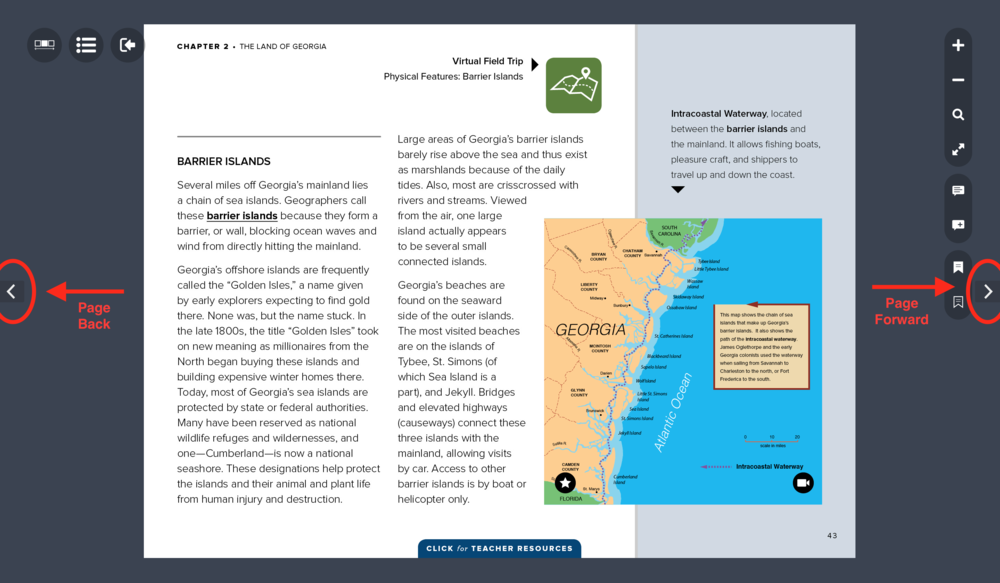 Scrolling Along
A scroll bar with thumbnails of every page is now available in both the iPad and web versions of the textbook. Choosing a thumbnail from this view will jump you to the associated page.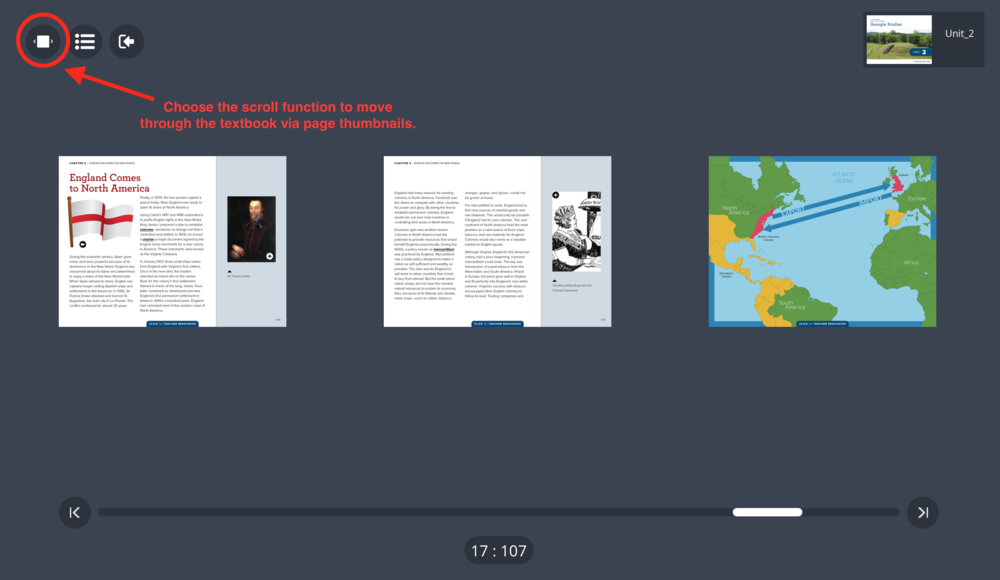 Table of Contents
As in the previous version, the table of contents is the quickest way to jump to a particular section within the textbook. From here, you can choose a specific chapter or special content page, such as Primary Source, Georgians in History, or Skill Activity.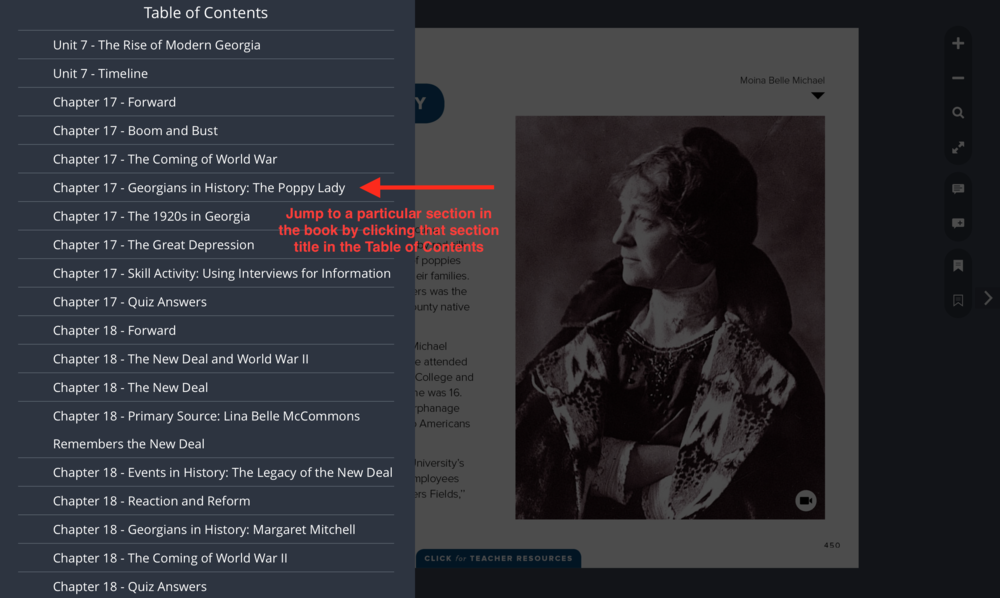 Take the Shortcut
Quick links are embedded throughout the pages of the digital text. Look for underlined subject headings on the Timeline, Chapter Forward, and At a Glance pages that will advance you immediately to those sections. The teacher tabs also contain bold, underlined page number links. A return arrow in the upper left-hand corner or your destination page will take you back to your starting point.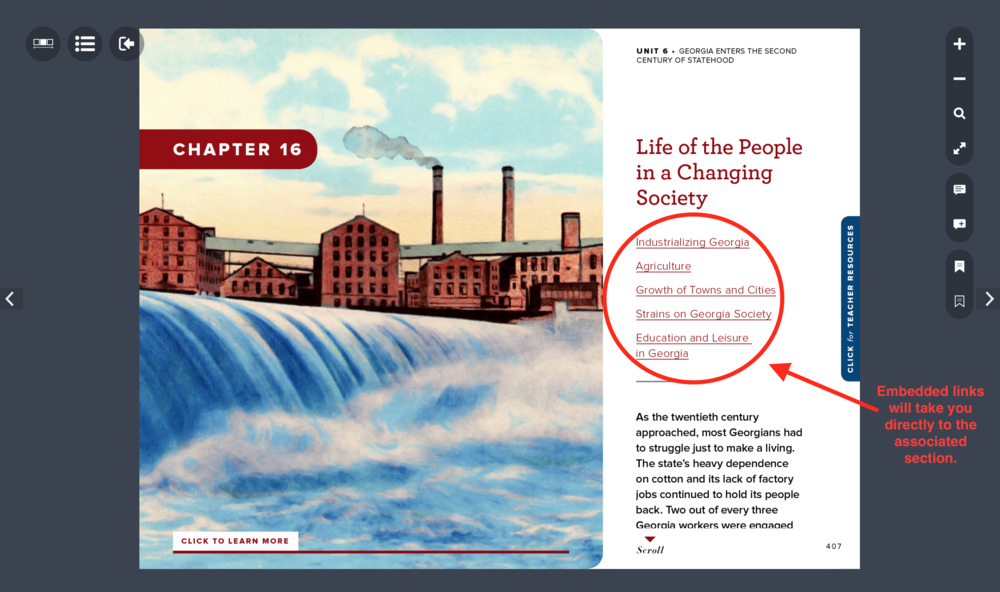 FEATURES
Magnify It
Having trouble reading the small print? Use the plus sign icon at the top of the tools menu to enlarge each page to just the right size. Return your view to a smaller size with the minus sign icon below.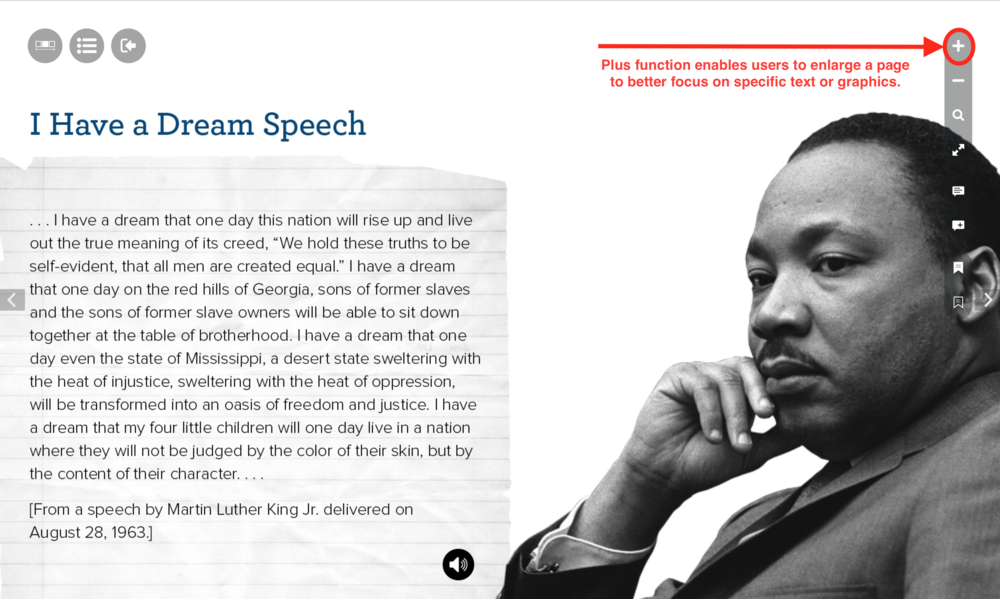 Search and Find
In response to your most requested upgrade for the digital textbook, GPB has added a much-anticipated search function!
To find any term – such as a name, place, or date – simply type the word in the global search bar on the home page, and you will be presented with a list of its every occurrence throughout all ten units and all 32 virtual field trips. You can also try a more localized search within each unit. Choose any result to be forwarded to the associated page.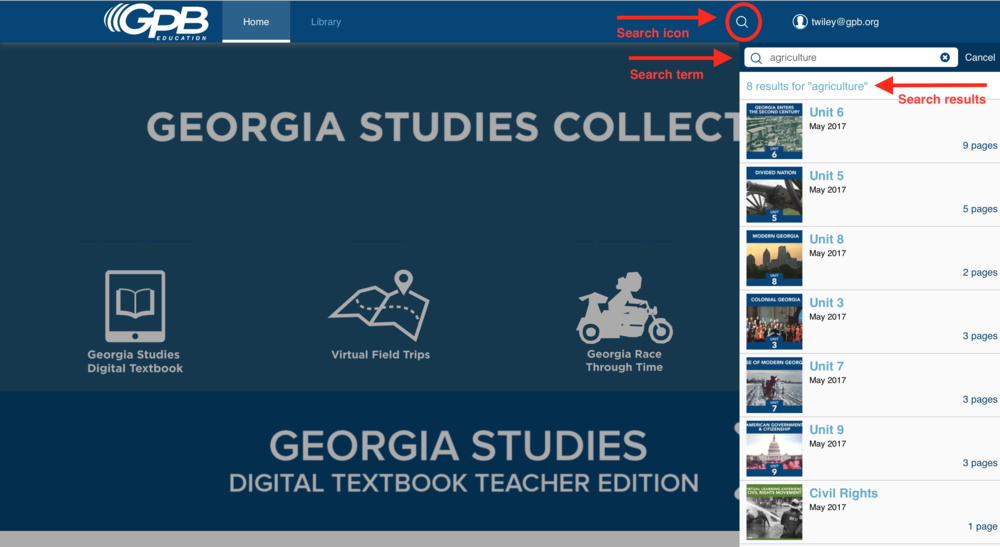 Make a Note
Featured only in the teacher edition, the new notetaking feature allows users to make notes on a specific page using the lower text bubble icon. The upper text bubble icon accesses a compilation of the notes in a unit, enabling users to read all notes at once and jump to those specific pages with notations. Notes are saved on each user's individual device.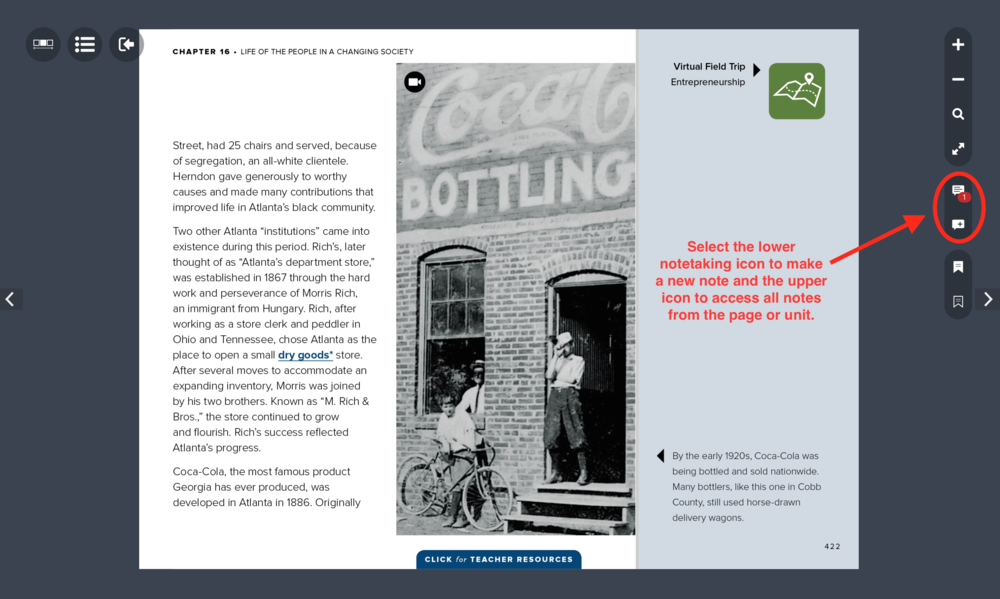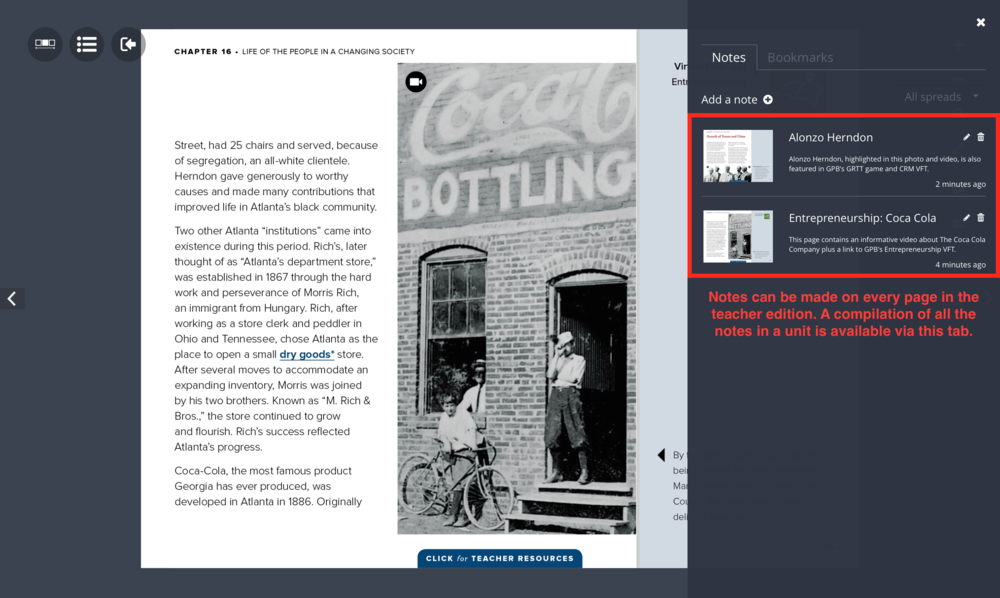 Mark Your Place
The new bookmarking feature, requested specifically by students, allows users to mark a specific page in the book for future reference. The lower bookmark icon is for selecting a page, and the upper icon is for accessing a complete list of all bookmarked pages.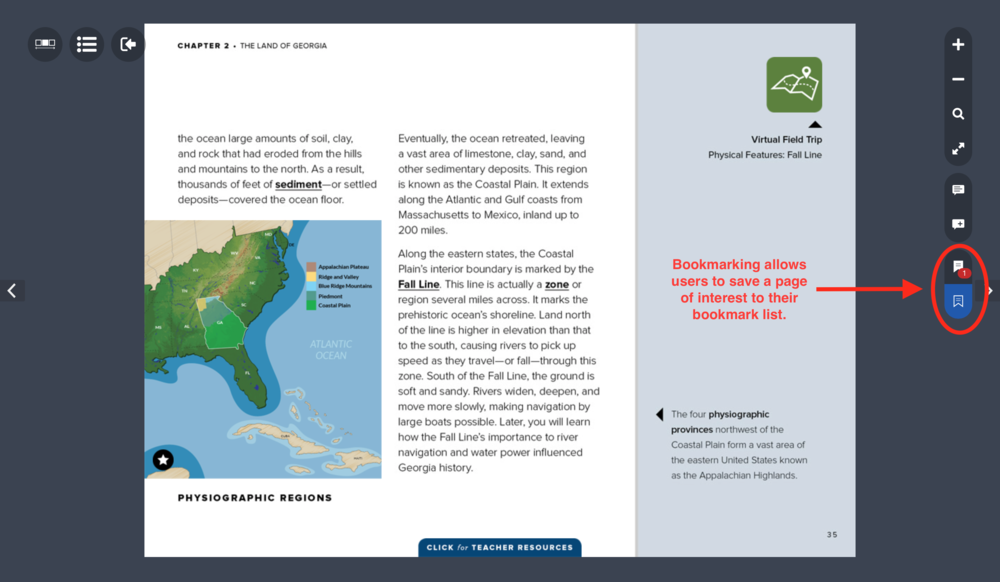 CONTENT
In addition to the original textbook material and supplementary digital content added since its launch in 2012, this latest release features even more resources, including new videos, slide shows, audio files, interactive maps and graphics, 360° tours, and direct links to GPB's associated virtual field trips.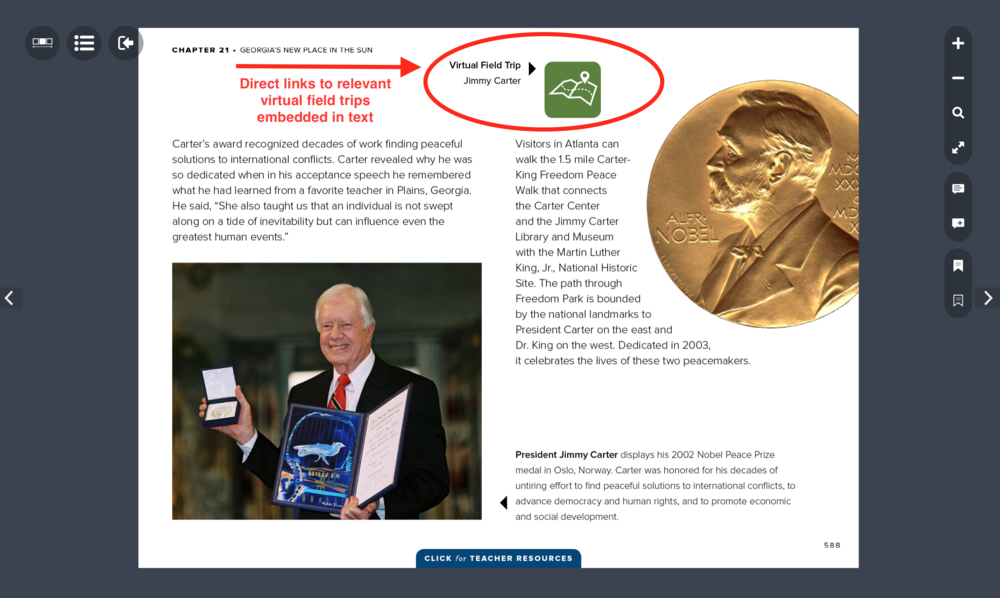 Chapter Forward
Each of the 30 chapters of the textbook begins with a forward that includes a summary of the digital content and teacher tools found throughout that chapter.
In the Textbook Highlights section, teachers can see a list of videos, maps, images, primary sources, and follow links directly to the page location of each resource.
The Teacher Resources section contains links to supportive printables, including Assessment Guides, Tasks, Enrichment Resources, Document-Based Questions, Constructive Response Questions, and Selected Response Questions.
The Glossary icon reveals a PDF of all the terms embedded in the text for use as a vocabulary review tool or study guide.
Technology Links provide sources of additional information for supplementary material and further independent study.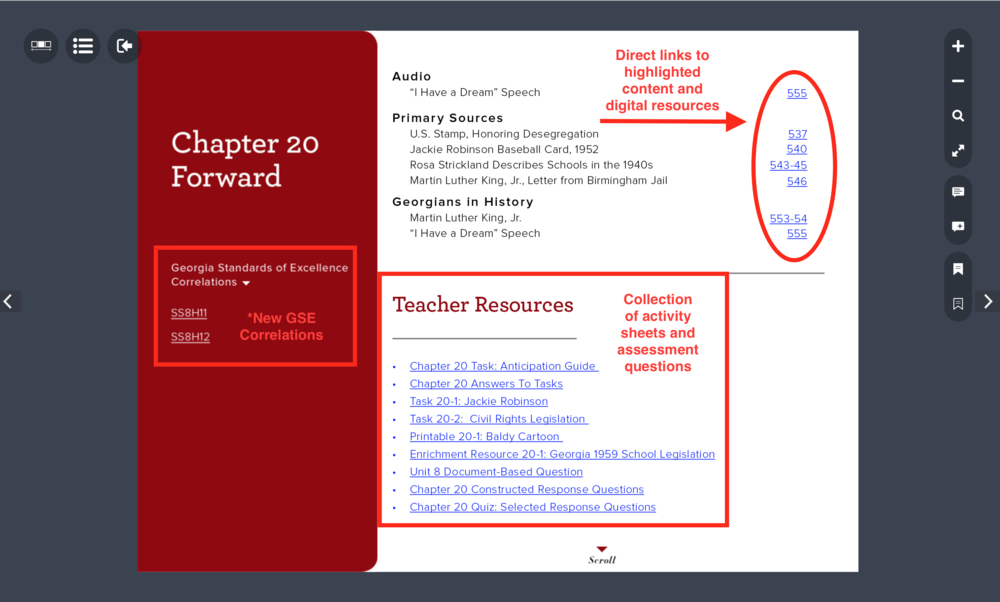 Teacher Tabs
Teacher resources are now available via blue teacher tabs, appearing at the bottom or right side of each page of the teacher edition textbook. When the tabs are closed, the teacher view of the textbook mirrors the student view. Click to open and the tabs will cover the associated page of the textbook with relevant talking points, links to connected pages or printables, activity and enrichment ideas, and embedded document-based questions.
Answer keys are also available for any questions that appear on a text page. Click the key icon in the upper right-hand corner to pull up the answer key view. Click an individual question for the corresponding answer to appear.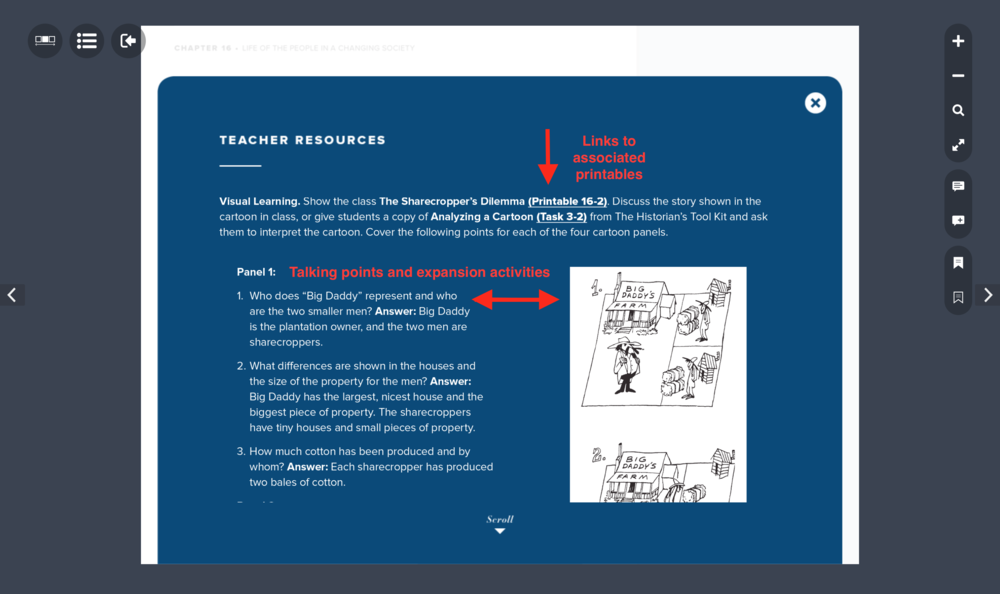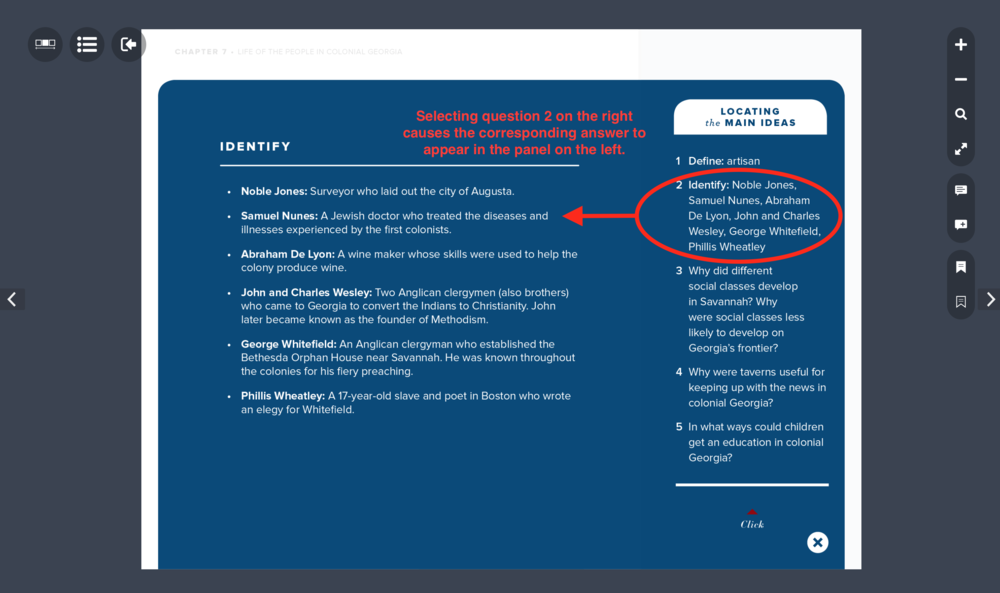 FREE EDUCATION OUTREACH
We hope these usage tips will help launch you into an immediate, comfortable working relationship with our new digital textbook. But don't forget that our education outreach team is standing by to provide free, onsite professional learning at your school or district!
Besides exploring these and other features of our Georgia Studies digital collection, GPB also offers hands-on workshops for incorporating digital learning into your classroom via meaningful teaching strategies and supportive content available to you at no cost through our partnerships with PBS LearningMedia and Discovery Education. Look through the list of sessions on our professional development page or request a topic of specific importance to your educational goals.
Contact education outreach specialists Mike Kuenlen (mkuenlen@gpb.org) for south Georgia and Tracey Wiley (twiley@gpb.org) for the north to set up a free training at your convenience.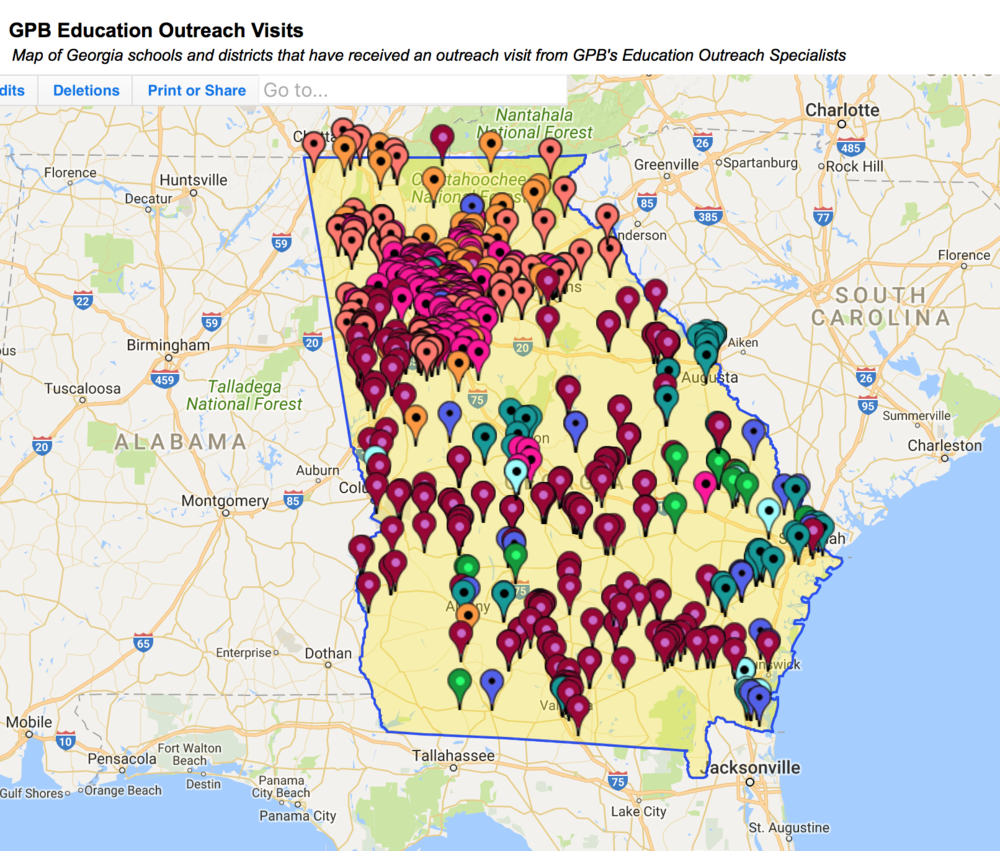 Secondary Content
Bottom Content