Section Branding
Header Content
Discovery Education 3M Young Scientist Challenge
Primary Content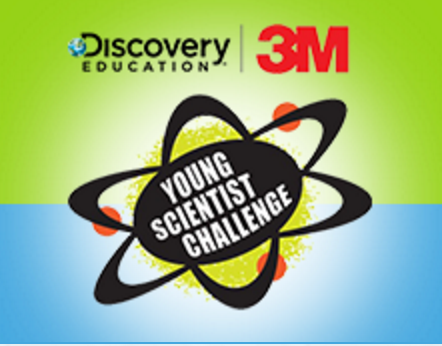 Calling all teachers of grades 5-8! The Discovery Education 3M Young Scientist Challenge is now accepting entries. Students in grades 5-8 are invited to describe a new, innovative solution that could solve an everyday problem.
The challenge is to create a one- to two- minute video that
•explains the problem and how it impacts the entrant, their family, their community or the global population;

•describes a new innovation or solution that could solve or impact the problem;

•explains the science, technology, engineering and/or mathematics behind their innovation; and

•illustrates how their innovation could both address the everyday problem they've identified and have a broader impact locally or globally.

Ten finalists will be chosen for their passion for science, spirit of innovation and ingenuity, and effective communication skills.
For students who are struggling to narrow down a topic, the Young Scientist Challenge has provided a page on their website with thought-starters to help students identify a problem and think about a creative solution. Students are welcome to come up with their own ideas, too! Last year's winner, Hannah Herbst, completed an entry about using energy from ocean currents to provide a power source and fresh water to developing countries.
Entries must be submitted by 8 p.m. on April 20, 2016. Finalists will begin being notified in June. Prizes range from 3M Innovation Prize Packs to $25,000 and the title of "America's Top Young Scientist"!
Visit the website for more information about:
Secondary Content
Bottom Content