Section Branding
Header Content
K-12 Teachers Get Hands-On Study Of Georgia's Barrier Islands
Primary Content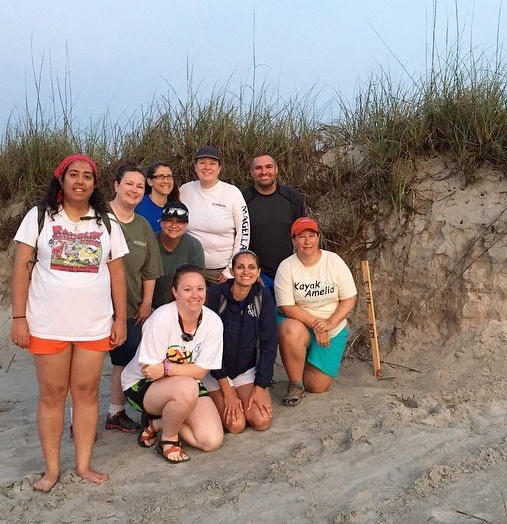 Gazing at a million stars above Sapelo Island. Watching a loggerhead sea turtle nest and lay eggs on the beach. All while gaining rich content knowledge in a field-based setting. Doesn't sound like your typical teacher professional development workshop, right? For eighteen K-12 teachers this one-of-a-kind professional learning experience was the perfect way to spend part of their summer. Faculty from Armstrong State University and educators from Stone Mountain Memorial Association recently led a group of K-12 teachers on a hands-on study of the geology, ecology, and history of Georgia's barrier islands.
The eighteen participants collected and analyzed data on Cumberland Island, Jekyll Island, Sapelo Island, and Blackbeard Island while building ideas, discussing teaching strategies, and developing lessons that will engage their students.
"When the content is shown in a real world setting, it helps us to be able to teach students the real life application of the standards," says Lisa Henriquez, a teacher at Flippen Elementary in Henry County who participated in the workshop, "I was able to bring back pictures and materials I collected on the trip to share with my students. When I get excited about the content, they get excited."
The state grant program, which is sponsored by the U.S. Department of Education, was part of a professional learning workshop funded by Improving Teacher Quality. The aim of the grant program is to increase educators' knowledge in core academic content areas, such as science and history, in order to facilitate student learning.
Henriquez is not wasting time applying her new knowledge to her instruction. She has already developed a lesson plan for her class. "I will give each group of 3-4 students their own barrier island. They will decide if and/or how it will be developed and defend their choice," she explains, "Then, they will research the effects of tourism on plant and animal life, natural resources, and pollution. They will also have to have an economic plan for this island. The research will be done in stations using the materials I collected during the program. Students will use their research to write and present their island proposal."
This type of learning experience for teachers is indicative of a trend towards more job-embedded professional development, which has been mentioned in several recent federal education regulations. According to National Council for Teacher Quality, job-embedded professional development refers to teacher learning that is grounded in day-to-day teaching practice and is designed to enhance teachers' content-specific instructional practices with the intent of improving student learning.
For more information on the Improving Teacher Quality State Grants, visit http://www2.ed.gov/programs/teacherqual/index.html
Secondary Content
Bottom Content