Section Branding
Header Content
EdTech: iPad Lab at Woodstock Elementary
Primary Content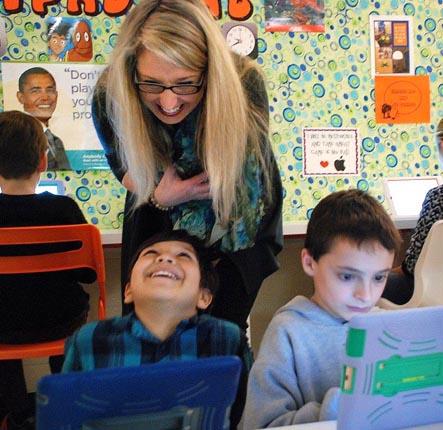 Why can't learning be FUN? As an adult, I work collaboratively with my team, we ask questions, we make mistakes, we try again, and we have fun together but guess what…I learn while I'm doing these things. This approach is what I try to bring into my classroom with me each day. The iPad Lab is all about learning, collaborating, practicing, making mistakes and then trying again, until each student is happy with their project. We have a fun room, we laugh a lot, and it gets a bit loud sometimes. However, when the year is complete, every student has confidently learned the skills and concepts for their grade level plus a lot more!

Being in a non-traditional classroom is definitely something of an acquired taste and may not be for every educator. I teach Kindergarten through 5th graders every day on a rotating schedule in our new iPad Lab. This means at the end of six days, I have taught all 1100 students in my school a new app, skill, or concept. We create digital projects so the students can "Show What They Know" on a particular concept or skill, which means I spend a great deal of time reviewing thousands of digital projects. 

I created and started the iPad Lab program because we are a Title I school and many students do not have access to smart devices at home. I was concerned that sending our students to middle school without strong technology skills would create a huge educational gap. If you are considering starting a new educational technology program similar to the iPad Lab, start slowly. Put a lot of thought into how it will run and what policies and procedures you need to have in place to make it successful. The students at my school, Woodstock Elementary, love the iPad Lab, and they have learned so many new skills this year. Truly, we have all learned together. Even with all of my preparing, reviewing, and careful planning, it didn't all go as planned. I was modeling how the room should run. The kids knew I was learning too, and it was okay to try again and be triumphant the next time! 

Since the iPad Lab is a technology classroom, I wanted to continue using educational technology to introduce the lessons or skills we are going to work on each time they attend my class. PBS Learning Media has been so helpful for continuing this avenue of teaching with excitement and intrigue. I use several of the Ruff Ruffman and Martha Speaks videos to introduce types of technology to my younger students and the vocabulary we will be using in the iPad Lab. I love that they are less than five minutes in length, and my students truly have a better understanding of what we are working on each day. I introduced all of the students in my school to the Hour of Code this year. We watched several different videos on PBS Learning Media like Cyberchase and Nova to introduce skills needed to learn how to write and understand coding. When we started working on making our own videos, we enjoyed viewing the Behind the Scenes (The Electric Company) videos.
It's summer now, so I'd like to challenge you to use one hour a week to look through the PBS Learning Media website. There is a wealth of fun, interesting, and educational items available for free. Take your lessons to the next level by integrating educational technology through videos, websites, project-based learning, and watch your students soar through your next year of FUN!
______________________________________________________
Kristen Brooks is a technology integration specialist at Woodstock Elementary School in Woodstock, Georgia. She is in her 20th year of teaching, where this school year she opened the first iPad Lab in her district. As an educator, Kristen uses project based learning and a show what you know approach with her students. Her favorite part of being the iPad Lab Teacher is seeing 100% engagement and collaboration among students while they are in her class. Kristen was selected as a 2015 PBS LearningMedia Digital Innovator for her passion and commitment to innovative teaching practices that integrate digital media and technology in the classroom.
Secondary Content
Bottom Content