Section Branding
Header Content
Five Tips for New Teachers from Georgia's Teacher of the Year
Primary Content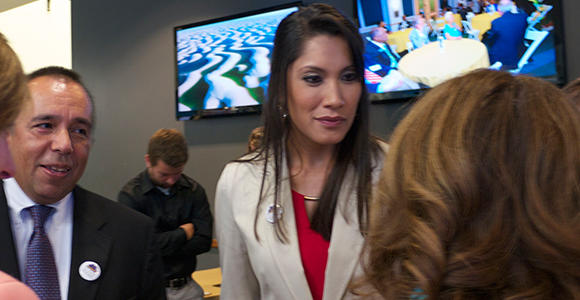 At last week's launch event for the the Get Georgia Reading campaign, I met Georgia's 2014 teacher of the year, Amanda Miliner.
She is a poised, intelligent, and energetic woman who is very passionate about students. As the state's top teacher, I was sure she has some good advice for new instructors. So I asked her to share five tips for new teachers. She was gracious enough to provide these. ( For more on Miliner, read excerpts from her Macon Telegraph article.)
1.)Find a mentor teacher:
"Find someone (who) can be a support for you and to (who can) help you when you have questions. You want to find someone that has been doing it for a little while, that they can make your job easier. A lot of times veteran teachers have so much knowledge."
2.) Take each day as it comes:
'Don't plan on the whole year because as a first year teacher you are learning so much at one time. So take each day as it comes."
3.) Build relationships:
"Build those relationships with your students, with your parents, with the community members. It takes a village so if you try to do it all yourself, you're going to be burnt out. So you really want to create those meaningful relationships and let your students know how much you want it for them. Because when students like you and they know you're vested, they're going to work even harder for you."
4.) Continue being a learner:
"Continue reading. Continue to try to do things that are data driven. A lot of times when you find things that already work you don't have to recreate the wheel."
5.) Have fun!
"Enjoy it. Teaching is such a great profession because we're allowed to choose what kind of days we want to have. So if we want to have a fun jam up day - we can plan experiments, we should be differentiating. And we have the power to allow our students to also have fun. We have the power to help them find their gifts, to help them figure out who they are. If it wasn't for teachers I wouldn't be where I am today."
"My mother was a single parent until I was eight and she was in the military. So she was gone a lot. I would just wake up at a friend's house and be there for a week because she had to go in the field. There were times she was gone for three months to a year and I relied a lot on my teachers. I relied on them to be a constant for me."
Secondary Content
Bottom Content