Section Branding
Header Content
Georgia Tech's New Scholarships for Top Atlanta Students Explained
Primary Content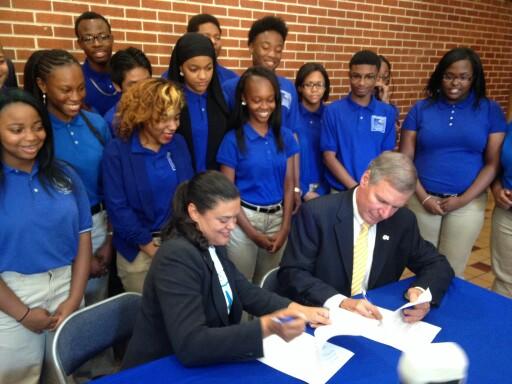 Georgia Tech just announced that it is offering four year in state scholarships and automatic acceptance to top Atlanta Public school students. It's an exciting program that will give more students across the city a chance to go to a prestigious school.
So can all students qualify for the scholarship? Do they still have to apply to the university? Here Georgia Tech's new scholarship for top Atlanta students is explained.
The scholarships and automatic acceptance is extended to all valedictorians and salutatorians. Students must be named vals or sals of their respective schools, explains the release on the Georgia Tech website.
Valedictorians and salutatorians from any Atlanta school are eligible. "Whether or not that val or sal comes from Washington High, South Atlanta High, North Atlanta High or all points in between, the admissions office at Georgia Tech will have paperwork with our students' names on it," clarifies Dr. Meria Joel Carstarphen on the school system website.
Students still need to apply in order to be accepted.
According to the Georgia Tech media release on the program: "Students must also have successfully completed the pre-requisite course work and admission process for entrance into Georgia Tech."
APS Scholars as students accepted through this program are called, can begin classes at Georgia Tech as early as the summer semester of 2015.
Direct students to apply to Georgia Tech online here:
This new initiative appears to extend Georgia Tech's interest in giving more communities access to a quality education. Earlier this year, it offered its first class for a Master's degree in Computer Science for little less than $7,000.00 through a MOOC (massively open online courses) in conjunction with AT&T and Udacity.
Secondary Content
Bottom Content