Section Branding
Header Content
Here are Lesson Plans for the First Week Back to School
Primary Content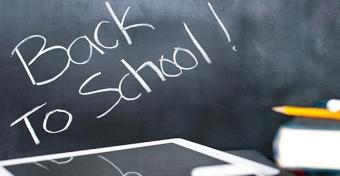 If you need help easing back into the classroom, PBS Learning Media has resources to help: lesson plans for each day of the week back to school.
They have a catchier name for this series. It's called Lesson-Plan-a-Palooza. They pulled these lesson plans because they are ideal for getting students back into learning mode.
The lessons can also be used by students still at home on summer break too in order to help them prepare them to return to the classroom.
Below is a schedule of lessons you can use:

Lesson-Plan-a-Palooza


| | | |
| --- | --- | --- |
| Date | Title | Description |
| 8/4/14 | Please Stand for the National Anthem Lesson Plan | "O say can you see, by the dawn's early light…" Introduce your class to the meaning of Francis Scott Key's lyrics today and during the era in which he wrote them, in addition to the concept of Nationalism. (Grades: 2-4) |
| 8/5/14 | Keep on Puffing Lesson Plan | "Thomas & Friends" wants your young learners to know the value of hard work! Help your class appreciate the feeling of accomplishing a difficult task with this clip featuring Henry and Hiro as they pull a very heavy load. |
| 8/6/14 | Writing a Biography - Ask Someone to Tell Their Story | Could you write a biography of a loved one based on what you know of their life? This lesson plan will help your class get those creative juices flowing, develop their writing skills and also learn more about a friend or family member in their life. (Grades: 1-4) |
| 8/7/14 | Curious George: Tool Time | Curious George is an all-time classic! Watch this "Camping with Hundley" video featuring the beloved, inquisitive monkey with your young learners and help them explore the various tools available to help people complete work. The accompanying lesson plan will ultimately spark your class' thinking on future careers! |
| 8/8/14 | Looking for Lincoln - Views on Slavery | How did Abraham Lincoln's views on slavery and race evolve throughout his early life and later, his presidency? The robust lesson plan covers that question and more, turning introspective as students examine how aspects of American society have changed over the course of their lifetimes. (Grades 5-8) |
If you have lessons, you recommend using for the first week back at school, let us know in the comments section.
Secondary Content
Bottom Content