Section Branding
Header Content
Profile: Georgia PBS Digital Innovator Ann Kohler
Primary Content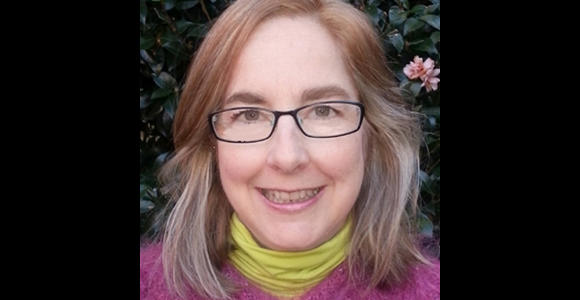 Ann Kohler is presenting at ISTE 2014 today on Breaking Barriers: Gaming in the Special Education BYOT Classroom. That makes sense as she is an extraordinary and tech savvy teacher.
Because of her high tech talents, she was named a 2014 PBS Digital Innovator. (Shiloh Middle School's Lesley McClendon was also named a digital innovator.)
Kohler will receive professional development from PBS and us and contribute blogs here. (Check out her post Summer PD Opportunities Abound) and take part in GPB events and activities.
She is a native Atlantan and teaches all subjects to Mild Intellectually Disabled students at South Forsyth High School. The school is also BYOD (Bring Your Own Device) friendly.
In this email exchange, she discusses what inspired her to pursue teaching, why you would find iPads, Nexus 7s and Samsung Galaxy notebooks in her class and what the 21st century classroom should look like.
Passion for Learning: How does it feel to be selected to be a PBS Digital Innovator?
Kohler: It feels incredible, absolutely incredible. I was raised on PBS television and (public) radio and have used their extensive resources for teachers for years. I was looking up lesson ideas on the PBS Learning Media website and saw the invitation to apply to be an Innovator. I knew immediately that I wanted to submit a proposal and apply. We had 2-3 days the week it was due that school was closed for "snow days" and I just worked on my submittal the whole time. When I got selected I could hardly believe it, that I was considered to be eligible to be in that group of 100 incredible teachers.
Passion for Learning: What inspired you to pursue teaching?
Kohler: I was inspired to pursue a career in teaching because I wanted to make a difference. I then went to work in the corporate world and only came back to teaching about 10 years ago. I began substitute teaching at my children's schools and re-discovered why I had chosen the profession all those years ago. I got re-certified and was going to teach Biology but ended up being offered a Special Education position working with Mild Intellectually Disabled students and have been there ever since.
Passion for Learning: Tell us about what subject and grade levels you teach.
Kohler: I teach 9th, 10th, 11th and 12th grades. I teach Math, English/Language Arts, Social Studies (World and U.S. History, American Government and Economics), Science (Biology, Physical Science, Earth and Environmental) and Career/Life Skills.
I teach on a four year rotation which means that Year A. I teach all subjects that 9th graders take, Year B. I teach Sophomore classes, etc. through Year D, Senior academics. I have to modify the general education standards to a level that my students can comprehend. This includes the new Common Core standards. All of my students are at different academic levels for every class. I might have a student who can complete math on a 5th grade level but reads on a 2nd Grade level or comprehends all academic areas at a 3rd grade level. I have 9-15 students every year in my class with these academic needs. I have to find ways to personalize and differentiate the same modified curriculum for all of my students, every day.
Passion for Learning: What do you hope to accomplish as being part of the program?
Kohler: Well, I hope to learn from the other Innovators. From reading through my fellow innovators' bios there is an incredible amount of talent, knowledge, and learning in this group of 100 educators and I really hope we can figure out ways to share what we know with each other through this program. Maybe we can work with each other through some innovator webinars or some sort of online platform like a blog.
Tech Tools She Uses and Recommends
Passion for Learning: What tech tools would we find in your classroom and what would students be doing with them?
Kohler: You would find school provided desktops, netbooks and flip cameras to name a few; student provided tablets (iPads, Nexus 7's and Samsung Galaxy), iPods, iPhones and Droid phones of all types and even a Macbook or personal student laptop here and there.
All classrooms have Promethean whiteboards too. We use our technology almost every period of the day in one way or another. We do math via online websites and/or apps, we use our devices to "Google" or look up, information as we are reading about something new to us, we use our iPods to listen to music while we do math and also as calculators and we use flip cameras to make videos for lessons.
We use apps on our various tech devices to complete class projects, apps like PicCollage, Padlet, Voicethread, Screen Chomp, and we use them to take assessments using Socrative almost weekly. I try to find a way to incorporate technology and current devices into everything I have to teach. I even use devices to teach "map reading" in class. My students all learn how to use whatever device is at hand to mapquest a location and be able to follow that to get home. When I have students out sick for a lengthy period of time, I will actually hold class via joinme so that they can participate.
On Working at a BYOT (Bring Your Own Technology) School
Passion for Learning: You teach at a BYOT school. How did that program come about and how do you manage it?
Kohler: I am extremely lucky to work in a district that has been BYOT/BYOD for over four years. The district planners had the vision to put into place wireless and wired connectivity that was, and is, robust enough to actually "do" BYOT. It was actually an incredible thing when we stopped taking phones away from students and started making them "use" them for academics.
My MID students started our 2011-2012 school year off by walking into the classroom with iPads, I was the one who had to run to catch up to them. Then in the Spring of 2012 one of our incredible local engineering companies gave a grant to the Special Education department to buy iPads for us, so we would have a "class iPad" to aid students learning. Having a working BYOT program in place frees you up as a teacher to learn about, introduce and utilize progressive and current teaching methods within your classroom utilizing the technology devices that your students already have. School provided technology is at hand for students who don't have their own.
Passion for Learning: What are some of the challenges you've faced as an educator enthusiastic about utilizing technology in your teaching?
One of the few problems I have faced is "me" trying to keep up with my students. My students are all digital natives and have been way ahead of me on technology use and implementation. Our school has most of the connectivity issues covered and provides a lot of devices. It has mainly been up to me to learn about, implement and teach with the new technology in new ways. I am also very lucky to teach in a school where my students bring their own devices and don't mind "teaching me" how to use them. One thing though is when teaching with technology you must always have a "backup plan" for your lessons as you cannot always depend on technology working flawlessly all the time.
Passion for Learning: How have you overcome them and what advice would you give to teachers and parents about those same challenges? ?
Kohler: Even though I have had very few challenges personally I would tell teachers and parents that even with one device in a classroom your students can learn to use and utilize technology. With one iPad and a whiteboard you can give your students the world. With only an iPod you can bring technology into your classroom and with a smartphone you can learn to do almost as much as a room with 1:1 ipads. My students have all loaded "Socrative" and many other apps that we use a lot onto their smart phones and can literally take a "test" anywhere there is connectivity, whether here at school or at home.
On What the 21st Century Classroom Should Look Like
Passion for Learning: What do you think the 21st century classroom should look like?
Kohler: I think it will be where students know how to use technology appropriately and accurately, as in correct Digital Citizenship. Technology will be a tool like paper and pencil used to be and not something that you have your students "get out" to use for one lesson, once a month. More schools will use a blended learning model or something based on the SAMR model. I don't think that students will spend all of their school day in a bricks and mortar classroom in order to learn.
I think that online and blended models are the way of the future. Also, I don't think the 21st Century model of learning will look the same as far as current testing and assessments either. In order to teach differently we will need to assess differently. The future will require students to be able to think outside of the "lines" in order to create new and better ways of doing things and the ability to assess that creative thinking will become a reality for schools.
Passion for Learning: What are some of your favorite PBS Learning Media videos, images and games that you recommend?
Kohler: This is a very hard question to answer. I like to browse this site weekly and sometimes daily to see what I can use as a segment of instruction in my classroom. I usually sort my subject first, then topic and then grade. My grade levels run from 3rd to high school and I ALWAYS find something to use.
For Science I use a lot of NOVA resources (having been lucky enough to help work as a teacher-advisor on the Earth Science collection I am very familiar with their great resources) For example, in Physical Science this year when learning about Matter and specifically Solids, Liquids and Gases I went to the Interactive resources and we used the The Great Balloon Race, Gas Properties, Buoyancy Brainteasers: Buoyancy Question, Virtual Glass Xylophone: Tunes and Spoons.
In World History this year when learning about the Holocaust and Nazi's and Jews in World War II, I used materials out of the Social Studies section as well as out of the ELA section that corresponded to Anne Frank and the book "Night" by Elie Weisel. I was able to pull the video, The Nazis Come to Power in Germany: How did this impact Jewish Musicians, as well as the interactive map The Story of the Jews: Interactive Map as well as ELA materials The Diary of Anne Frank , the Masterpiece video and the teaching guide to "Night" Activity 1 | Elie Wiesel: First-Person Singular. Teaching Guide. A game that my students really liked using last year in Reading was the Blue Ribbon Readers: The Detective's Notebook Game.
Secondary Content
Bottom Content