Section Branding
Header Content
Raises for Georgia Teachers and More Highlights from the State of the State
Primary Content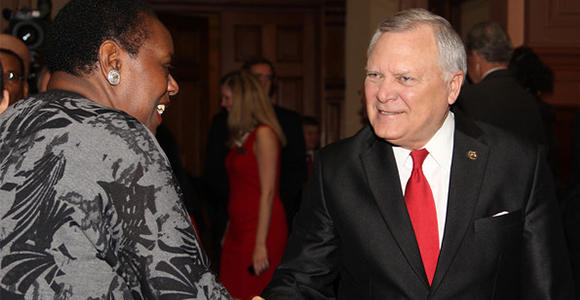 Education was the focus of Governor Nathan Deal's State of the State address yesterday. Deal proposes raising teacher pay and state education funding overall, a single year increase totaling nearly $8 billion dollars. This would allow schools to restore instructional days and get rid of furloughs in addition to the teacher raises, the Governor said.
Here is what else he proposes for education:
More Hope Full Tuition Grants for Those Studying High Placement Jobs at Technical College
"Last year we identified three areas of study in our technical colleges where jobs already existed. Those were commercial driving, practical nursing and early childhood education. For students who pursued those areas, we have paid 100 percent of their tuition through the HOPE Grant. This year I am asking you to expand that to an additional 4 areas of training—welding, health care technology, diesel mechanics and information technology."
A New Zell Miller HOPE Grant for Technical College Students
"In order to fill the needs of a growing economy, we need more of our citizens to acquire education and skills beyond high school. To encourage this, I am asking you to create a new Zell Miller HOPE Grant for students in our technical college system. This grant will cover 100 percent of tuition for those who maintain a 3.5 grade point average."
Creation of Governor's High Demand Career Initiative
"In accordance with our trend of putting our education where our economy is, I am happy to announce the creation of the Governor's High Demand Career Initiative. We will bring together the heads of Economic Development, the University System of Georgia, our technical colleges and schools, along with key leaders in some of our important private-sector industries. This initiative will allow us to hear directly from the employers of our state about what they expect their future needs will be, and it will give our institutions of education the chance to get ahead of the curve in preparing tomorrow's workforce."
Better Connected Classrooms
"I have included $44.8M in the budgets to better connect every classroom in Georgia, including those in rural areas, to the internet and digital resources students need to thrive. This is part of the recommendations of the Digital Learning Task Force. It is also compatible with the Innovation in Teaching competition I initiated last year, whereby Georgia Public Broadcasting is videotaping some of the best teachers in our state and making them available to other schools. It is my goal that every child in any classroom in our state will have access to the best instruction possible, and this can be done by expanding the availability of our on-line learning."
For full coverage of the State of the State address including the Democratic response, watch this special edition of On the Story, GPB's new political analysis show. 
Secondary Content
Bottom Content